Trees for Troops – How the Holidays Arrive for the Military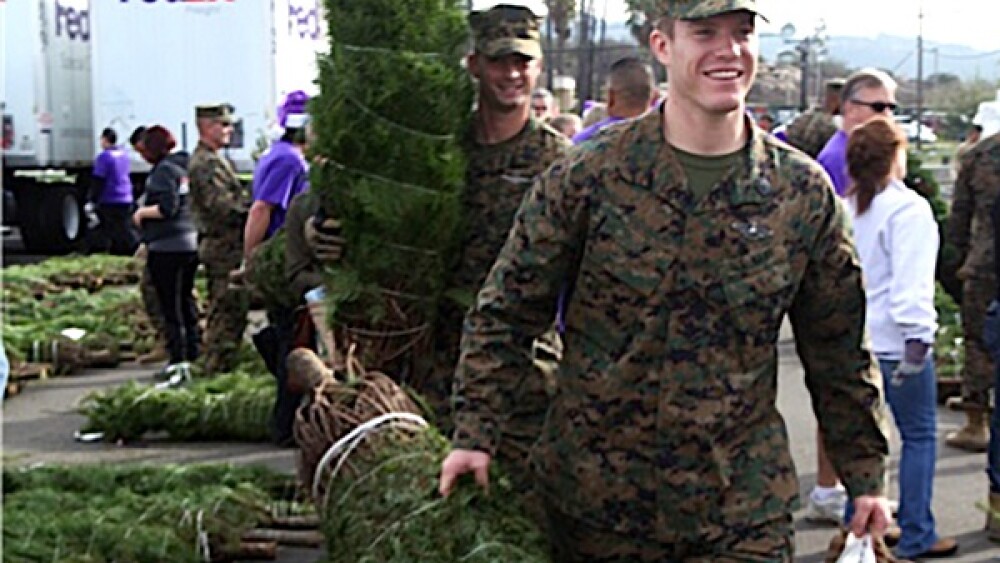 MEMPHIS, Tenn., – FedEx Corp. (NYSE: FDX) and the Christmas SPIRIT Foundation are joining forces again for a special delivery to America's service members and their families with the Trees for Troops program.
Since the Trees for Troops program launched in 2005, FedEx has shipped more than 157,000 real Christmas trees to service members and their families—covering every branch of the military at more than 65 bases in 17 countries.
This year marks the 11th anniversary of the program. Thanks to the generosity of tree farmers across North America, more than 18,000 live Christmas trees will be donated and delivered to more than 65 military bases during the busy weeks leading up to Christmas.
"Not only are we delivering Christmas trees to our military members and their families – we're delivering special moments for the holidays," said Mike Ducker, president and CEO, FedEx Freight. "Trees for Troops is a hallmark of the holiday season for FedEx, and we are honored to leverage our network in this unique way to thank them for their service."
Delivering Holiday Joy Around the World
The Trees for Troops initiative kicks off today in Thorntown, Indiana, as FedEx volunteers prepare 200 live Christmas trees for service members stationed overseas. The Christmas trees, donated by members of the Indiana Christmas Tree Growers Association, will be delivered to service members stationed in the Middle East and South Pacific via FedEx Express.
Once the international deliveries have taken flight, FedEx Freight will hit the road with more than 18,000 fresh-cut Christmas trees to be delivered to U.S. military bases beginning Dec. 2, with final deliveries scheduled for Dec. 11. Many of these deliveries include special holiday festivities in which military families receive their anticipated Christmas tree.
Join the Effort
Anyone can support Trees for Troops by donating to the program or purchasing fresh trees at one of more than 30 Christmas tree retail locations nationally during Trees for Troops weekend, Dec. 4-6. Donated trees will be added to the program's planned deliveries to U.S. bases during 2015. More information on how to get involved can be found at www.treesfortroops.org.
"This program unites everyone with a common goal of making sure our military feels supported during the Christmas season," said Nigel Manley, Christmas SPIRIT Foundation chairman. "Tree growers donate trees, consumers purchase trees for loved ones, companies donate to support the program and FedEx Freight makes sure it all happens."
Trees for Troops is part of FedEx Special Delivery, a nationwide FedEx program that supports local organizations by donating transportation services and other assistance to help them fulfill their missions. For information about the peak holiday season at FedEx, visit the FedEx Newsroom.