Le Bonheur Children's Hospital and FedEx Building on the Promise
FedExFamilyHouse will triple in size and launch $12 million building campaign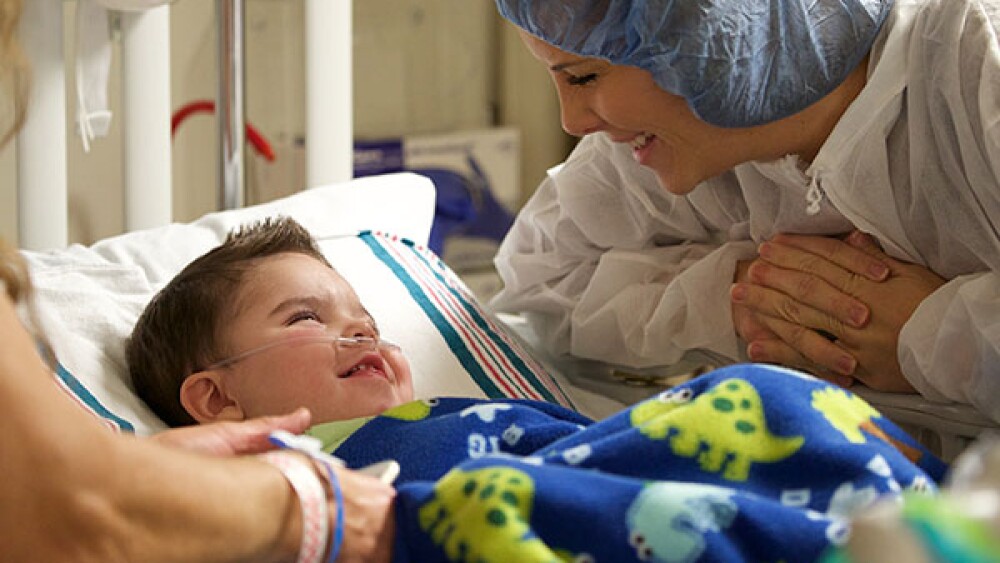 MEMPHIS, Tenn., 14 November 2016 – FedExFamilyHouse, a home away from home to out-of-town families of patients at Le Bonheur Children's Hospital, will expand to triple its size by year 2018. A fundraising campaign, "Building on the Promise," has been launched to raise the $12 million construction cost of expansion.
The "Building on the Promise" campaign begins with an inaugural gift of $5 million over five years from FedEx Corp. (NYSE:FDX) and personal donations from Frederick W. Smith, president and CEO of FedEx Corporation and his wife Diane, and Alan B. Graf, Jr., executive vice president and chief financial officer of FedEx Corporation, and his wife Susan. The balance will be raised through a yearlong drive for donations.
Since its opening in 2010, the FedExFamilyHouse has welcomed more than 100,000 family members from across the world at the house at no charge. The current 25,000 square foot facility is comprised of 24 suites, kitchen and dining facilities, an indoor recreational space and family lounges.
[addvideo video_id="l4xWekiFqe0" video_name="FedExFamilyHouse and the Children of Le Bonheur" image_url="/wp-content/uploads/2016/11/FedExFamilyHouse.jpg"]
In the same period, Le Bonheur has recruited more than 100 new pediatric experts and researchers and has seen rapid growth of the hospital's national and international reputation. This growth has also fueled a 40 percent increase in the need for lodging at FedExFamilyHouse. However, the current capacity is unable to meet this demand, and many families must make alternative arrangements for housing during their child's stay at the hospital.
The planned expansion will include:



A four story building with 40,000 square feet to be connected to the current facility;

51 new rooms, with 21 suites and 30 hotel-style rooms;

New community spaces for gatherings, meetings, and functions;

New outdoor play areas;
Other amenities include a library, four large kitchens, laundry facilities, children's play areas and outdoor gardens.
"FedEx is proud to support FedExFamilyHouse, as it is a place of hope and healing for families with a child who is ill. The expansion will support even more families in their time of need." said Bob Henning, corporate vice president Strategic Finance and Corporate Development, FedEx Corporation and FedExFamilyHouse Capital Campaign Fundraising Committee chair. "Our support with FedExFamilyHouse is part of our FedEx Cares initiative where we give back to the communities where our team members live and work. At the beginning of this year, we announced an aggressive goal to invest $200 million in more than 200 global communities by 2020."
FedEx and its team members support Le Bonheur through volunteer activities and financial contributions. FedEx also supports organizations that share a commitment to children's health and safety, including SafeKids Worldwide, ORBIS International and numerous children's hospitals in the local communities where its team members live and work.
"The generosity of FedEx, its leaders and employees is world-class, and all of us at Le Bonheur are excited and grateful for their commitment to FedExFamilyHouse," said Meri
Armour, Le Bonheur president and CEO. "Our partnership with FedEx and the support we receive from their generosity has furthered our commitment to be a nationally renowned
children's hospital that provides the best in state-of-the-art medical facilities and programs, as well as outstanding support services and amenities for our patients and their families."
About Le Bonheur
Le Bonheur Children's Hospital in Memphis, Tenn., treats children each year through community programs, regional clinics and a 255 bed state-of-the-art hospital. Le Bonheur serves as a primary teaching affiliate for the University Tennessee Health Science Center and trains more than 350 pediatricians and specialists each year. Nationally recognized, Le Bonheur is ranked by U.S. News & World Report as a Best Children's Hospital.
For more information, please call (901) 287-6030 or visit lebonheur.org. Connect with us at facebook.com/lebonheurchildrens, twitter.com/lebonheurchild or on Instagram at lebonheurchildrens.
About FedEx Corp.
FedEx Corp. (NYSE:FDX) provides customers and businesses worldwide with a broad portfolio of transportation, e-commerce and business services. With annual revenues of $58 billion, the company offers integrated business applications through operating companies competing collectively and managed collaborative, under the respected FedEx brand. Consistently ranked among the world's most admired and trusted employers, FedEx inspires its more than 400,000 team members to remain "absolutely, positively" focused on safety, the highest ethical and professional standards and the needs of their customers and communities. To learn more about how FedEx connects people and possibilities around the world, please visit https://newsroom.fedex.com.