FedEx Office Headquarters Features Four-Story Mosaic By Dallas' Own Award-Winning Artist Sonia King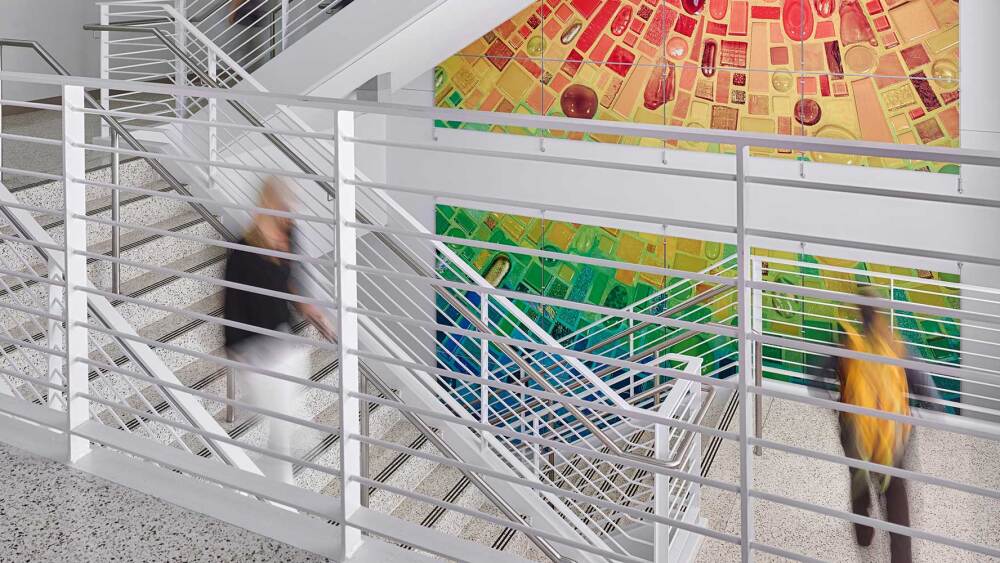 FedEx Office today celebrated the official unveiling of a new visual centerpiece at its recently-opened corporate campus in Plano, Texas. Highlighting local talent and creativity and demonstrating the company's printing and production capabilities, the centerpiece features a high-resolution photograph of an original mosaic titled "Nebula Chroma," created by Dallas native and award-winning artist Sonia King.

FedEx Office welcomed approximately 1,200 employees to its new corporate campus last fall, consolidating two locations. The campus displays contemplative, culturally stimulating modern artwork throughout, with the four-story mosaic image serving as the headquarters' focal point and combining the company's wide range of printing capabilities with its passion for workplace art.

FedEx Office selected the mosaic, created by world-renowned artist Sonia King, to illustrate its commitment to the local community and a company culture based on collaboration. Spanning all four floors of the campus' open entrance, the mosaic commemorates important company milestones using complementary FedEx brand colors.

"I believe art plays an important role in the workplace, and I am thrilled to have my work on display at a company that continues to be committed to North Texas," said King. "As an artist and small business owner, I consider FedEx Office as a trusted partner for years in helping me in the development phase of my creative process. FedEx Office reimagined 'Nebula Chroma' in a visionary way that I never thought would be possible."
From creation to delivery, FedEx Office brought the mosaic image to life, starting with taking 15 photographs of a 24" x 24" section from King's "Nebula Chroma" mosaic mural to create an enlarged, high-resolution image that now stretches 38 feet by 16 feet. The art was then sectioned into five panels printed and cut to size on various substrates by FedEx Office closed-door production facilities throughout the country.

The resulting color vibrancy demonstrates the company's excellence in color management and consistency, particularly as Certified G7 Master Printers—the industry's premier designation for color management. After printing was complete, FedEx Office deployed its transportation network to deliver the five sections in time for the work's installation at the new corporate campus.

"Sonia King's mosaic image is a meaningful part of our new campus," said Brian Philips, president and chief executive officer, FedEx Office. "It allows us to tell our corporate story in a new way, with a focus on innovation and technology as well our team members' passions, talent and skill sets. The mosaic reproduction demonstrates our ability to provide small and large businesses with innovative, expansive solutions powered by cutting-edge technology."

FedEx Office continues its growth in print services, including signs and graphics, in-store consultation, design services, and distributed print and high-volume solutions. It is the only national print provider that brings together one wholly-owned network of high-end manufacturing plants, retail locations, digital platforms and multiple transportation options to help meet the printing and logistics needs of its customers.
About FedEx Office

FedEx Office has more than 1,800 stores and locations in the U.S. and Canada, providing convenient access to printing and shipping expertise with reliable service. The company's network features retail stores, centralized production centers, corporate on-site print centers, and on-site business centers at hotels, convention centers and universities. Services include digital printing, professional finishing, document creation, direct mail, signs and graphics, copying, computer rental, free Wi-Fi and corporate print solutions. In addition, the company offers FedEx Express® and FedEx Ground® shipping, Hold at FedEx Location, and packing services backed by the FedEx® Packing Pledge. For more information, please visit fedex.com/office.

About Sonia King

Sonia King's award-winning mosaic art is exhibited internationally and represented in private, public and museum collections. King's mosaic, Depthfinder, is the first by an American in the permanent collection of contemporary mosaic art at the Museo d'Arte in Ravenna, Italy. Sonia King is a founding member and President Emeritus of the Society of American Mosaic Artists and a past Vice-President of the Associazione Internazionale Mosaicisti Contemporanei in Italy. King was awarded special recognition in the 2010 International Prize for Mosaic Art and Architecture in Italy and also won two international Spectrum Awards for her mosaic walls at Children's Medical Center of Dallas. Sonia King has spoken on mosaic art on five continents and had artist residencies in locations as varied as Russia and Turkey. King teaches advanced workshops around the world and wrote the bestselling book "Mosaic Techniques & Traditions" from Sterling Publishing. Visit her website at www.mosaicworks.com.