FedEx Makes a Special Delivery for Valentine's Day: A Rare Northern Fur Seal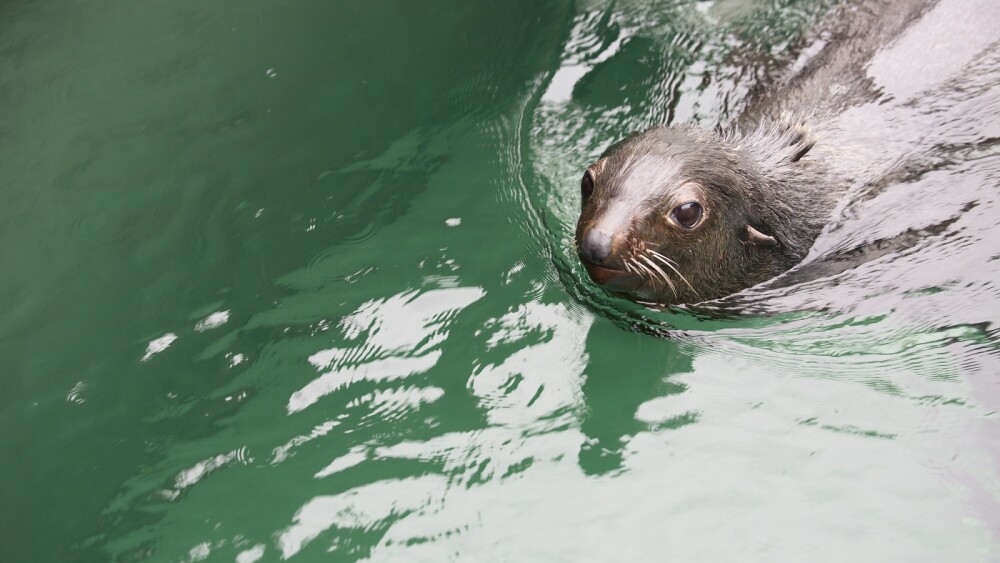 Seal will Meet Future Mate in Boston
MEMPHIS, Tenn., Feb. 10, 2015— A couple of special northern fur seals will have an unforgettable Valentine's Day this year with a little help from FedEx Corp. (NYSE: FDX).
Commander, a nearly 300-pound 11-year-old male northern fur seal, was transported via a donated FedEx flight from Seattle to Boston. Commander will soon meet Ursula, a 16-year-old female northern fur seal, one of the species' last reproductively viable females in an American zoo or aquarium.
The number of northern fur seals in U.S. aquariums has dwindled to just nine, and the rendezvous, just in time for Valentine's Day, is part of a breeding collaboration between the Seattle Aquarium and the New England Aquarium designed to increase the population.
"Sustaining a population of northern fur seals in high profile facilities like the Seattle Aquarium and the New England Aquarium allows visitors to learn more about this amazing species, and creates the human/animal bond necessary to inspire conservation," said Traci Belting, curator of mammals and birds at the Seattle Aquarium. "Biological data collected from northern fur seals in human care contributes to the development of conservation plans for northern fur seals in the wild."

Commander was transported by FedEx in a specially-designed enclosure, and he was accompanied by his veterinarian and one of his trainers throughout his journey.
Commander will make his new home at the New England Aquarium, where he will be introduced to a community of fur seals, including Ursula.
"Commander will be introduced to our colony of fur seals well before breeding season, which begins in the summer," said Kathy Streeter, New England Aquarium marine mammals curator. "This will give him enough time to adapt to his new home and engage in courtship behaviors with Ursula. Ursula has successfully raised two pups in the past. Hopefully, she and Commander will mate and contribute to the genetic diversity of northern fur seals in the U.S."
"FedEx is committed to sustainability, and is grateful for the opportunity to play a role in this important initiative," said David J. Bronczek, president and chief executive officer, FedEx Express. "We wish the best for Commander and Ursula and commend the work of the Seattle and New England Aquariums in this effort."
The Mystic Aquarium in Connecticut and the New York Aquarium are also part of the nationwide breeding effort.
Northern fur seals, which have some of the thickest fur of any animal in the world, were once hunted for their pelts, but are now protected under the Marine Mammal Protection Act as a depleted species. It is estimated there are about 666,000 in the wild, but that number is decreasing. They can be found throughout the northern Pacific Rim, and their main breeding colonies are in the Pribilof and Commander Islands in the Bering Sea.
Editor Note: Broadcast quality b-roll is available for download here or by contacting FedEx Media Relations at 901-434-8100. High resolution images of Commander and Ursula are also available upon request.
About FedEx Corp.
FedEx Corp. (NYSE: FDX) provides customers and businesses worldwide with a broad portfolio of transportation, e-commerce and business services. With annual revenues of $47 billion, the company offers integrated business applications through operating companies competing collectively and managed collaboratively, under the respected FedEx brand. Consistently ranked among the world's most admired and trusted employers, FedEx inspires its more than 300,000 team members to remain "absolutely, positively" focused on safety, the highest ethical and professional standards and the needs of their customers and communities. For more information, visit newsroom.fedex.com/newsroom.
About the Seattle Aquarium
The Seattle Aquarium is one of Washington State's leading environmental education and stewardship institutions, and the region's gathering place for discussion and sharing information about marine conservation. It maintains a number of research initiatives in cooperation with federal, state, zoological and university partners. The Aquarium is located on Pier 59, at 1483 Alaskan Way.
About New England Aquarium
The New England Aquarium is one of the most prominent and popular aquariums in North America and is a recognized international leader in ocean conservation, education and research. The Aquarium is among New England's most-visited tourist attractions and is cultivating widespread public awareness about the benefits and responsibility in improving the health of the oceans and the Earth.
[gallery ids="8240,8239,8238,8237,8236"]