FedEx Ground Names Entrepreneurs of the Year
Three Small Businesses Recognized for Excellence in Business Development, Customer Service, Safety, Ethics, and Community support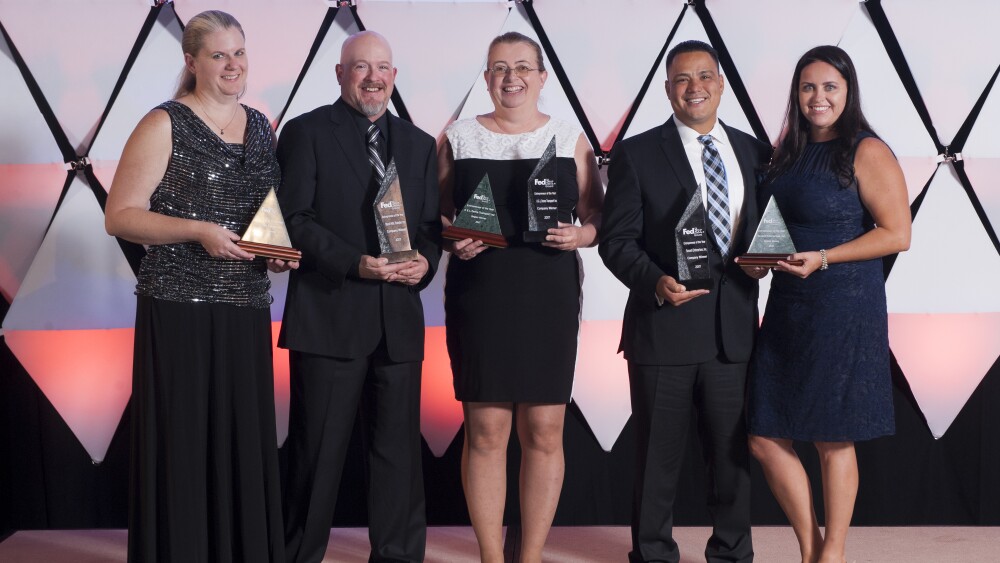 PITTSBURGH, Oct. 26, 2017 – FedEx Ground, a leader in fast, reliable and cost-effective package ground shipping, has named three businesses that provide outstanding contract transportation services as FedEx Ground Entrepreneurs of the Year: K&L Demo Transport Inc. of Bangor, Maine (owner Karen Demo), Black Hills Transfer, Inc. of Rapid City, South Dakota (owner Michael Johnson), and Secord Enterprises Inc. of Burbank, California (owner Roberto Secord).
The distinction recognizes these businesses for demonstrating significant growth, customer service, safety excellence, community involvement, and business ethics. FedEx Ground contracts with nearly 6,000 service providers throughout the United States and Canada, and K&L Demo Transport Inc., Black Hills Transfer, Inc., and Secord Enterprises Inc. were selected from a pool of 20 regional winners representing the best of those companies for the fiscal year ending May 31, 2017.
"Since 2007, FedEx Ground has recognized the exceptional businesses that deliver reliable, safe, and professional service," said Henry J. Maier, president and CEO of FedEx Ground. "The entrepreneurs who own these companies have built lucrative and thriving businesses, while also making substantial contributions to their local communities."
The following are brief company profiles of the businesses recognized:
K&L Demo Transport Inc., Bangor, Maine – Owner, Karen Demo
A well-respected business in operation for more than 20 years, K&L Demo Transport, Inc. is the sole linehaul contracted service provider for FedEx Ground in Bangor, a responsibility Karen Demo and the company's five employees take seriously. Demo attributes K&L Demo Transport's success to treating everyone as a customer, whether a driver, other contracted service provider or FedEx Ground management.
K&L Demo Transport uses an extensive employee sourcing program to select the most qualified and safe drivers. Company management trains new hires one-on-one and conducts ride-alongs until that individual demonstrates confidence behind the wheel. The goal is for each K&L Demo Transport employee to contribute to the company's high standards of excellence, not only through actions behind the wheel, but also through professional appearance and interaction with others.
K&L Demo Transport frequently reinvests in new vehicles and deploys speed limiters, event recorders, warning systems, and driver spot-checking to ensure safe operations. The company has formed strong relationships with local equipment vendors and rents tractors as needed. This past Peak holiday shipping season, K&L Demo Transport provided exceptional service. Despite adding three seasonal spotted trailers and four new drivers, the company was able to continue its 23-year streak of zero preventable accidents.
Known for thorough contingency planning, K&L Demo Transport also supports a local organization for community improvement, New Ventures Maine, through Demo's participation in a program called Totally Trade, for which she counsels middle school girls about non-traditional careers for women. The company also donates food for an annual Special Olympics dinner.
Black Hills Transfer, Inc., Rapid City, South Dakota - Owner, Michael Johnson
In just three years, Black Hills Transfer, Inc. (BHT, Inc.) has become a success story. Michael Johnson and Robert Mulder manage the company's 13 employees and 14-vehicle fleet. Together, they're constantly evaluating service areas and making route adjustments to improve efficiency, safety and service.
BHT, Inc. utilizes an entry-level driver program, which teaches new hires precision driving techniques that heighten awareness and sharpen control when encountering challenges behind the wheel. The entry-level driver program has allowed BHT, Inc. to hire individuals who display the correct attitude and aptitude to operate safely.
BHT, Inc. conducts weekly safety meetings to recognize employees for safety and service accomplishments and to encourage participation in discussions to share best practices. The company also engages outside agencies for joint safety meetings. A third-party fleet monitoring system combines driver monitoring with vehicle diagnostics.
"The system supports our preventive maintenance goals of reducing breakdowns and minimizing driver distraction," Johnson said.
As BHT, Inc. employees interact with others, they're encouraged to make decisions based on The Golden Rule.
"We want them to always consider the other person's perspective," Johnson explains. BHT, Inc. employees have been complimented for extending courtesies that go beyond the ordinary such as shoveling snow from the driveways of people who are physically challenged, carrying groceries and walking elderly customers to their vehicles or mailboxes in bad weather.
As a small business owner, Johnson is attuned to the needs of small business customers and actively accommodates them. BHT, Inc. supports several non-profit organizations, including South Dakota Walleyes Unlimited, a conservation group that hosts children's fishing events, sponsors children to attend summer camp and contributes to scholarships at South Dakota State University for students majoring in conservation. Johnson serves on the board and, along with his wife and business partner, Brenda, donates time and financial support to the organization's many activities.
Secord Enterprises Inc., Burbank, California - Roberto Secord, Owner
Secord Enterprises, Inc. opened for business in 2001 and today has a workforce of 19 employees who operate 15 vehicles. Roberto Secord and Norberto Sanchez oversee the operation and are committed to setting high safety and customer service standards that help the business continue to thrive and grow.
Secord Enterprises has established a first-rate safety culture that begins with teaching its new employees to drive defensively and handle packages efficiently without injury. New drivers receive instruction on DOT requirements and the importance of performing pre-trip inspections. All drivers receive daily safety messages from Secord and Sanchez and attend weekly safety meetings. Secord Enterprises managers frequently ride with drivers to observe techniques and provide feedback.
The company deploys safety technologies such as telematics, backing sonar and event recorders and encourages driver participation in the annual California Truck Driving Championship.
To facilitate ongoing growth, Secord Enterprises has developed an extensive business plan and made customer service training a priority. Each new employee receives a handbook that offers instruction in building the skills and behaviors that lead to high service performance. Reward and recognition initiatives honor drivers for achieving service and safety goals and milestones. Secord Enterprises sponsors a less fortunate family during the holiday season, providing wish-list items. Secord is also a volunteer coach and certified referee for a local soccer organization, coaches little league baseball and mentors the intellectually and/or developmentally challenged at The Arc organization.