FedEx Express Announces Purple Runway – A FedEx Pathways Program
New Recruitment, Retention Program for Pilots Wishing to Develop Skills, Experience at Feeders to Ultimately Qualify for Opportunities at FedEx Express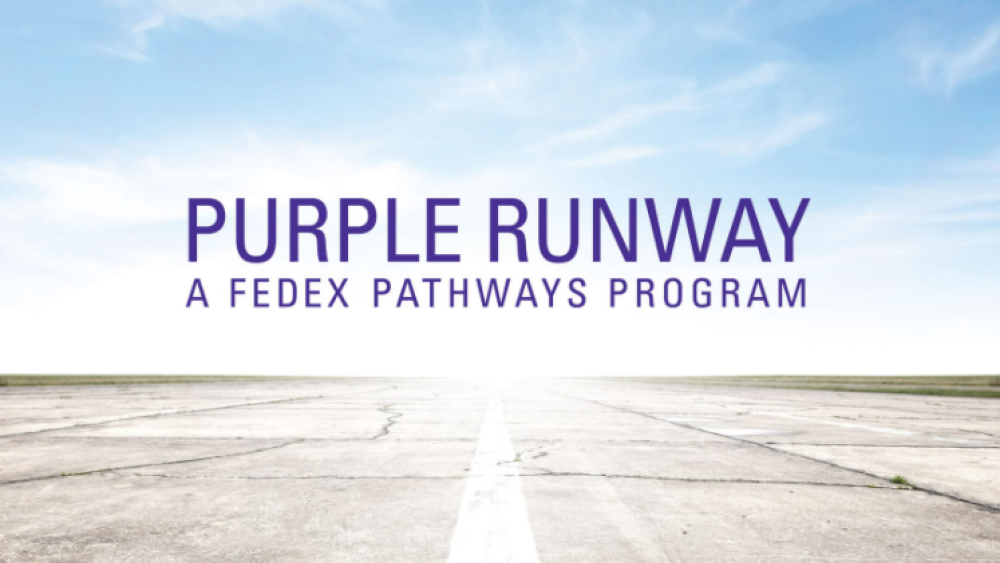 MEMPHIS, Tenn. April 2, 2018 — FedEx Express (FedEx), a subsidiary of FedEx Corp. (NYSE: FDX), announced today Purple Runway – A FedEx Pathways Program, an industry leading pilot development program designed to produce the pilots of tomorrow.
In an effort to recruit the best aviators in the industry over the coming years, FedEx Express created Purple Runway – A FedEx Pathways Program to address the need to support the airline and its feeder operators with a pipeline of highly trained and qualified aviators.
In a speech on March 22, 2018 at Delta State University in Cleveland, Miss., FedEx chairman and CEO Frederick W. Smith said Purple Runway – A FedEx Pathways Program will play an important role in the continuing growth and success of FedEx Express and its third-party feeder operators in the company's feeder fleet.
"FedEx is initiating a new, industry-leading pilot development program to ensure a full pipeline of pilots for us and the industry at large," Smith said. The program is designed "to assist two of our feeder operators with the recruitment and retention of pilots who wish to develop their skills and experiences to eventually qualify for pilot opportunities at FedEx."
FedEx Express, along with its feeder operators at Mountain Air Cargo and Empire Airlines, will have a collaborative outreach and engagement program to promote student interest in aviation careers at selected colleges and universities beginning with Delta State University. As the program continues to roll out, FedEx and its feeder operators will work with many other leading universities and aviation colleges around the country to educate potential pilots and other students interested in an aviation career on the industry-leading aviation opportunities and development programs available to them at both the feeder operators and at FedEx Express.
"Empire Airlines is excited to be part of such a forward looking and innovative program," said Tim Komberec, president and CEO of Empire Airlines. "We believe this program will strengthen our recruitment efforts and provide a pathway to one of the premier flight careers in the world, FedEx Express."
"Mountain Air Cargo is thrilled to be part of this exciting opportunity," said Craig Bently, president and CEO of Mountain Air Cargo. "This program will provide our airline with highly-skilled and qualified pilots as well as create a pathway for these aviators to follow their dreams and join FedEx Express."
Purple Runway – A FedEx Pathways Program has three main objectives:

To further career development of pilots during their employment with the feeder;
To assist the feeder operator in its efforts to recruit high-quality, well-trained candidates; and
To provide FedEx Express with an early opportunity to evaluate feeder pilots as potential applicants for available FedEx Express trunk positions.
Earlier this year, FedEx announced the purchase of 30 ATR 72-600F aircraft with the option to purchase up to 20 more as a first step to modernizing the company's feeder fleet along with a purchase agreement with Textron Aviation, Inc., to purchase 50 new-design Cessna SkyCourier 408F aircraft, with the option to purchase up to 50 additional aircraft.
"These aircraft purchases are part of our long-term feeder fleet strategy," said Greg Hall, executive vice president of Air Operations, FedEx Express. "That strategy will not only improve our fuel efficiency and fleet reliability, but thanks to a collaborative training program through Purple Runway – A FedEx Pathways Program, we will create a reliable pipeline of well-qualified pilot applicants for FedEx Express pilot jobs, leveraging the experience they will gain in our feeder system."
The FedEx Express feeder network is a strategic component of the overall global linehaul network, serving markets too small for direct FedEx Express air linehaul service and markets where FedEx Express does not have operating rights. The feeder network is composed of more than 300 aircraft serving 45 countries. Most of these feeder aircraft are owned by FedEx and are leased and operated by different third-party air carriers under their own operating certificates. The FedEx feeder fleet is comprised of aircraft under 60,000 pounds maximum gross take-off weight, and allows the company to provide fast, economical service to small and medium-sized markets around the world.
The FedEx feeder fleet complements the company's jet fleet of more than 360 aircraft, including Boeing 777s, B767s and B757s, MD11s, MD10s, Airbus 300s and Airbus 310s.
More information on Purple Runway – A FedEx Pathways Program can be found at: http://FedExPurpleRunway.com