FedEx Express Aircraft Named in Honor of St. Jude Children's Research Hospital Patient Kenzie
Ninth Annual Purple Eagle Ceremony
Featured During WGC-FedEx St. Jude Invitational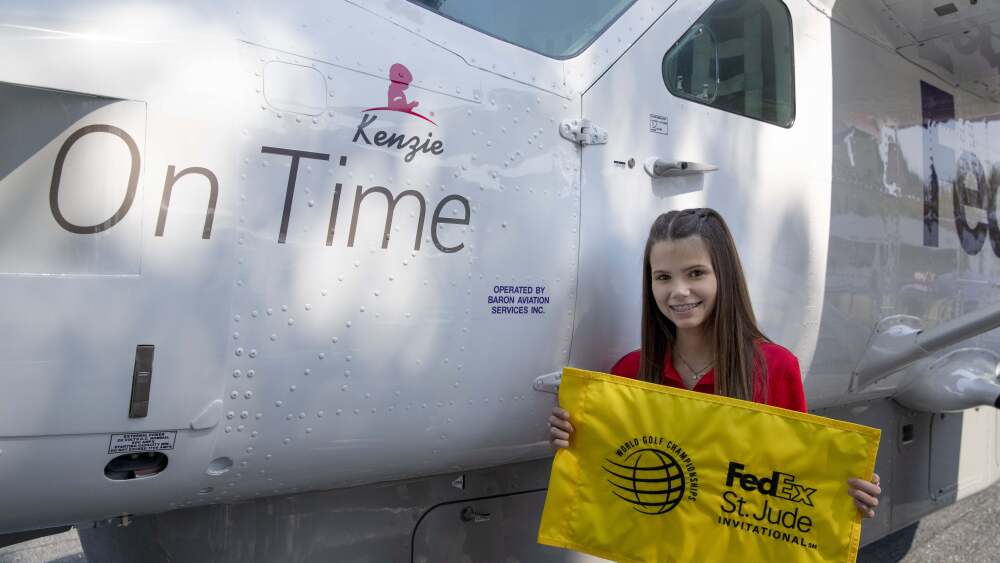 MEMPHIS, Tenn., August 5, 2021- FedEx Express, a subsidiary of FedEx Corp., and the world's largest express transportation company, dedicated a Cessna Caravan to Kenzie, a 17-year-old patient at St. Jude Children's Research Hospital®, on Thursday at TPC Southwind during the first day of play in the World Golf Championships-FedEx St. Jude Invitational. This is the ninth year of the Purple Eagle Program, which honors a St. Jude patient who is also the child of a FedEx team member.
Kenzie's story is one of strength and purpose. In October 2017, she was diagnosed with acute lymphoblastic leukemia, a type of cancer of the blood and bone marrow. Her family turned to St. Jude, a place where some of the world's sickest children are treated without cost to the family. In July 2020, after two and a half years of chemotherapy, she completed treatment and was selected as the 2020 Purple Eagle recipient. However, that ceremony was delayed because of COVID-19. Kenzie is now a rising high school senior and will graduate in 2022 with plans to pursue a career in nursing with the hope of working at St. Jude.
"FedEx, an organization with purpose and a passion for making the world a better place, has been an invaluable and dedicated partner to St. Jude Children's Research Hospital for decades," said Richard C. Shadyac Jr., President and CEO of ALSAC, the fundraising and awareness organization for St. Jude Children's Research Hospital. "The FedEx Purple Eagle program is one of a kind, inspiring our patient families who are part of the FedEx family and delighting supporters everywhere who see the named planes in rotation. We know Kenzie's story, like the stories of all patients who join her in having a named aircraft, inspire hope in other kids who are being treated for pediatric cancer and other life-threatening diseases."
FedEx Express names the large jets in its fleet in honor of children of FedEx Express team members. In the Purple Eagle program, the only FedEx supplemental aircraft to receive such a designation are those aircraft named in honor of St. Jude patients.
"The FedEx aircraft naming project began in 1973 with our fleet of trunk aircraft, and over 400 of those aircraft have been named," said Bill West Jr., vice president of supplemental aircraft operations at FedEx Express. "However, only nine of our feeder aircraft carry the iconic St. Jude logo with our purple promise honorees' names so proudly displayed."
Kenzie's father Michael serves as an aircraft mechanic at FedEx Express.
Funds raised from this year's Purple Eagle event will be matched by an anonymous donor. Donations to St. Jude Children's Research Hospital can be made here: http://fundraising.stjude.org/purpleeagle2021.
About FedEx Express
FedEx Express is the world's largest express transportation company, providing fast and reliable delivery to more than 220 countries and territories. FedEx Express uses a global air-and-ground network to speed delivery of time-sensitive shipments, by a definite time and date with a money-back guarantee1.
[1] Subject to relevant terms and conditions
About FedEx Corp.
FedEx Corp. (NYSE: FDX) provides customers and businesses worldwide with a broad portfolio of transportation, e-commerce and business services. With annual revenue of $84 billion, the company offers integrated business solutions through operating companies competing collectively, operating collaboratively and innovating digitally under the respected FedEx brand. Consistently ranked among the world's most admired and trusted employers, FedEx inspires its 570,000 team members to remain focused on safety, the highest ethical and professional standards and the needs of their customers and communities. FedEx is committed to connecting people and possibilities around the world responsibly and resourcefully, with a goal to achieve carbon-neutral operations by 2040. To learn more, please visit about.fedex.com.
About St. Jude Children's Research Hospital®
St. Jude Children's Research Hospital is leading the way the world understands, treats and defeats childhood cancer and other life-threatening diseases. Its purpose is clear: Finding cures. Saving children.® It is the only National Cancer Institute-designated Comprehensive Cancer Center devoted solely to children. Treatments invented at St. Jude have helped push the overall childhood cancer survival rate from 20 percent to more than 80 percent since the hospital opened more than 50 years ago. St. Jude won't stop until no child dies from cancer. St. Jude freely shares the discoveries it makes, and every child saved at St. Jude means doctors and scientists worldwide can use that knowledge to save thousands more children. Families never receive a bill from St. Jude for treatment, travel, housing or food – because all a family should worry about is helping their child live. Visit St. Jude Inspire to discover powerful St. Jude stories of hope, strength, love and kindness. Join the St. Jude mission by visiting stjude.org, liking St. Jude on Facebook, following St. Jude on Twitter, Instagram and TikTok, and subscribing to its and subscribing to its YouTube channel.