FedEx and NBA Extend Strategic Marketing Alliance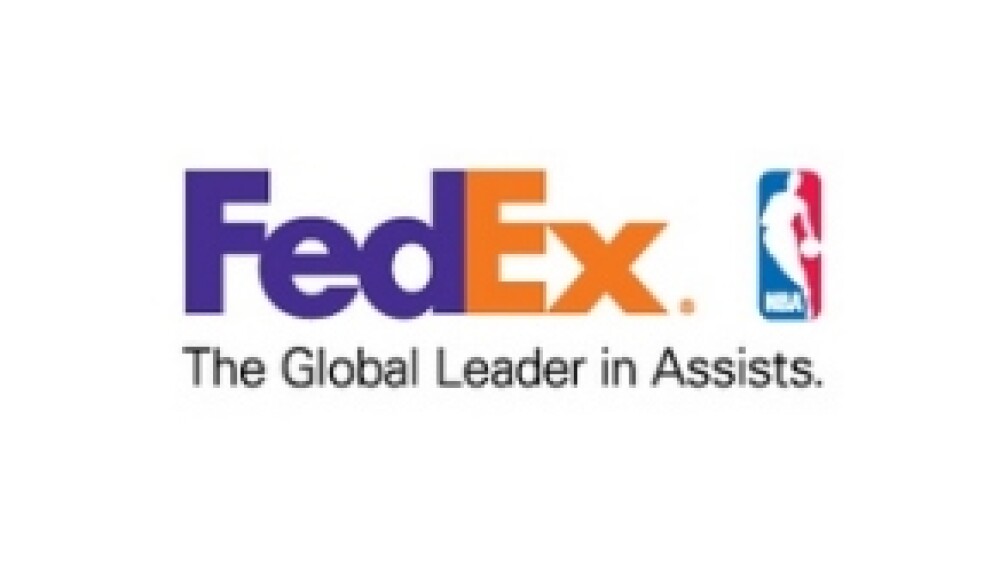 International NBA Stars Luol Deng, Manu Ginobli, Steve Nash, Tony Parker, and Peja Stojakovic to Serve as Global Endorsers

NEW YORK , Nov. 1, 2007 – FedEx Corp. (NYSE: FDX) and the National Basketball Association today announced an extension of their U.S. strategic marketing alliance, which makes FedEx the "Official Air and Ground Delivery Service of the NBA."

In support of its NBA alliance, FedEx has formed endorsement agreements with five international NBA players including Phoenix Suns guard Steve Nash ( Canada ), San Antonio Spurs guards Tony Parker ( France ) and Manu Ginobli ( Argentina ), Chicago Bulls forward Luol Deng ( England ), and New Orleans Hornets forward Peja Stojakovic ( Serbia ). The players, named the "FedEx Global Leaders," will highlight FedEx's international shipping expertise in a variety of national advertisements, customer hosting opportunities, promotions at NBA events, and through league media properties such as NBA TV and NBA.com.

The relationship highlights FedEx's global shipping business and international routes to 220 countries and territories worldwide through the NBA's worldwide popularity and the growing number of international players in the league. The partnership will also feature localized hospitality events designed to engage FedEx customers.

"We have had an overwhelmingly successful relationship with FedEx and this extension allows us to continue to capitalize on the commonalities of our brands," said Mark Tatum, Senior Vice President, Marketing Partnerships, National Basketball Association. "When you combine the global reach of FedEx with the international diversity of our game, it presents us with an enormous platform to jointly market the NBA and FedEx to our fans."

FedEx will continue to present the "Go Around the World with FedEx" weekly feature that appears on NBA TV and NBA.com throughout the NBA season. As part of this weekly highlight based feature NBA.com will host the Go Around the World with FedEx weekly sweepstakes where fans can enter daily for a chance to win autographed merchandise form the FedEx endorsers. All entries also give fans the opportunity to win the season ending grand prize, a trip around the world from FedEx. In addition, the FedEx dedicated page on NBA.com is a constant source of information on International players currently playing overseas and contains the "International Top 10," a regularly updated section linking to stories from global news sources highlighting International basketball and players.

FedEx, which has had a marketing alliance with the NBA since 2004, continues to present the "FedEx All-Star Global Village," at Jam Session during NBA All-Star each year in February. An interactive basketball, media and cultural area, last year's village featured an "Around the World Court," a half-court with shooting locations marked by famous international landmarks such as the Eiffel Tower; and a newsroom designed for international media events and interviews of the NBA international stars following the daily basketball clinics. As part of the "FedEx All-Star Global Village," the "FedEx Global Leaders" will host a number of basketball-related clinics and activities.

About FedEx

FedEx Corp. (NYSE: FDX) provides customers and businesses worldwide with a broad portfolio of transportation, e-commerce and business services. With annual revenues of $36 billion, the company offers integrated business applications through operating companies competing collectively and managed collaboratively, under the respected FedEx brand. Consistently ranked among the world's most admired and trusted employers, FedEx inspires its more than 280,000 employees and contractors to remain "absolutely, positively" focused on safety, the highest ethical and professional standards and the needs of their customers and communities. For more information, visit http://news.fedex.com.

About the NBA

The NBA, founded in 1946, is a global sports and entertainment brand that features 30 teams in the United States and Canada . During the 2006-07 season, the NBA distributed 45,000 hours of programming to 215 countries and territories in 41 languages. The league's worldwide reach can also be seen with 85 international players on NBA rosters. Domestically, the NBA broadcasted 142 games on national television last season on ABC, TNT, ESPN and ESPN2, and eclipsed attendance records for the fourth consecutive season.

NBA TV, launched in 1999 as the first 24-hour television channel created and operated by a professional sports league, is distributed to 73 countries. NBA merchandise is sold in more than 100,000 stores in 100 countries on six continents; NBA.com gets more than half of its visitors from outside the United States .

NBA Cares is the league's social responsibility initiative that builds on the NBA's long tradition of addressing important social issues in the United States and around the world. Through this umbrella program, the NBA, its teams and players have committed to donating $100 million to charity, providing a million hours of hands on service to the community and creating 250 places where kids and families can live, learn or play. NBA Cares works with internationally-recognized youth-serving programs that support education, youth and family development, and health-related causes, including: UNICEF; the Make-a-Wish Foundation and the Global Business Coalition on HIV/AIDS, Malaria and Tuberculosis.