University of Maryland Students win 11th Annual FedEx Freight International Graduate Logistics Case Competition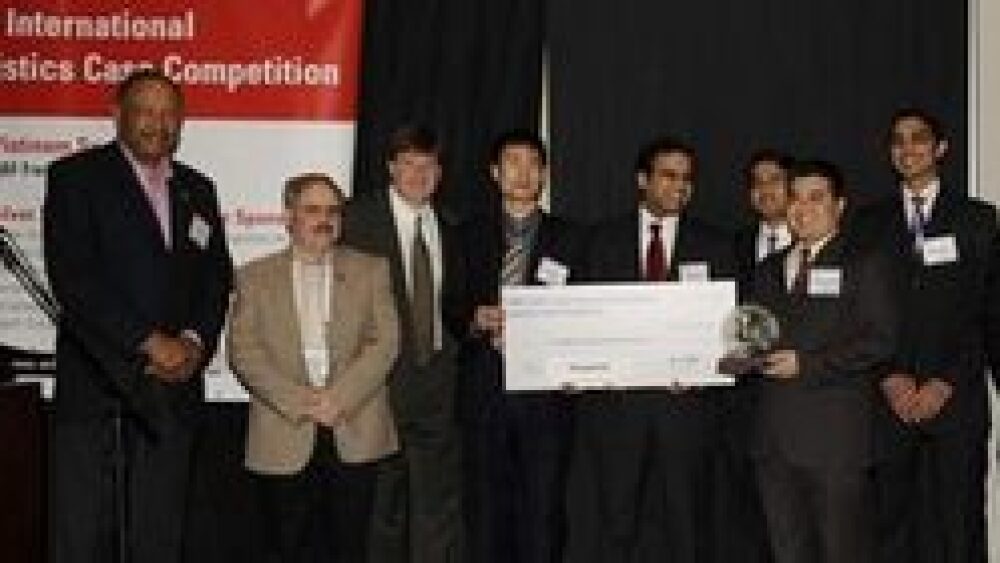 MEMPHIS , Tenn. , March 3, 2008 – A team from the University of Maryland beat 11 others to win the 11th Annual FedEx Freight International Graduate Logistics Case Competition in Fayetteville , Ark.

Teams from Brigham Young University and Pennsylvania State University placed second and third, respectively, in the February 28-March 1 competition sponsored by FedEx Freight in alliance with the Supply Chain Management Research Center at the University of Arkansas Sam M. Walton College of Business. The top three finishers were awarded $3,000, $2,000 and $1,000, respectively.

"At FedEx Freight, we are committed to adding value to our customers' supply chains. We are proud to once again sponsor this important supply-chain competition," said Pat Reed, executive vice president and chief operating officer. "Throughout the world, ever-increasing supply-chain efficiencies are made possible by dedicated and talented logistics professionals, and we're confident that many of tomorrow's transportation experts participated this weekend."

Each team competed as a "consulting firm" for a small start-up company, which in the scenario was competing in the growing wind-turbine industry. The 12 teams were given just 24 hours to review the logistics case and prepare their recommendations for a supply-chain plan. They presented their solutions to a panel of industry judges, which chose three finalists who competed before a second group of judges in the championship round. The winners were announced at an awards banquet on March 1. Participating universities also included the University of Arkansas , University of Minnesota , University of Wisconsin – Madison , Michigan State University, Ohio State University , Iowa State University, Texas Christian University , Darmstadt University of Technology of Darmstadt , Germany , and Chalmers University of Technology in Gothenburg , Sweden .

About FedEx Freight

Within FedEx Corp., the FedEx Freight Segment had annual revenues of $4.6 billion in fiscal year 2007. With corporate offices in Memphis, Tenn., the Segment includes FedEx Freight, a leading U.S. provider of regional next-day and second-day and extended LTL freight services; FedEx National LTL, a leading U.S. provider of long-haul LTL services; FedEx Freight Canada, an LTL operating company serving most points in Canada; FedEx Custom Critical, North America's largest time-specific, critical shipment carrier; and Caribbean Transportation Services, the leading provider of airfreight forwarding services between the United States and Puerto Rico. For more information, visit the FedEx web site, fedex.com.

Corporate Overview

FedEx Corp. (NYSE: FDX) provides customers and businesses worldwide with a broad portfolio of transportation, e-commerce and business services. With annual revenues of $36 billion, the company offers integrated business applications through operating companies competing collectively and managed collaboratively, under the respected FedEx brand. Consistently ranked among the world's most admired and trusted employers, FedEx inspires its more than 290,000 employees and contractors to remain "absolutely, positively" focused on safety, the highest ethical and professional standards and the needs of their customers and communities. For more information, visit news.fedex.com.