United Airlines and FedEx Donate Plane to Create a New Flying Eye Hospital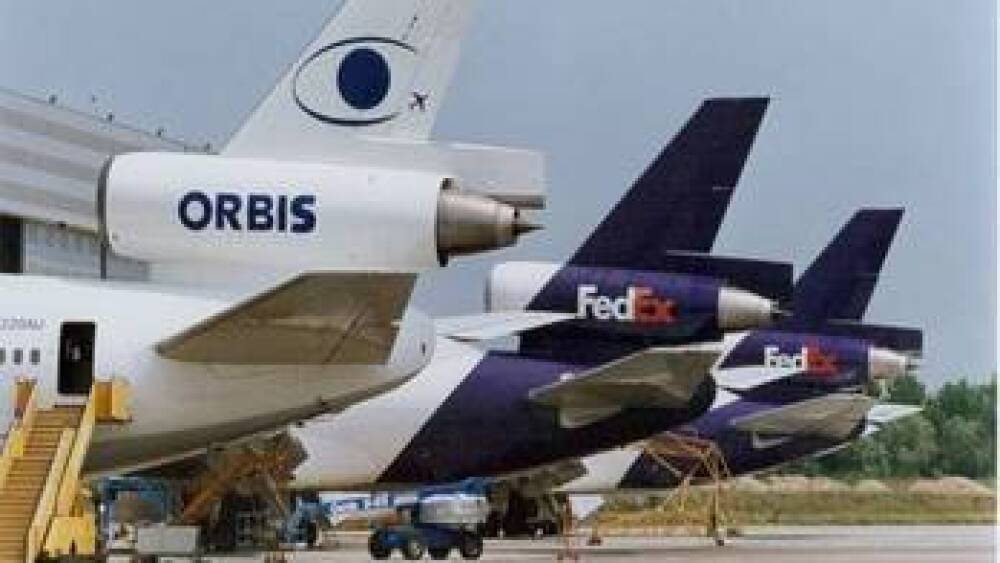 CHICAGO, April 7, 2008 — ORBIS International, a nonprofit development organization dedicated to saving sight worldwide, today announced it will replace its current DC-10 Flying Eye Hospital with a DC-10 Series 30 freighter. United Airlines (NASDAQ: UAUA), with the support of FedEx Corp. (NYSE: FDX), is donating the airplane to ORBIS. The $2 million donation is based on the plane's estimated value and being funded equally by United and FedEx.

"Through the extraordinary generosity of United and FedEx, millions of people who would otherwise go blind or remain blind for lack of proper eye care will reap the rewards of advanced ophthalmic training," said ORBIS Executive Director Geoffrey Holland. "The new aircraft will allow ORBIS to continue its mobile sight-saving training for 20 years. This is a truly wonderful gift to the world."

At the heart of ORBIS is the world's only Flying Eye Hospital – a DC-10 aircraft containing an innovative teaching facility and ophthalmic surgical center. The ORBIS Flying Eye Hospital is flown across the globe by volunteer pilots from FedEx Express and United, and its international medical team conducts treatment and training programs. Leading eye surgeons volunteer their time to perform surgery and teach aboard the aircraft during programs specifically designed to suit the skills-level of host countries.

Unique and lasting alliance forged with United Airlines

United Airlines is the Founding Airline Sponsor of ORBIS, having donated the first ORBIS Flying Eye Hospital , a DC-8, which was launched in 1982. In 1992, with donations from three very generous individuals, ORBIS purchased a DC-10. In 1994, the ORBIS DC-8 was formally retired, and the ORBIS DC-10, which remains in service today, took over as the world's only flying eye hospital.

Until 2001, when it retired its fleet of DC-10 aircraft, United held the lead role in maintaining the current ORBIS Flying Eye Hospital . United currently supports ORBIS by transporting volunteer medical faculty and other personnel to ORBIS programs around the world. Over the years, more than 300 United pilots and maintenance crew members have donated their time and expertise to ORBIS.

"We are pleased to continue our long-standing support of ORBIS and ensure that it can reach even more people across the world with this more efficient aircraft," says Glenn Tilton, CEO of United Airlines. "Because of the important work of ORBIS, as well as our own employees who volunteer, there is a great opportunity to make a significant difference in maintaining and restoring sight to people around the world."

Aircraft to align with FedEx operating systems

For more than 20 years, FedEx Express has played an indispensable role in helping ORBIS achieve its vision of a world in which no one is needlessly blind. Today, FedEx Express, which has the world's largest fleet of DC-10s, is the leading aviation sponsor of the ORBIS Flying Eye Hospital . Without its donations of critically needed aircraft maintenance and overnight delivery services, the Flying Eye Hospital could not fly and vital supplies could not be delivered.

"FedEx is proud to play a role in helping make the next generation of Flying Eye Hospital a reality," said Jim Parker, FedEx Express air operations senior vice president. "In helping ORBIS, FedEx is able to leverage our core aviation competencies to deliver the gift of sight worldwide."

In 2006, FedEx renewed its sponsorship of the ORBIS DC-10, a sponsorship that has made it possible for ORBIS to operate the current Flying Eye Hospital at nominal expense.

After a comprehensive review of the Flying Eye Hospital 's navigation and engineering systems, ORBIS determined it had to replace its aging DC-10 as replacement parts are becoming more difficult and expensive to obtain. This decision allows ORBIS to remain operating in a more efficient and cost effective fashion for years to come.

Converted plane to be third-generation of ORBIS Flying Eye Hospital

A DC-10 Series 30 freighter will be donated to ORBIS. This aircraft is about 10 years younger than ORBIS's current aircraft, a McDonnell-Douglas DC-10-10 built in 1970, and has a flying life of at least 20 years. The new ORBIS Flying Eye Hospital will be more efficient providing greater range, lower operating costs and better reliability.

A team, consisting of medical personnel, architects and engineers, has been assembled to determine the design and architectural modification necessary to convert the freighter into a state-of-the-art ophthalmic medical facility. The conversion of the plane is expected to take two years to complete.

About United Airlines

United Airlines operates more than 3,300 flights a day on United, United Express and Ted to more than 200 U.S. domestic and international destinations from its hubs in Los Angeles , San Francisco , Denver , Chicago and Washington , D.C. With key global air rights in the Asia-Pacific region, Europe and Latin America, United is one of the largest international carriers based in the United States . United also is a founding member of Star Alliance, which provides connections for our customers to 897 destinations in 160 countries worldwide. For more information about United, visit united.com.

About FedEx Corp.

FedEx Corp.provides customers and businesses worldwide with a broad portfolio of transportation, e-commerce and business services. With annual revenues of $37 billion, the company offers integrated business applications through operating companies competing collectively and managed collaboratively, under the respected FedEx brand. Consistently ranked among the world's most admired and trusted employers, FedEx inspires its more than 290,000 employees and contractors to remain "absolutely, positively" focused on safety, the highest ethical and professional standards and the needs of their customers and communities. For more information, visit news.fedex.com.

About ORBIS International

ORBIS International is a nonprofit global development organization dedicated to saving sight worldwide. Since 1982, ORBIS programs have benefited people in 86 countries, enhancing the skills of more than 195,000 health care personnel and providing eye care treatment for more than 6.8 million people. At the same time, ORBIS has been building up the local capacity of eye care institutions through comprehensive long-term development programs tailored to the specific needs of ORBIS-sponsored partners in developing countries. In addition to clinical training aboard the ORBIS Flying Eye Hospital and in local hospitals, this also includes technical assistance in effective disease control, monitoring and evaluation, human resource and organizational development, infrastructure and technology and community partnership. To learn more about ORBIS, please visit www.orbis.org.