Trees for Troops – Delivering the Holidays for the Military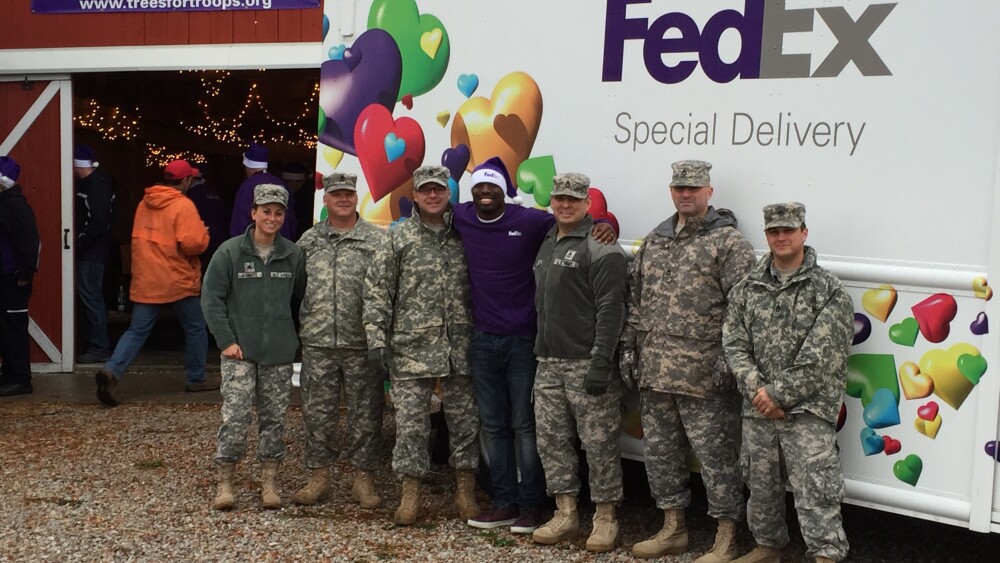 MEMPHIS, Tenn., Nov. 11, 2016—FedEx Corp. (NYSE: FDX) and the Christmas SPIRIT Foundation are joining forces again for a special delivery to America's service members and their families with the Trees for Troops program.
Since the Trees for Troops program launched in 2005, FedEx has shipped more than 176,000 real Christmas trees to service members and their families—covering every branch of the military at close to 65 bases in 17 countries.
This year marks the 12th anniversary of the program. Thanks to the generosity of tree farmers across North America, more than 18,000 real Christmas trees will be donated and delivered to close to 65 military bases during the busy weeks leading up to Christmas.
"We are honored to use our network and capabilities this holiday season to deliver trees to the brave men and women serving in the U.S. military," said Mike Ducker, president and CEO, FedEx Freight. "The Trees for Troops program allows the FedEx team to share the holidays with thousands of our heroes."
Delivering Holiday Joy Around the World
The Trees for Troops initiative kicks off Nov. 15 in Thorntown, Ind., as FedEx volunteers prepare 200 real Christmas trees for service members stationed overseas. The Christmas trees, donated by members of the Indiana Christmas Tree Growers Association, will be delivered to service members stationed in Guam via FedEx Express.
Once the international deliveries have taken flight, FedEx Freight will hit the road with more than 18,000 fresh cut Christmas trees to be delivered to U.S. military bases beginning Nov. 29, with final deliveries scheduled for Dec. 9. Many of these deliveries include special holiday festivities in which military families receive their anticipated Christmas tree.
Join the Effort
Send the troops a holiday greeting with the trees through our Tag-a-Tree campaign. Tweet your message using the hashtag #TreesforTroops from now until Nov. 11 to participate. The holiday messages will appear on tags placed on the 18,000 real Christmas trees going to troops across the country.
You can also support Trees for Troops by donating to the program and/or purchasing fresh trees at one of close to 50 Christmas tree retail locations nationally during Trees for Troops weekend, Dec. 2-4. Donated trees will be added to the program's planned deliveries to U.S. bases during 2016. More information on how to get involved can be found at www.treesfortroops.org.
"Real Christmas trees are the centerpiece of an authentic Christmas tradition," said Richard Darling, Christmas SPIRIT Foundation chairman. "As Christmas tree growers, we are very proud to be able to share that tradition with our military families through the Trees for Troops program. Donating our trees to these American heroes has become an important part of our Christmas celebration."
FedEx is involved with the Trees for Troops program as part of FedEx Cares. For information about the peak holiday season at FedEx, visit the FedEx Newsroom.
About FedEx Corp.
FedEx Corp. (NYSE: FDX) provides customers and businesses worldwide with a broad portfolio of transportation, e-commerce and business services. With annual revenues of $58 billion, the company offers integrated business applications through operating companies competing collectively and managed collaboratively, under the respected FedEx brand. Consistently ranked among the world's most admired and trusted employers, FedEx inspires its more than 400,000 team members to remain "absolutely, positively" focused on safety, the highest ethical and professional standards and the needs of their customers and communities. To learn more about how FedEx connects people and possibilities around the world, please visit about.fedex.com.
About the Christmas SPIRIT Foundation
The Christmas SPIRIT Foundation is a 501(c)(3) tax-exempt charitable organization that works to recognize and support the true spirit of Christmas for U.S. troops through the Trees for Troops® program. The foundation was established in 2005 and is among fewer than five percent of U.S. charities to be awarded the "Best in America" seal of excellence by Independent Charities of America. Trees for Troops was a Top 20 Finalist in the 2012 Joining Forces Campaign, a White House initiative that honors exemplary support organizations for military families. To learn more, visit www.treesfortroops.org or call (800) 965-1653.