Time is Money – Save Both with FedEx This Holiday Season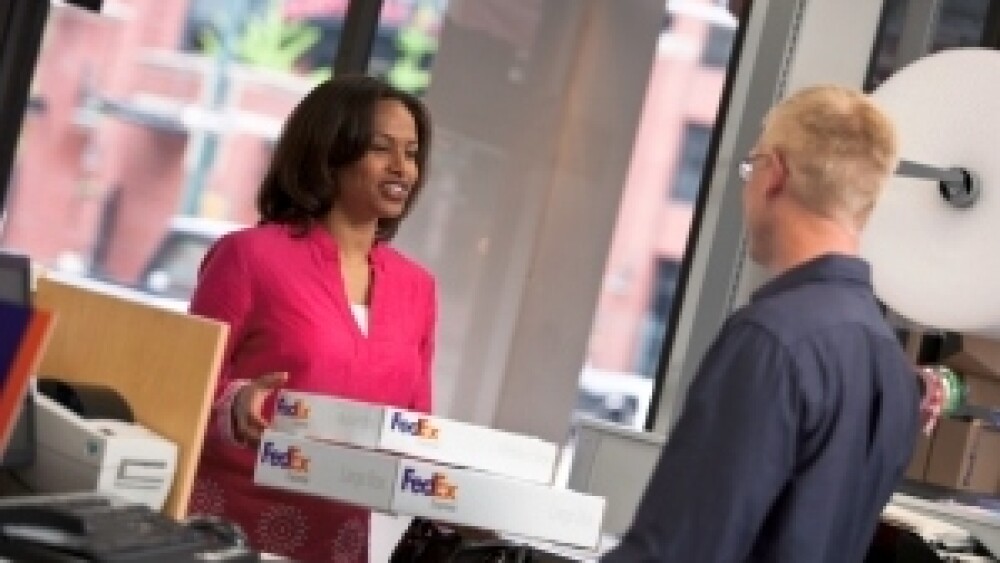 MEMPHIS, Tenn., Nov. 18, 2009 – FedEx Corp. (NYSE: FDX) offers customers several convenient ways to save time and money when shipping this holiday season.

From discounts offered by FedEx Express, the world's largest express transportation company, and cost-effective shipping with FedEx Ground to time-saving holiday card and calendar gift options from FedEx Office, FedEx has solutions to make life easier during the holidays.

"FedEx listens intently to the needs of our customers and we are committed to exceeding their expectations at every opportunity," said T. Michael Glenn, FedEx executive vice president, Market Development and Corporate Communications. "FedEx team members around the world are standing by to save customers time, money and hassle during the busy holiday season."

Save Money with FedEx
Looking to save money this holiday season? FedEx offers the following tips to help keep your holiday budget in check:

• Visit a FedEx Office location and ship with FedEx Ground for 10 percent less than UPS Ground.*
• Apply to save up to 16 percent on eligible FedEx Express services and eight percent on eligible FedEx Ground and FedEx Home Delivery services when using FedEx Ship Manager® at fedex.com or FedEx Ship Manager Software. Visit http://www.fedex.com/us/oadr/en/discounts/index.html for more information.
• Ship by Dec.17, 2009 and use FedEx Ground and Home Delivery Services for the most cost-effective delivery. FedEx Home Delivery service connects every residential address in the U.S. via our residential-only delivery network while offering Date Certain, Evening and Appointment deliveries to make shipping more convenient for your recipient.

• Drop FedEx Express shipments off at one of more than 53,000 FedEx dropoff locations to avoid added surcharges.
• Procrastinating? FedEx Express has several cost-effective shipping options when holiday deadlines are drawing near. Research the many options available via FedEx Express for the most economical shipping options such as FedEx Express Saver® and FedEx 2Day® services.

• Packaging is important. Pack your shipment properly to minimize the size and weight of the package and reduce shipping costs. The professionals at FedEx Office can pack and ship your holiday package for you at more than 1,800 FedEx Office locations nationwide. Packaging tips are also available at fedex.com/packaging.

• Visit fedex.com to view potential savings with companies such as American Express, Google Checkout, Hertz, Amazon Services, Grasshopper, Pitney Bowes, QuickBooks, Network Solutions, Alibaba, USAA and stamps.com. Examples follow:

o FedEx and Amazon have teamed up to bring customers a special offer to waive the first five months of subscription fees (a value to $199.95) when signing up for the Selling on Amazon program through FedEx.com. In addition, Selling on Amazon merchants are eligible for special savings on several FedEx services for the five month period.
o Customers who use their American Express OPEN Business Card will automatically receive a five percent discount on select FedEx Express and FedEx Ground shipments and select products and services at FedEx Office Print & Ship Centers. No enrollment is required. Terms and conditions apply. Please visit fedex.com/opensavings for more information.

o FedEx customers can now open up a free Alibaba.com storefront and begin selling their product to the world. Customers can also get free service from Alibaba.com's B2B conciege service Transfer Express, taking the effort out of displaying new products online. For more information, visit http://www.fedex.com/alibaba.

Save Time with FedEx
The 275,000 global team members of FedEx know time is money. The company that revolutionized the world by inventing the overnight shipping industry offers the following tips for saving time during the holiday rush:

• Ship early and avoid lines. Customers have until December 17, 2009 to find and send their holiday gift via FedEx Ground. Last-minute shoppers have until December 23, 2009 to ship FedEx Express and have their package arrive in time for the Christmas holiday.

• Ship with FedEx Ground, which is faster to more locations than UPS Ground. See how fast at fedex.com/faster.

• If you need it there on Saturday, FedEx Home Delivery provides the advantage of Saturday as a standard delivery day. Most packages scheduled for Monday delivery by UPS would have been delivered two days earlier on Saturday by FedEx Home Delivery.**

• Utilize the time-saving convenience of the FedEx retail network. On their own schedule, customers can conveniently access more than 44,000 FedEx drop boxes (including almost 5,000 at U.S. Postal Service locations), 1,900 FedEx Office locations, more than 700 FedEx World Service Centers and more than 6,500 FedEx Authorized ShipCenters®. To find the nearest locations, visit http://www.fedex.com/dropoff.

• Avoid the time and hassle of shopping for shipping supplies and packing up holiday gifts – let the professionals at FedEx Office pack and ship your items. Team members are specially trained to help ensure that holiday packages arrive safe and sound. FedEx Office also offers an array of do-it-yourself shipping supplies so you can get it all done in one stop.

• Customize holiday cards and stationery or create a personalized 2010 calendar in just minutes with FedEx Office. Customers can do so quickly and conveniently in-store or online.

• Use FedEx OfficeSM Print Online to conveniently print documents – from holiday newsletters to seasonal marketing materials – at a center of your choice or have them delivered.

• Save time on fedex.com. Customers save time with FedEx's industry-leading online services for their global and domestic shipments by using FedEx Web-based resources for visibility, planning and efficiency.

o Fedex Ship Manager at fedex.com

o FedEx tracking options, including FedEx InSight

o FedEx Global Trade Manager

o FedEx Returns Portfolio

* Disclaimer: Percentage based on comparison of 2009 FedEx Ground retail counter rates and published UPS Ground retail rates.
** Saturday and premium services are not available for FedEx Home Delivery Out of Service Area ZIP codes; in those areas, FedEx Ground completes the delivery.
About FedEx
FedEx Corp. (NYSE: FDX) provides customers and businesses worldwide with a broad portfolio of transportation, e-commerce and business services. With annual revenues of $34 billion, the company offers integrated business applications through operating companies competing collectively and managed collaboratively, under the respected FedEx brand. Consistently ranked among the world's most admired and trusted employers, FedEx inspires its more than 275,000 team members to remain "absolutely, positively" focused on safety, the highest ethical and professional standards and the needs of their customers and communities. For more information, visit news.fedex.com.
- # # # -