STAR and FedEx Join Forces in Airlifting Relief Supplies to Sichuan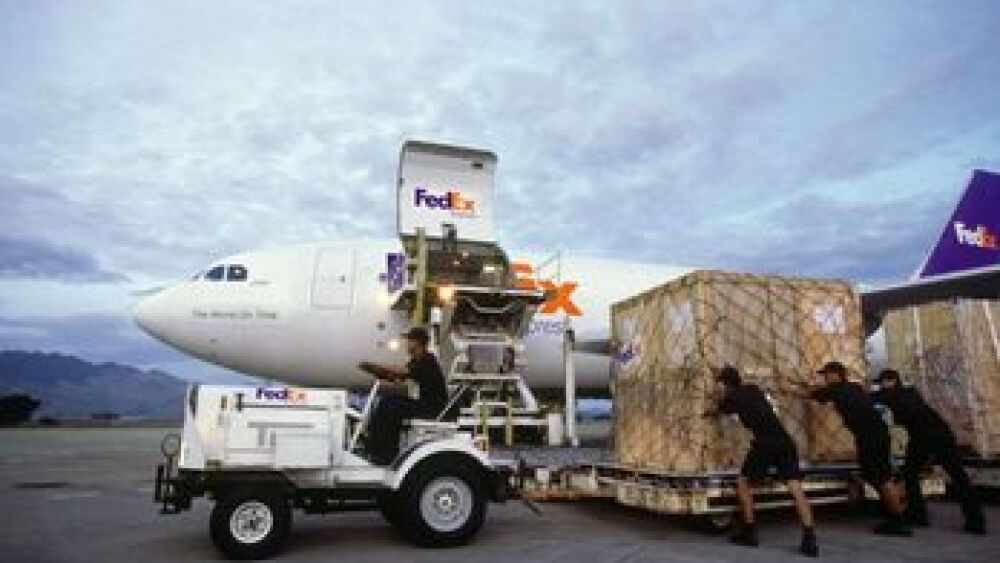 HONG KONG, June 3, 2008 – STAR, Asia's leading media and entertainment company, and FedEx Express, a subsidiary of FedEx Corp. (NYSE: FDX) and the world's largest express transportation company, airlifted 31 tonnes of necessities to Sichuan Province, China, on Sunday June 1. The supplies will provide immediate aid to Sichuan's earthquake survivors.
Also participating in the donation were STAR's advertisers Nissin Foods, Otsuka Pharmaceutical Hong Kong and Continental Supplies. Sourced by STAR's Greater China offices in Hong Kong, Taipei and Guangzhou, the relief supplies included surgical masks, cup noodles, health drinks, and ten thousand tents, sleeping bags, mats and blankets.
FedEx Express provided full cargo transport and logistical support, congregating the supplies in Hong Kong and dispatching them to Chengdu, where they were received by the Sichuan Provincial Civil Affairs Department. While the airlift shipment arrived in Chengdu yesterday, FedEx also provided land delivery support for the relief supplies that departed from Shenzhen and Foshan on Friday and is expected to arrive in Chengdu on Tuesday June 3.
"Three weeks have passed since the tragic earthquake struck Sichuan Province and while rescue workers have done a miraculous job, the survivors still face shortages of basic relief supplies. Our staff in Greater China did a terrific job sourcing emergency supplies and we are grateful for the tremendous support FedEx Express has shown in enabling us to see this initiative through." said Paul Aiello, CEO of STAR.
"Addressing the needs of so many people demands cooperation from every sector of society," said David L. Cunningham, regional president, FedEx Express Asia Pacific. "I am deeply saddened and moved by the disaster. But I see reason to hope in the quick response and efficient collaboration between officials, companies, and individuals to bring relief to those affected by the earthquake. In particular, I am proud of our employees who came together to facilitate this shipment and help the community in need at this crucial moment."
In support of STAR and FedEx Express's earthquake relief initiative, Nissin Foods contributed 1.6 tons of cup noodles and Otsuka Pharmaceutical Hong Kong offered 16 tonnes of Pocari Sweat, Soyjoy and Crystal Geyser water. Continental Supplies donated 15 thousand surgical masks.
About FedEx Express
FedEx Express is the world's largest express transportation company, providing fast and reliable delivery to more than 220 countries and territories. FedEx Express uses a global air-and-ground network to speed delivery of time-sensitive shipments, by a definite time and date with a money-back guarantee.
About FedEx
FedEx Corp. (NYSE: FDX) provides customers and businesses worldwide with a broad portfolio of transportation, e-commerce and business services. With annual revenues of $37 billion, the company offers integrated business applications through operating companies competing collectively and managed collaboratively, under the respected FedEx brand. Consistently ranked among the world's most admired and trusted employers, FedEx inspires its more than 290,000 employees and contractors to remain absolutely, positively focused on safety, the highest ethical and professional standards and the needs of their customers and communities.
About STAR
STAR is a leading media and entertainment company in Asia. STAR broadcasts over 60 television services in ten languages to more than 300 million viewers across 53 Asian countries. STAR channels cover all genres including general entertainment (Star Plus, Xing Kong, Star Chinese Channel, Star One, Star Utsav, Star World, Vijay, antv, Phoenix Chinese Channel), sports (ESPN, Star Sports), movies (Star Chinese Movies, Star Gold, Star Movies), music (Channel [V]), and news and current affairs (Star News, Star Ananda, Star Majha, Phoenix InfoNews Channel).
STAR controls over 20,000 hours of Indian and Chinese programming and also owns the world's largest contemporary Chinese film library, with more than 600 titles, featuring superstars including Jackie Chan, Chow Yun Fat and Bruce Lee. In partnership with leading companies in Asia, STAR businesses extend to filmed entertainment, television production, cable systems, direct-to-home services, terrestrial TV broadcasting, wireless and digital services. STAR is a wholly owned subsidiary of News Corporation. www.startv.com
Contact
FedEx Express, Julia Khong, jkhong@fedex.com +852.2514 0207
STAR, Ben Iu, ben.iu@startv.com +852 2621 8618