Seven FedEx Drivers Earn Top Honors At National Truck Driving Championships
Competitors Reflect FedEx Commitment to Safety and Professionalism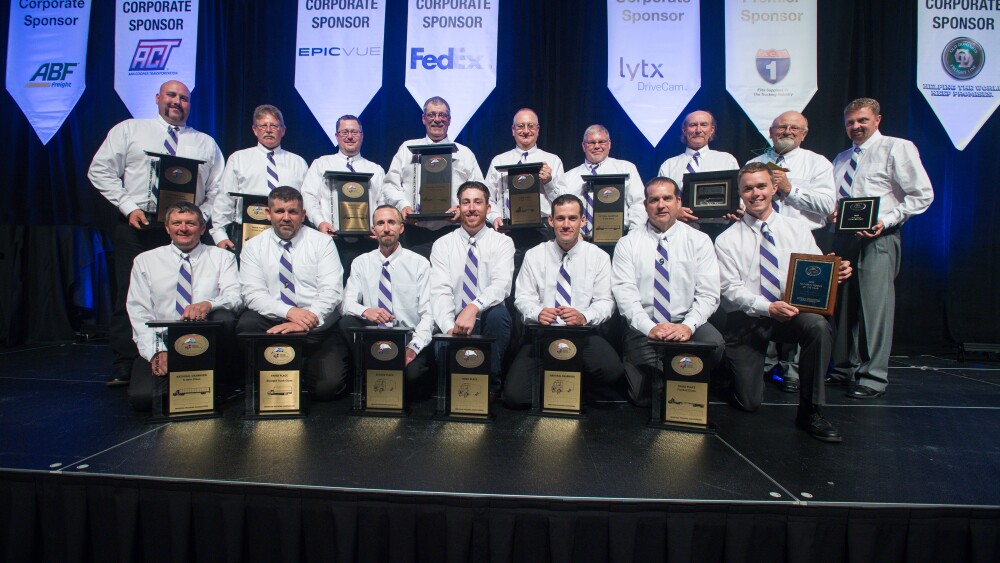 Four drivers representing FedEx Corp. operating companies were crowned National Champions in their respective driving classes at the 2016 National Truck Driving Championships (NTDC) in Indianapolis Aug. 9-13. In addition, three other FedEx drivers won top awards in categories that recognize professionalism and dedication to the trucking industry.
The following FedEx drivers were crowned National Champions:
Ron Metternick, a FedEx Freight driver based in Grand Rapids, Mich., won the National Champion in the 4-Axle trophy. He is a third-generation truck driver and has logged more than 2.8 million accident-free miles during his 36-year driving career.
Fellow FedEx Freight driver Toby Kort captured his second National Champion trophy in the 5-Axle category. He is based in Aurora, Neb., and has driven more than 2.3 million miles without an accident during his 21-year driving career. Toby was the 5-Axle National Champion in 2004.
Jay Love, a FedEx Freight driver based in Sioux Falls, S.D., won his first National Championship, capturing the Flatbed trophy. A 35-year professional driver and the mayor of Davis, S.D., he has logged more than two million accident-free miles and is a captain on the newly-created South Dakota Road team.
FedEx Express Courier Daniel Woods won his first National Championship in the Step Van category. He is based in Christansburg, Va., and has accumulated more than 187,000 safe-driving miles during his 10-year career with FedEx Express.
Professionalism and dedication to the trucking industry were key themes during this year's National Truck Driving Championships. Three awards that recognize these attributes were taken home by FedEx drivers. Charlie Woodland, a FedEx Freight driver based in Surprise, Ariz., was presented with the Neill Darmstadter Professional Excellence Award and FedEx Express driver Bill Pudney, based in Minneapolis, Minn., was recognized for his attention to Vehicle Condition, having received a perfect score on his pre-trip inspection. In addition, Rich Merich, a driver for FedEx Freight in Denver, Colo., earned the National Rookie of the Year award.
Along with our national champions and individual award winners, fifteen FedEx drivers placed among the top finishers in their respective truck classes:

Finally, in recognition of his unwavering dedication and service to the trucking industry, FedEx Ground Safety Advisor Chris Ignowski was presented with a Lifetime Volunteer Award.
"The dedication of these champions, and all the drivers who represented FedEx at the NTDC, exemplifies the FedEx commitment to safety and professionalism," said Frederick W. Smith, chairman and CEO, FedEx Corp.
A record 174 professional drivers representing FedEx Express, FedEx Freight and FedEx Ground from all 50 states qualified to compete at this year's NTDC by winning their respective state's competition and driving accident-free for at least one year. Collectively, Team FedEx represents more than 230 million safe-driving miles and more than 3,800 years of experience.
The American Trucking Associations (ATA) sponsors the annual championships, known as the "Super Bowl of Safety," to recognize industry leadership in safety and to promote professionalism among truck drivers. Each driver was required to demonstrate his or her driving skills and knowledge of the industry through a series of tests, including a written exam, vehicle pre-trip inspection and driving-skills challenge.
[gallery columns="1" link="file" ids="14906,14911,14910,14909,14908,14907,14905,14904"]