Serving Every Zip Code Area in New Orleans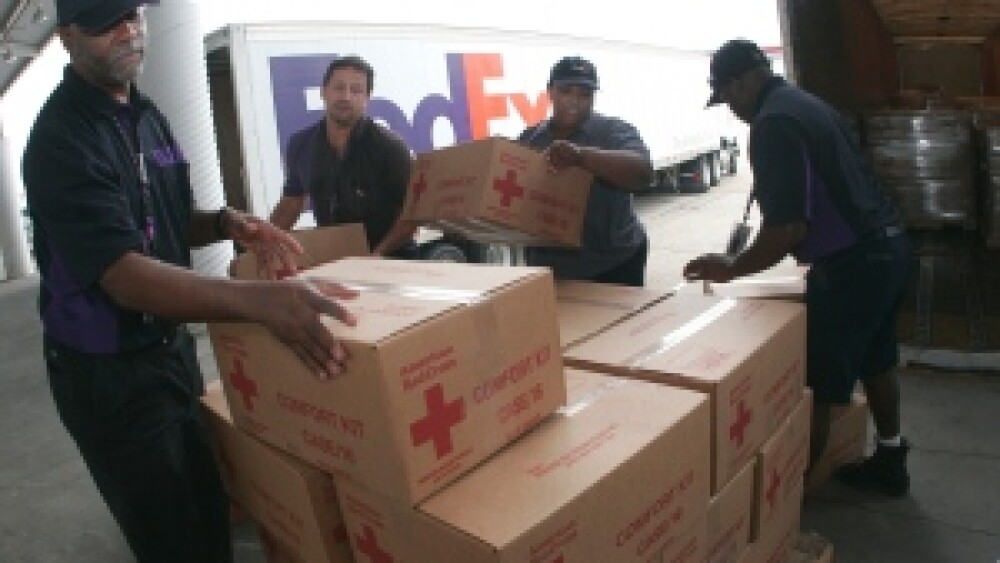 With team members serving every zip code area impacted by Hurricane Katrina, and with business locations in New Orleans and across the Gulf Coast, FedEx was in the middle of the action leading up to and following the disaster. This week FedEx is sponsoring a Resiliency Summit along with Salvation Army, and is supporting a program for stronger community capacity to ensure affordable, quality New Orleans housing. This continues a FedEx commitment to communities in which we work and live.
In August 2005, before Hurricane Katrina made landfall, FedEx transported 60 tons of supplies to emergency staging centers. In the wake of Katrina, FedEx donated transportation services to deliver more than 1.2 million additional pounds of medical and other relief supplies to the Gulf Coast area and made a special $1 million donation to the Red Cross. FedEx Office provided space and supplies for FEMA, the Red Cross and other agencies as an adjunct to their command posts in Baton Rouge, La. They provided laptops with wireless internet reserved for ARC volunteers to check emails and communicate with their folks back home, and provided drinks and snacks to volunteers.
In addition to work with The Salvation Army and Red Cross, FedEx provided complimentary transportation services to Heart to Heart International in support of their immediate relief programs, and helped Direct Relief International with their initial and ongoing relief initiatives through a network of health clinics serving people throughout the region. These are all organizations FedEx works with year round.
Key to disaster recovery is disaster preparedness, and FedEx maintains its commitment to New Orleans. Two years ago FedEx donated a Disaster Response Unit (canteen truck) to The Salvation Army help with ongoing disaster relief and recovery efforts in the region. Now FedEx is sponsoring an unprecedented summit of specialists, community leaders and academics, utilizing their experience, research and expertise to discuss solutions for building community resiliency in a post-disaster environment.
The Resiliency Summit is examining the progress achieved throughout New Orleans' communities, and stimulating discussion around strategies for both further restoring New Orleans' neighborhoods, and using recovery as an opportunity to build long-term capacity and resiliency. The one-day event features speakers from across the country engaging in topics including neighborhood empowerment, community buy-in, leveraging resources and opportunities for advancement and reflection upon the progress made five years following Hurricane Katrina.
In order to best support local communities, FedEx focuses its philanthropy on areas where it may bring to bear not only financial support, but also where it may apply its core competencies as a business to make a difference. With its unparalleled global express transportation network, FedEx is uniquely positioned to help international relief organizations with their disaster readiness, relief and recovery initiatives. These disaster mitigating initiatives make up a primary philanthropic focus area for FedEx. Still serving every zip code area in New Orleans, FedEx is proud to play a continuing role in restoring and rebuilding the region.