ORBIS and FedEx Return to Peru to Address Leading Causes of Avoidable Blindness Through Capacity Building Program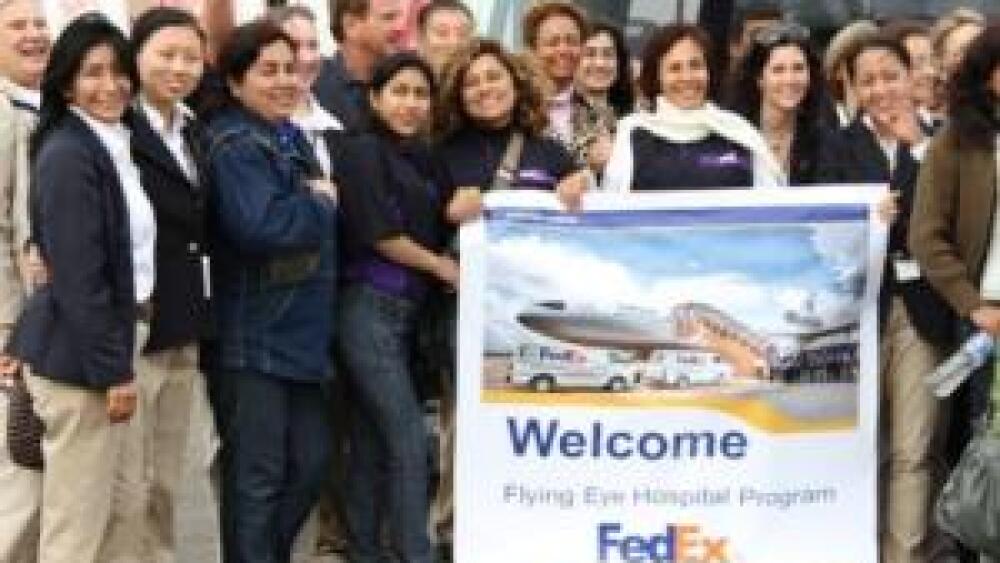 New York, NY – October 4, 2011 – At the invitation of the Regional President of La Libertad, the Ministry of Health, Instituto Regional de Oftalmologia (IRO) and sponsored by FedEx, ORBIS International landed its flagship Flying Eye Hospital – a converted DC-10 aircraft, flown by volunteer FedEx pilots, containing a state-of-the-art surgical and teaching facility – in Trujillo, Peru. During the next few weeks, the ORBIS medical team will conduct an intensive skills-exchange program for ophthalmic practitioners and medical personnel from around the region aboard this unique aircraft. In addition to the Flying Eye Hospital program, ORBIS will extend this program a fourth week to include a Hospital-based program with its partner in Chiclayo to address diabetic retinopathy and ROP (retinopathy of prematurity).

"The support we receive from FedEx allows ORBIS to deliver improved eye care services to the underprivileged, while bringing awareness of avoidable blindness to thousands more," said Dr. Carlos Solarte, medical director, ORBIS International Flying Eye Hospital. "Through the FedEx sponsorship, we are able to implement high-level skills exchange and patient care programs focused on strengthening the present capacity of the local doctors and facility, while treating patients suffering from avoidable blindness. The unwavering support we receive from FedEx allows for this level of strategic intervention, training and capacity building with our partners not just in Peru, but throughout the world."
During the ORBIS program, volunteer faculty from all over the world including the US, Australia, Canada, the United Kingdom and Colombia are providing one-on-one skills exchange with the IRO medical staff. Clinical and surgical focus will address the treatment of cataracts, glaucoma, pediatric blindness, diabetic retinopathy (diabetic eye disease) and oculoplastics. Furthermore, as part of ORBIS' commitment to provide comprehensive skills exchange to all eye care professionals, programs will be offered in the areas of ophthalmic nursing, anesthesiology (with specific focus on pediatrics) and biomedical engineering.

"Addressing these four disciplines in eye care are critical in creating sustainable, capacity building programs," added Dr. Solarte.

ORBIS has been working in Peru for nearly 10 years through multiple long-term country programs to address cataracts, retina diseases including diabetic retinopathy and ROP (retinopathy of prematurity), and refractive errors in school children. This Flying Eye Hospital program builds on these and other previous programs aimed at raising the capacity level of the IRO and its medical staff.
ORBIS and FedEx – Delivering Sight Worldwide

FedEx has supported ORBIS for 29 years providing millions of dollars of support in cash and in-kind contributions. The FedEx sponsorship renews a $5.5 million, five-year commitment made to ORBIS in 2006, which includes the extension of the FedEx Fellows Program – an opportunity for local, talented doctors to receive the continuing medical education needed to address leading causes of avoidable blindness within their country. In addition, FedEx and its team members donate the unparalleled FedEx global network and aviation expertise to help the Flying Eye Hospital fly. FedEx pilots volunteer to fly the ORBIS DC-10 to many of its medical programs and train other volunteer pilots; FedEx mechanics provide maintenance support; team members around the world volunteer as part of the ORBIS humanitarian team as interpreters, welcoming and escorting patients to and from their surgeries and checkups, canvassing neighborhoods and assisting with patient screenings. FedEx provides complimentary transportation services to move critically needed medical supplies to ORBIS clinics worldwide; makes the FedEx flight training simulator available to train volunteer pilots and manages the cost and performance of the annual safety checks for ORBIS' flagship Flying Eye Hospital.
"At FedEx, we believe in training to empower our staff to excel in their jobs. The FedEx Fellows Program is in line with our people-first philosophy and represents an exciting way for our organization to help ORBIS extend the value of its medical programs," said Juan N. Cento, president of FedEx Express Latin America and Caribbean. "By connecting the worlds of business, charity and academia, FedEx is creating sustainable solutions to help improve the quality of people's lives in Peru and neighboring Latin American countries."
About ORBIS International
ORBIS International is a nonprofit organization dedicated to saving sight worldwide. ORBIS provides the tools, training and technology necessary for local partners to assess their needs and develop workable and lasting solutions to the tragedy of unnecessary blindness. By building their long-term capabilities, ORBIS helps its partner institutions take action to reach a state where they can provide, on their own, quality eye care services that are affordable, accessible and sustainable. To learn more about ORBIS, please visit www.ORBIS.org.
About FedEx
FedEx Corp. (NYSE: FDX) provides customers and businesses worldwide with a broad portfolio of transportation, e-commerce and business services. With annual revenues of $40 billion, the company offers integrated business applications through operating companies competing collectively and managed collaboratively, under the respected FedEx brand. Consistently ranked among the world's most admired and trusted employers, FedEx inspires its more than 290,000 team members to remain "absolutely, positively" focused on safety, the highest ethical and professional standards and the needs of their customers and communities. For more information, visit news.fedex.com.