Is Your Hometown Prepared for a Disaster?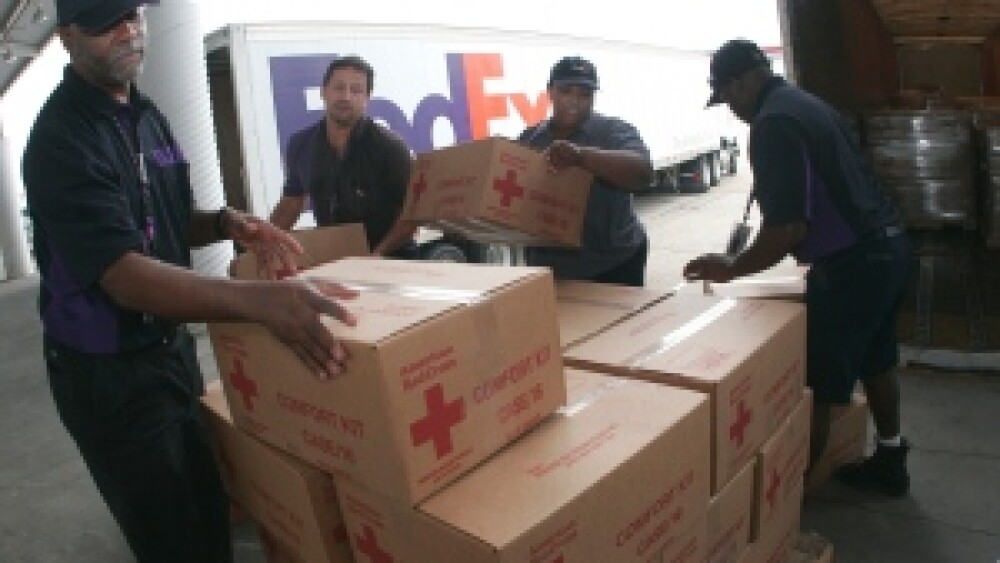 FedEx Corp. (NYSE: FDX), an active participant in disaster relief, recovery and preparedness initiatives, is engaging FedEx team members in major cities throughout the country in disaster preparedness planning through the American Red Cross' corporate volunteer involvement program Ready When the Time Comes.
Memphis, home of the company's worldwide headquarters, will officially launch its program Feb. 27 with FedEx serving as the local lead sponsor.
Through the Ready When the Time Comes program, volunteers receive specialized training in crucial disaster response functions, such as shelter operations, large-scale feeding efforts, and damage assessment. The Red Cross trains employees from participating corporations and mobilizes them for large-scale local disasters. FedEx team members currently work closely with local chapters in New York City, Chicago, San Francisco, Los Angeles and now Memphis.

"At FedEx we understand how vital preparation is to the success of the business, whether the mission is to ensure a critical overnight delivery or to aid charitable organizations in their response to a large-scale disaster," said Rose Flenorl, manager of Social Responsibility at FedEx. "Each day we deliver services and solutions all over the world, but the key to any successful operation is preparation, and that begins at home, in our local communities."
FedEx work with the Red Cross also includes disaster preparedness efforts such as small business preparedness outreach and emergency preparedness training for school-aged children. As part of its longstanding commitment to the Red Cross mission, FedEx is a founding member of the Red Cross Annual Disaster Giving Program and contributes more than $1 million in cash and in-kind services to the Red Cross every year.
During the recent Haiti relief efforts, FedEx transported more than 150,000 pounds of American Red Cross family care kits and gave a cash grant in support of their International Relief Fund, which provides lifesaving supplies and relief materials.
FedEx previously received the prestigious Circle of Humanitarians Award and the Henry Dunant International Partnership Excellence Award in gratitude for its generous contributions and longstanding commitment to the humanitarian mission of the organization.
About FedEx

FedEx Corp. (NYSE: FDX) provides customers and businesses worldwide with a broad portfolio of transportation, e-commerce and business services. With annual revenues of $33 billion, the company offers integrated business applications through operating companies competing collectively and managed collaboratively, under the respected FedEx brand. Consistently ranked among the world's most admired and trusted employers, FedEx inspires its more than 275,000 team members to remain "absolutely, positively" focused on safety, the highest ethical and professional standards and the needs of their customers and communities. For more information, visit news.fedex.com.