Holiday Season Wraps Up as Gifts Get "Returned to Sender" Via FedEx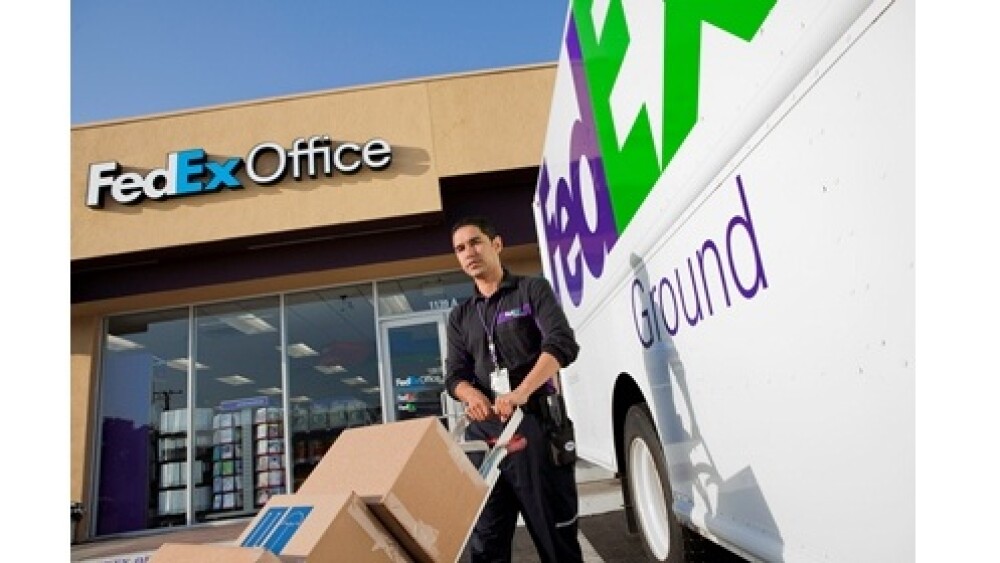 MEMPHIS, Tenn., Dec. 26, 2012— According to a holiday survey commissioned by FedEx (NYSE: FDX), more than a third of Americans will return gifts after the holidays. To take the headache out of the process, consumers are increasingly choosing to ship gifts back instead of dealing with the crowds at the mall.
A December 2012 survey of more than 1,000 U.S. residents found that while 36 percent expect to return gifts this season, more than half (57 percent) prefer to do so by shipping them back to the retailer, a continuation of the online shopping trend that drove record-breaking volume in the FedEx Ground network between Thanksgiving and Christmas 2012. FedEx sees the signs of that continuing preference in the days following Christmas, as returns to online retailers sent via the FedEx Ground network surge more than 25 percent.
"Americans are increasingly streamlining their seasonal checklists thanks to the convenience of online shopping, a pattern that is now extending to the post-Christmas tradition of holiday returns," said T. Michael Glenn, executive vice president of Market Development at FedEx. "By managing these returns through FedEx, retailers can more effectively manage their inventory while shoppers keep the hassle to a minimum."
Simple-to-use FedEx return labels and flexible options like residential pickup or drop-off make the return process easy for both shoppers and web-based retailers during the holiday season and year-round. FedEx has more than 9,000 retail locations ready to handle holiday returns this year, including more than 1,800 FedEx Office stores nationwide. FedEx Office serves as a convenient local resource to drop-off all the holiday returns in one, quick stop. Specially-trained team members can help customers properly pack up unwanted gifts to ensure each arrives expertly packaged, and prices for FedEx Ground delivery are up to 10 percent less than the competition at FedEx Office locations.
FedEx Ground, which is faster to more locations than UPS Ground, gets returned gifts back in the hands of the retailer swiftly, so the time between an item's drop-off and a replacement gift's arrival is kept to a minimum. For web-based retailers like Trunk Club, that turn-around time is critical.
"A seamless returns process is a feature our customers have come to expect from us, and something we know builds loyalty today and for the future. With the speed of FedEx Ground and simplicity of FedEx return labels, we can delight our customers while maximizing the value of our inventory," said Kevin Price, vice president of finance for Trunk Club.
Reinforcing what retailers like Trunk Club already know, more than two-fifths of online shoppers (43 percent) report being more likely to purchase something online when free return shipping is available. Other notable findings from the FedEx Holiday Returns Survey include:
The worst gift-givers are a spouse/partner (23 percent), followed closely by mom (20 percent). (Based on the frequency respondents return gifts given by these people.)
The vast majority of those surveyed (73 percent) would rather receive a gift without much thought (e.g., cash or gift cards) that they can use to pick a gift they'll like, than a thoughtful gift they may not like and will need to return.
Most people (81 percent) say they wouldn't be offended if a friend or family member returns a gift they gave for a holiday or special occasion.
Clothing (45 percent) is the most often-returned gift, followed by electronics/gadgets and toys (both 8 percent).
Most gift-recipients will return unwanted items shortly after the holidays. Thirty-five percent will have all gifts returned before New Year's, while another 55 percent say the return process will be done before the end of January.
For more facts and figures about the holiday return "life cycle," please view this infographic from FedEx Office. For additional shipping tips and holiday information, please visit fedex.com/holiday.
Survey Methodology
FedEx, in conjunction with Ketchum Global Research & Analytics, worked with ORC International to conduct a telephone omnibus survey of survey of 1,010 adults (503 men and 507 women 18 years of age and older, living in the continental United States). Interviewing was completed on December 6 – 9, 2012. The sample is weighted to represent the U.S. population using data from the Current Population Survey (CPS) on age, gender, race, region, and education. The margin of error is +/-3.1 percent and results are reported at the 95 percent confidence level.
About FedEx Corp.
FedEx Corp. (NYSE: FDX) provides customers and businesses worldwide with a broad portfolio of transportation, e-commerce and business services. With annual revenues of $43 billion, the company offers integrated business applications through operating companies competing collectively and managed collaboratively, under the respected FedEx brand. Consistently ranked among the world's most admired and trusted employers, FedEx inspires its more than 300,000 team members to remain "absolutely, positively" focused on safety, the highest ethical and professional standards and the needs of their customers and communities. For more information, visit news.fedex.com.