Hamlin, FedEx Racing Capture Red Hot Win on an Ice Cold Afternoon in Martinsville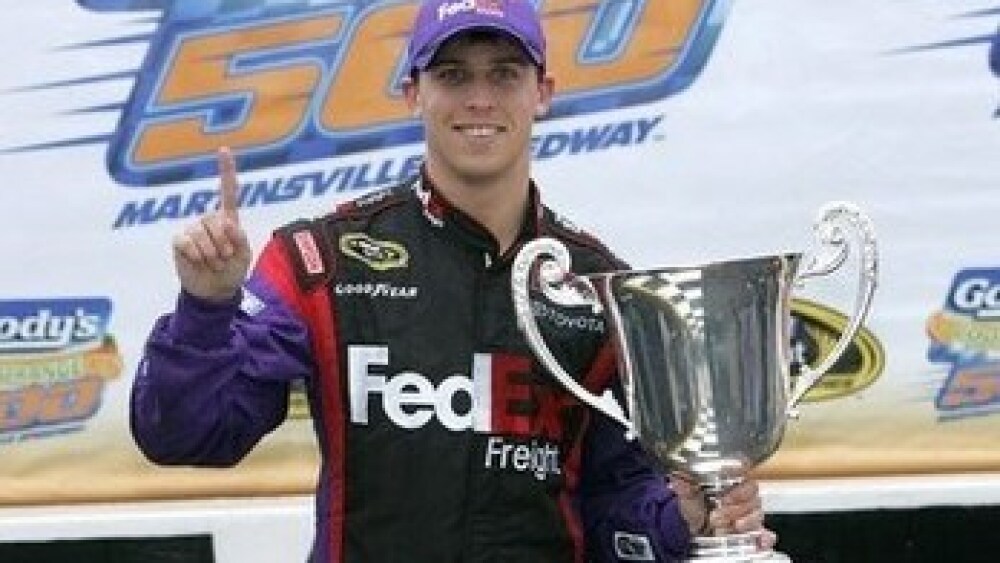 On an afternoon that may be remembered for the chilly weather at Martinsville Speedway, Denny Hamlin brought home his #11 FedEx Freight Toyota Camry first in one of the most hotly contested NASCAR Sprint Cup events this season.

In a race that featured twenty lead changes among eight drivers, Hamlin led when it counted – taking the lead from Jeff Burton on lap 427 of the 500 lap event and never looking back. The day for Hamlin started well as he outgunned pole sitter Jeff Gordon to lead the very first lap of the race. He wouldn't, however, lead again until lap 208 when he made his way to the point for seven circuits before dropping from first to 19th during a pit stop.

Early in the event Hamlin fought an ill handling car that changed as often as the blustery 38-degree weather which saw wind chills drop into the 20's. Through multiple stops and changes directed by Crew Chief Mike Ford the team found the right handling for the #11 and put Hamlin back in contention and with a shot to catch the leaders. He carved his way through the field, though consistently frustrated by lapped traffic and a seemingly never-ending string of cautions, to take the lead and hold on for the win.

Hamlin led a total of 82 laps on the day to take his fourth career Cup win and record his third top-10 finish of the 2008 season. For Hamlin the win at Martinsville was extra sweet. On a track where the Virginia native watched his own NASCAR heroes race from the stands, and ran Late Models only five years ago, the idea of collecting his own famous Martinsville grandfather clock was to good to be true.

Asked if this is the biggest win of his career, Hamilton quipped – "Without a doubt. And to see all my fans here wearing my gear in the stands – that means a lot to me. A lot of these people traveled from my hometown to come watch me race here. For those fans sticking it out, it's amazing to have the support that we have from these race fans. They are the reason that we're here. This whole FedEx team did a fantastic job getting me off pit road when it counted. We got it all together finally."

It was Hamlin's first victory and fifth top-10 finish in six Cup races at Martinsville – including second in October 2006 and third in the Spring race in 2007.

By virtue of his win Hamlin moved from 15th in NASCAR Sprint Cup points to eighth as the series heads to Texas Motor Speedway next weekend. The win should go a long way in alleviating the early-season frustration the team was suffering.

"Finally! The curse is over I hope. We had such bad luck over these last two weeks. It finally feels good to come here and get a win" said an elated Hamlin. "I can't wait - - this is a sign of things to come, I believe."

It was the second win of the season for Joe Gibbs Racing and Toyota . Kyle Busch came home first in Atlanta earlier this month.

"A lot of thanks go to the guys at TRD (Toyota Racing Development) who help support us at Joe Gibbs Racing to try to get our issues worked out," said Hamlin, following the race. "For them to take a lead role and say that they would do whatever it took to help us fix the problems -- that goes a long way. That is what you look for in a manufacturer, and I couldn't be prouder to be with them ( Toyota )."

Teammate Tony Stewart finished fifth and Busch brought his Camry home in 38th spot. Busch is currently fifth in points while Stewart sits one place behind him in sixth.

In a race that saw 18 cautions for 89 laps Hamlin drove a smart race avoiding the numerous incidents on the challenging .526 mile oval. Despite leading the first lap of the race, it was clear that the #11 FedEx Freight machine was not up to par as Hamlin slowly slid back in the field. On the radio, Hamlin informed the crew he was fighting for grip all over the track. A combination of air pressure, wedge and track bar combinations managed to undo the negative effects of the cold conditions and allowed Hamlin to put his Martinsville experience, and nerves, to the test.

Taking the lead on lap 427, he concentrated on hitting his marks and not making any mistakes - knowing he had to navigate a lot of lapped traffic while ensuring that the chase pack of Burton , Gordon and Dale Earnhardt Jr., didn't close the gap.

Ultimately Gordon did make one final push, catching Hamlin with two laps to run, but the driver of the #11 had saved enough of his car to fend off the pressure and take the checkered flag.

Hamlin was long on credit for the #11 team, knowing the tremendous amount of work that went into righting the car for the run at the end;

"We made some great adjustments on the car – this was definitely not a race-winning car when we started this race, but Mike Ford (crew chief) did a great job adjusting on it and everyone on the team for not giving up. Finally, we're back in victory lane."

Following the race, J.D. Gibbs, President of Joe Gibbs Racing president, pointed to the strength of the JGR Toyota power plant, "Kyle was able to win in Atlanta , a serious engine track, and we come here where the concern was that these engines weren't going to have bottom end and we won here. So we've won at two different racetracks with one of the three cars. So we're very competitive. Denny and the entire FedEx team should be commended on a great job today, bringing the car home safely and in first."