Gift From FedEx Will Redesign Tiger Baseball Stadium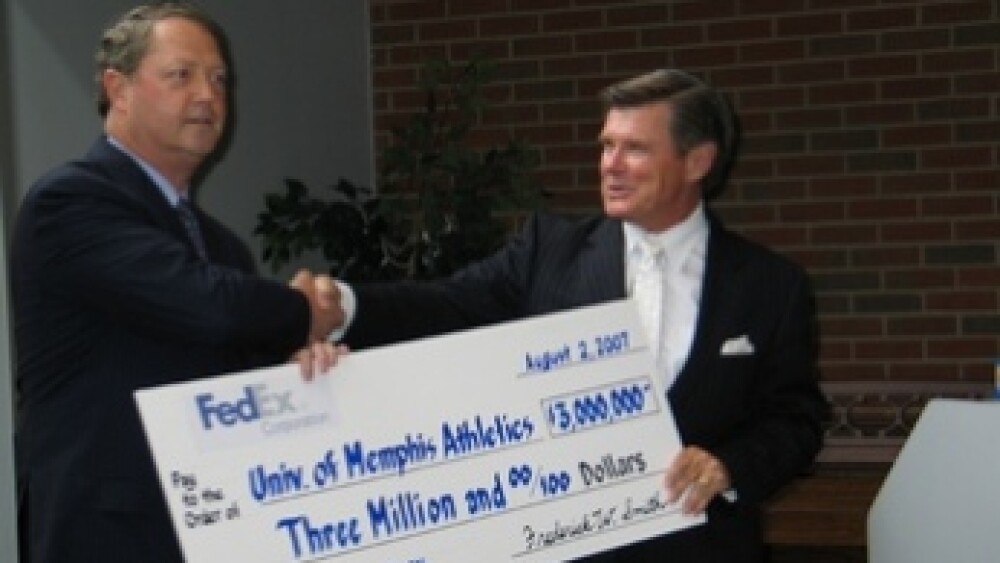 University of Memphis Athletic Director R.C. Johnson announced today that FedEx Corp. (NYSE: FDX) has agreed to make a $3 million donation to athletics which will be used to redesign the Tigers' baseball stadium at the University's Park Avenue campus. The upgraded facility will replace Nat Burning Stadium, which first opened in 1971 as part of the south campus athletic facilities.

"The University of Memphis, the City of Memphis and the entire Mid-South region owes a debt of gratitude to FedEx for its benevolence in assisting in projects that continue to improve our community," said Johnson. "We have had an interest in upgrading our baseball facility for a number of years and now with FedEx's generous gift, this project will become a reality."

Working with FedEx, the redesigned Tiger baseball stadium will be named at a later date. FedEx has several important sports marketing sponsorships in markets throughout the country including the FedEx Forum in Memphis, FedEx Field in Washington D.C. and the FedEx Orange Bowl in Miami. The FedEx sports marketing portfolio also includes relationships with the NFL, Joe Gibbs Racing, the NBA and the PGA TOUR, including the FedExCup.

Plans for the Tigers' baseball complex call for a new dressing facility, dugouts, grandstands, concession areas, press box and private suites, which will aid players, teams and fans with their game day experience. The dressing facility will include locker rooms for Tiger coaches and players, office and meeting space, indoor pitching and batting cages, as well as a direct entrance into the Tiger dugout and field at game time. The dressing facility will be located along the third base line.

The grandstand area will feature an expanded press area for media covering the events, as well as newly constructed restrooms and concession stands. The pressbox will have private booths for both radio and television broadcasts, as well as working media and event management areas. A grand entranceway is also planned into the ballpark from the leftfield parking lots.

"FedEx is proud to be involved with the Tiger's baseball stadium project, which is such an integral part of the Memphis community," said Alan B. Graf, Jr., FedEx Corp. executive vice president and chief financial officer. "We have hundreds of U of M alumni on the FedEx team, so our employees are looking forward to personally enjoying the newly renovated stadium."

The redesign of the baseball facility will also allow for future expansion with additional seating that will extend to the left and rightfield fences.
About FedEx

FedEx Corp. (NYSE: FDX) provides customers and businesses worldwide with a broad portfolio of transportation, e-commerce and business services. With annual revenues of $35 billion, the company offers integrated business applications through operating companies competing collectively and managed collaboratively, under the respected FedEx brand. Consistently ranked among the world's most admired and trusted employers, FedEx inspires its more than 280,000 employees and contractors to remain "absolutely, positively" focused on safety, the highest ethical and professional standards and the needs of their customers and communities.