FedEx to Deliver Symbols of Holiday Cheer to U.S. Service Members and Their Families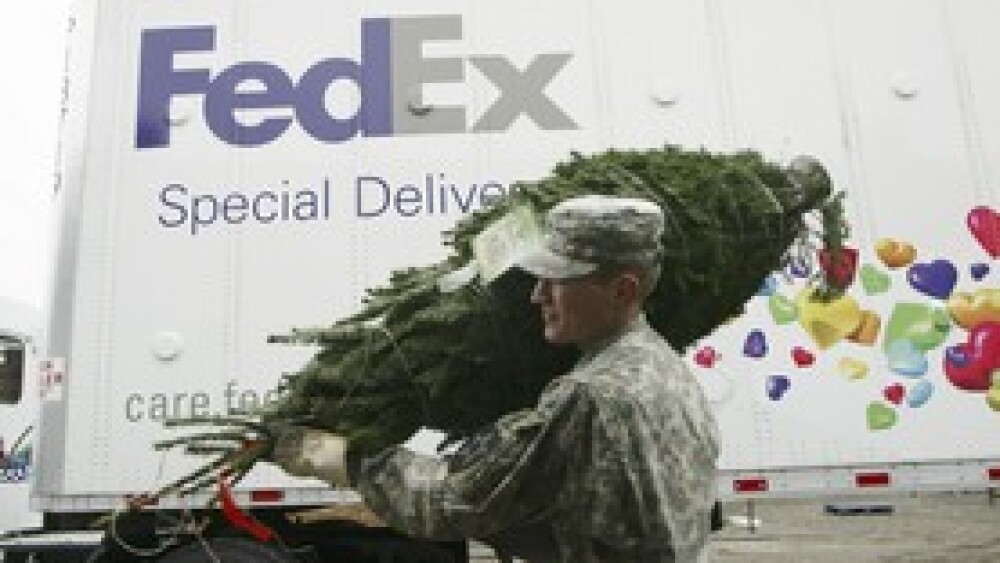 MEMPHIS, Tenn., Nov. 10, 2011 – FedEx Corp. (NYSE: FDX) is once again honoring the dedication of America's servicemen and women by delivering happier holiday memories to military members and their families through the annual Trees for Troops® and Wreaths Across America™ programs.
Now in its seventh year, Trees for Troops brings together FedEx, the Christmas SPIRIT Foundation and tree farmers across America to transport thousands of real Christmas trees to service members stationed overseas, as well as on military bases in the U.S.
Wreaths Across America, a program supported by FedEx Ground since 2009, honors veterans' service by placing holiday wreaths on departed service members' graves in cemeteries across the world, including Arlington National Cemetery.
"FedEx may be in the midst of our busiest time of year, but we're pleased to put our global resources to work in ways that reflect our deep appreciation for all that military men and women have given to this country," said Bill Logue, president and CEO, FedEx Freight. "FedEx is proud to leverage our networks and logistical expertise to support programs such as Trees for Troops and Wreaths Across America to honor military men, women and their families this season."
Trees for Troops: Shipping Fresh Christmas Trees Across the Globe
Beginning Nov. 10 and continuing into December, FedEx will deliver more than 500 fresh-cut Christmas trees to active duty service members overseas and more than 17,000 trees to members of the armed forces and their families stationed at military bases across the United States. As part of the program, National Christmas Tree Association (NCTA) members around the country donate thousands of fresh trees to Trees for Troops through the Christmas SPIRIT Foundation, the NCTA's philanthropic branch. FedEx Express air operations will assist with international tree deliveries while the FedEx Freight trucking network delivers trees to more than 60 military bases throughout the United States.
On Thursday, Nov. 10, the Trees for Troops initiative will mobilize in Columbus, Ohio, as FedEx Express picks up approximately 300 trees from members of the Ohio Christmas Tree Association. These trees will be delivered to service members stationed in Kuwait via the FedEx Express hub in Indianapolis. A second shipment of approximately 200 trees – all donated by Indiana tree growers – will depart from Indianapolis on Tuesday, Nov. 29, for service members stationed in Bahrain and in Spain.
Once the international deliveries have taken flight, FedEx Freight will hit the road to visit more than 60 military bases in the space of two weeks – delivering approximately 17,000 fresh-cut Christmas trees along the way, including the milestone 100,000th tree delivered by FedEx Freight for the Trees for Troops program.
Since launching in 2005, the Trees for Troops program has multiplied in size and scope:
• In the program's first year, 4,300 trees were delivered to troops and military families at five bases in the U.S. and overseas.
• When the 2011 program concludes, more than 100,000 real Christmas trees will have been distributed to service members and their families in the past seven years – covering every branch of the military at more than 60 bases in 17 countries.
• More than 800 tree farms and retail lots in 29 states have donated trees to the effort.
• FedEx Freight trucks have traveled nearly 300,000 over-the-road miles to pick up and deliver the trees.
As in previous years, the public may also support the Trees for Troops program by purchasing fresh trees at one of more than 30 retail locations nationally during the official Trees for Troops weekend, Dec. 2- 4. Donated trees will be added to the program's planned deliveries to U.S. bases during 2011. More information on this opportunity can be found at http://www.treesfortroops.org/.
Wreaths Across America: Honoring the Commitment of Service Members
Wreaths Across America, a non-profit organization founded in 2007, brings together communities to honor and remember the service of veterans during the holiday season. In 2011, more than 400,000 wreaths will be laid at veterans' headstones in cemeteries in all 50 states. More than 220,000 of these wreaths will be placed at Arlington National Cemetery on Saturday, Dec. 10, 2011. The National Remembrance Ceremony at Arlington will be the first wreath ceremony of this magnitude in the cemetery's history.
Now in its third year supporting the program, FedEx Ground provides both in-kind delivery for the wreaths, as well as volunteers to support the events nationwide.
"FedEx Ground is proud to support the Wreaths Across America program, paying tribute to the service, commitment and sacrifice of the men and women in uniform," said Patrick Fitzgerald, vice president communications, FedEx Ground. "This is a program that our team members are very passionate about, and we're honored to have volunteers participating in wreath laying ceremonies across the country."
FedEx Ground is one of the largest transportation sponsors of the Wreaths Across America 2011 campaign, providing $100,000 of in-kind shipping for the wreaths.
Both Trees for Troops and Wreaths Across America are part of FedEx Special Delivery, a nationwide program that supports local organizations by donating transportation services and other assistance to help them fulfill their missions. For more information about FedEx during the peak holiday season, please visit http://news.fedex.com/holiday2011.
About FedEx
FedEx Corp. (NYSE: FDX) provides customers and businesses worldwide with a broad portfolio of transportation, e-commerce and business services. With annual revenues of $40 billion, the company offers integrated business applications through operating companies competing collectively and managed collaboratively, under the respected FedEx brand. Consistently ranked among the world's most admired and trusted employers, FedEx inspires its more than 290,000 team members to remain "absolutely, positively" focused on safety, the highest ethical and professional standards and the needs of their customers and communities. For more information, visit news.fedex.com.
About Christmas SPIRIT Foundation
The Christmas SPIRIT Foundation, based in Chesterfield, Mo., is 501(c)(3) non-profit foundation that advances the Christmas Spirit for kids, families and the environment. Trees for Troops is just one of its projects. For more details or to donate, visit http://www.ChristmasSpiritFoundation.org.
About the National Christmas Tree Association (NCTA)
NCTA is the professional organization representing nearly 5,000 farms and retailers engaged in growing and selling Real Christmas Trees to nearly 30 million consumers. Based in Chesterfield, Mo., NCTA's mission is to promote the use of Real Christmas Trees and support the industry that provides them. For more information, go to http://www.realchristmastrees.org.
About Wreaths Across America
Wreaths Across America is a 501(c)(3) non-profit organization founded to continue and expand the annual wreath laying ceremony at Arlington National Cemetery begun by Maine businessman, Morrill Worcester, in 1992. The organization's mission, Remember, Honor, Teach, is carried out in part each year by coordinating wreath laying ceremonies on the second Saturday of December at Arlington, as well as hundreds of veterans' cemeteries and other locations in all 50 states and beyond. For more information, to donate or to sign up to volunteer, please visit www.WreathsAcrossAmerica.org.