FedEx Teams with Sandra Lee to Deliver for The Food Bank For New York City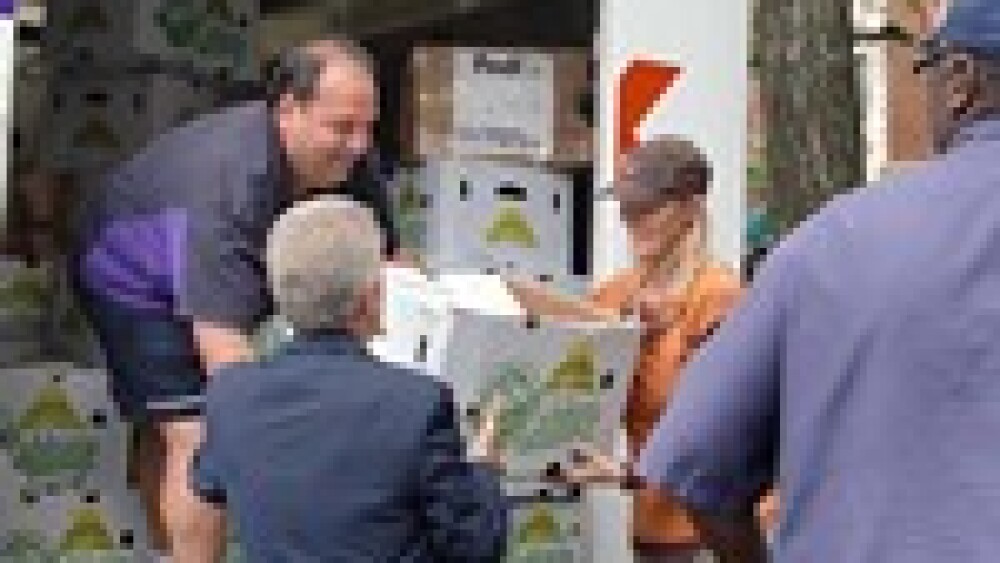 FedEx is proud to work with food banks and hunger relief programs across the country to address the needs of the 49 million Americans living at risk for hunger.

Earlier this month, FedEx volunteers in New York teamed with Sandra Lee, Food Network star and editor-in-chief of Sandra Lee Semi-Homemade, to make a special delivery to the Food Bank For New York City's Community Kitchen and Food Pantry of West Harlem.

Teams of FedEx volunteers delivered an in-kind donation of 4,000 pounds of fresh produce in celebration of the Kitchen's first-ever "Ladies Day," which honored moms, grandmas, sisters, and aunts in the community who often serve as the backbone of their families.

After unloading a variety of fresh fruits and vegetables, FedEx team members joined Sandra in the kitchen to help serve a special dinner of orange chicken and Sandra's recipe for vegetables and potatoes to more than 70 women and children. FedEx volunteers also helped serve one of Sandra's Semi-Homemade desserts. In addition, FedEx provided re-usable tote bags filled with fresh fruit for guest to take home, and which can be used when collecting produce and packaged food items from the Kitchen's food pantry.

FedEx is committed to supporting hunger relief efforts year-round by leveraging the reach, strength and expertise within its network. For more on FedEx corporate responsibility and community work, visit csr.fedex.com.

About Food Bank For New York City

Food Bank For New York City recognizes 27 years as the city's major hunger-relief organization working to end food poverty throughout the five boroughs. As the city's hub for integrated food poverty assistance, the Food Bank tackles the hunger issue on three fronts — emergency food distribution, income support and nutrition education — all strategically guided by its research. Through its network of approximately 1,000 food assistance programs citywide, the Food Bank helps provide 300,000 free meals a day for New Yorkers in need. The Food Bank's hands-on nutrition education program in the public schools reaches thousands of children, teens and adults. Income support services including food stamps, free tax assistance for the working poor and the Earned Income Tax Credit put millions of dollars back in the pockets of low-income New Yorkers, helping them to achieve greater dignity and independence. Every dollar donated to the Food Bank helps provide five meals to New Yorkers in need. Learn how you can help at foodbanknyc.org.