FedEx Teams with American Red Cross in Indy as Local Youth "Race to Prepare"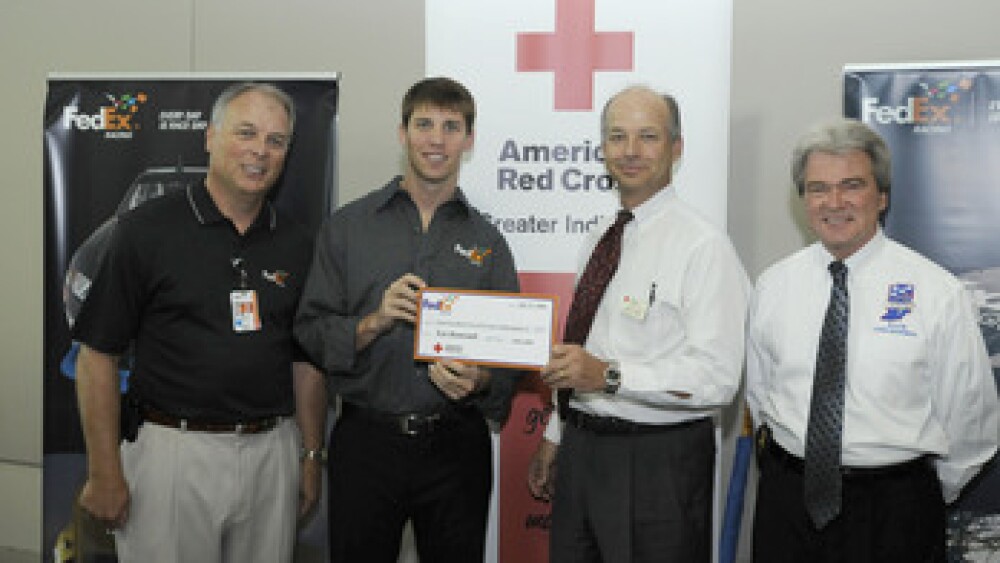 Ahead of Sunday's Brickyard 400 at Indianapolis Motor Speedway, FedEx brought a different kind of race to the famous track. With the help of Denny Hamlin, driver of the #11 FedEx Toyota Camry for Joe Gibbs Racing in the Sprint Cup Series, FedEx and the American Red Cross of Greater Indianapolis shared the lesson of disaster preparedness with more than 75 local youth on Wednesday, July 22. FedEx underlined their support of the local American Red Cross by delivering a check for $10,000.
"FedEx has a long and very proud relationship with the Red Cross – in communities across country and in countries around the world," said Bob Palmer, vice President – Central Region, FedEx Express. "We recognize that as important as it is to put our planes in the air during a time of need, it's equally as important to teach our communities how to prepare for the disasters that can affect us here where we live. "
The "Race to Prepare" program is intended to educate and prepare school-aged children for emergencies by arming them with the knowledge and equipment to help them respond effectively. Before "racing" with Hamlin to complete a safety kit of their own, the kids were offered a lesson in basic safety preparedness by Jim Greeson, Indiana State Fire Marshall.
"Indianapolis is the home of racing so it only made sense to invite these kids to join our race to prepare," said Hamlin. "At the race track, the FedEx Racing team knows that being prepared is best way to assure success. Being here today with the American Red Cross and these kids was a great way to share that lesson and have a lot of fun in the process."
FedEx has supported the Red Cross for more than a decade transporting thousands of tons of relief supplies each year. FedEx has donated approximately $7.5 million in financial and in-kind gifts to support Red Cross domestic and international relief work. FedEx first supported Red Cross international relief efforts during the Pakistan earthquake relief in 2005.
"As always, we sincerely appreciate FedEx's generosity," said Greater Indianapolis CEO John Lyter. "It is so rewarding to collaborate with like minded organizations who care about preparing their communities for disasters."
FedEx is teaming with the American Cross to hold similar events in Philadelphia and Richmond during the 2009 NASCAR season.