FedEx Teams Up with Safe Kids USA to Promote Halloween Safety for Trick-or-Treaters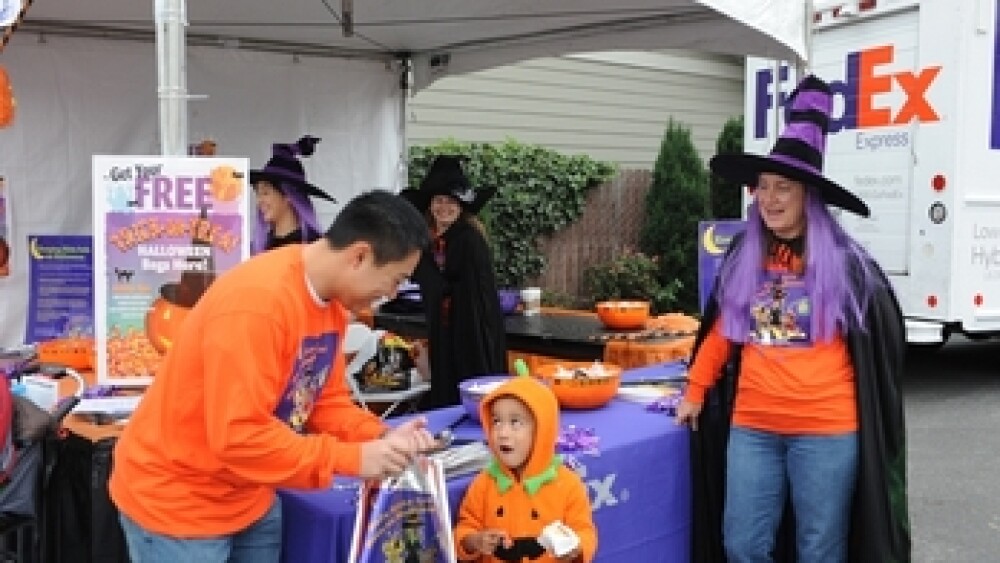 Halloween is one of the most dangerous days of the year for child pedestrians. On this night, children are excited and their costumes and masks may restrict their ability to see cars. Dark costumes may also reduce drivers' ability to see them. The days are also getting darker earlier, making it more difficult to spot children during popular trick-or-treating hours between 5:30 and 9:30 p.m.

Halloween can still be fun and safe if children, parents and drivers are alert and consider some simple safety measures before and during the holiday. As part of a year-round commitment to child pedestrian safety and the Safe Kids Walk This Way program, FedEx teamed up with Safe Kids USA – a national non-profit organization that works to prevent accidental injury among children – to develop Halloween safety tips for parents and drivers. FedEx and Safe Kids recommend:

Children …

-Stay on sidewalks and cross streets at corners, using traffic signals and crosswalks

-Wear light-colored, costumes decorated with retro-reflective tape or stickers

-Carry a flashlight, glow stick, or reflective trick-or-treat bag

-Wear face paint and makeup; a mask can restrict a child's vision

-Look left, right, left before crossing streets and watch for cars that are turning or backing up

Drivers …

-Slow down and be aware of surroundings when you're driving through neighborhoods

-Take extra time to actively look for kids in driveways, at intersections, on medians and on curbs

-Be sure to drive with your full headlights on so you can spot children from greater distances

-Reduce any distractions inside your car so you can concentrate on the road

FedEx and Safe Kids volunteers are providing these important tips and more to children and families at Halloween events and fall festivals in more than 150 communities across the country. Using FedEx Special Delivery vehicles, FedEx volunteers and local Safe Kids coalitions will distribute safety-themed giveaways such as reflective trick-or-treat bags, shoelaces and arm bracelets to help increase children's visibility to drivers during evening hours. Children are also encouraged to walk with a flashlight or carry glow sticks to help make sure they're seen on Halloween.

For more information on Halloween safety and Safe Kids Walk This Way, please visit www.usa.safekids.org/wtw.