FedEx Significantly Improves Less-Than-Truckload (LTL) Services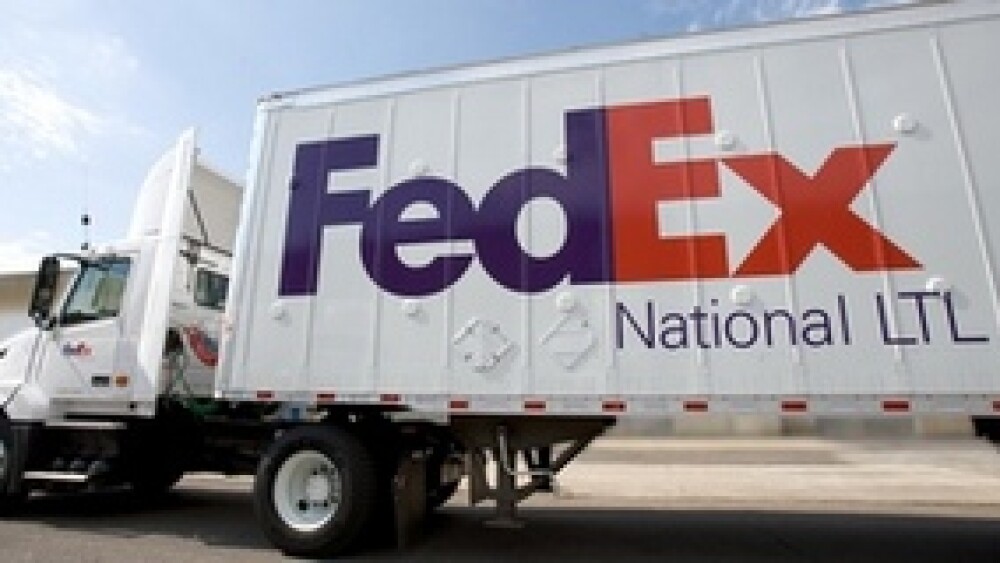 MEMPHIS, Tenn., Jan. 15, 2008 – FedEx Freight has improved its service in key U.S. markets, and FedEx National LTL now provides long-haul shippers with improved on-time service reliability after re-engineering its network, FedEx Freight, an operating company of FedEx Corp. (NYS: FDX) announced today.

FedEx Freight is a leading provider of regional next-day, second-day and extended LTL freight services, and has cut transit times in half—from two days to next day—from the Las Vegas area to Oakland, San Jose, Sacramento, Bakersfield and other large cities in Central California, and from Vancouver, British Columbia into the U.S. Pacific Northwest.

FedEx Freight has accelerated delivery from three days to two days in many other cities. Overall, FedEx Freight has helped its customers who depend on fast-cycle logistics by improving service standards in more than 1,000 U.S. lanes in the past year.

Dillard's, a national retailer of fashion and home furnishings, uses both FedEx Freight and FedEx National LTL to meet its supply-chain needs.

"Our reputation hinges on the availability of inventory in our 330 stores. Therefore, we need carriers that can keep pace with our business," said Fred Anderson, director of transportation for Dillard's. "FedEx Freight has been an excellent carrier for us in the regional sector, and we are pleased that FedEx National LTL is now a strategic alliance solutions provider for our long-haul shipments."

FedEx National LTL, a leading provider of long-haul LTL services, has adopted a strictly scheduled line-haul operation to enhance reliability. Like FedEx Freight, FedEx National LTL employs advanced information systems that support internal planning and provide shipment visibility to customers. These improvements benefit customers with planned inventory replenishment. FedEx National LTL was created in September 2006 when FedEx acquired the business assets of the former Watkins Motor Lines.

"A little over a year ago, we announced our strategy of providing a reliable and cost-effective service for long-haul shippers, complementing our regional LTL service," said Douglas G. Duncan, president and chief executive officer of FedEx Freight. "Today, through FedEx National LTL, we are delivering on that promise. Further, we are able to leverage both networks to offer all-points coverage in the regional and long-haul sectors."

In addition to expanding its domestic portfolio through FedEx National LTL, FedEx Freight is enhancing its Canadian service offerings with FedEx Freight Canada, the first-ever direct LTL presence for FedEx in Canada. The growing company handles LTL shipments moving into and out of Canada and intra-Canada shipments. This door-to-door service provided by FedEx Freight companies offers greater visibility and reliability for Canadian LTL shipments and trans-border pickup and delivery points in the U.S.

About FedEx Freight

Within FedEx Corp., the FedEx Freight Segment had annual revenues of $4.6 billion in fiscal year 2007. With corporate offices in Memphis, Tenn., the Segment includes FedEx Freight, a leading U.S. provider of regional next-day and second-day and extended LTL freight services; FedEx National LTL, a leading U.S. provider of long-haul LTL services; FedEx Freight Canada, an LTL operating company serving most points in Canada; FedEx Custom Critical, North America's largest time-specific, critical shipment carrier; and Caribbean Transportation Services, the leading provider of airfreight forwarding services between the United States and Puerto Rico. For more information, visit the FedEx web site, fedex.com.

About FedEx

FedEx Corp. (NYSE: FDX) provides customers and businesses worldwide with a broad portfolio of transportation, e-commerce and business services. With annual revenues of $36 billion, the company offers integrated business applications through operating companies competing collectively and managed collaboratively, under the respected FedEx brand. Consistently ranked among the world's most admired and trusted employers, FedEx inspires its more than 290,000 employees and contractors to remain "absolutely, positively" focused on safety, the highest ethical and professional standards and the needs of their customers and communities. For more information, visit news.fedex.com.