FedEx SameDay® City Expands to 1,800 Cities Nationwide Covering 30 Markets
Service is Now Available to More Than 34 Million People, From Seattle to Miami and San Diego to Boston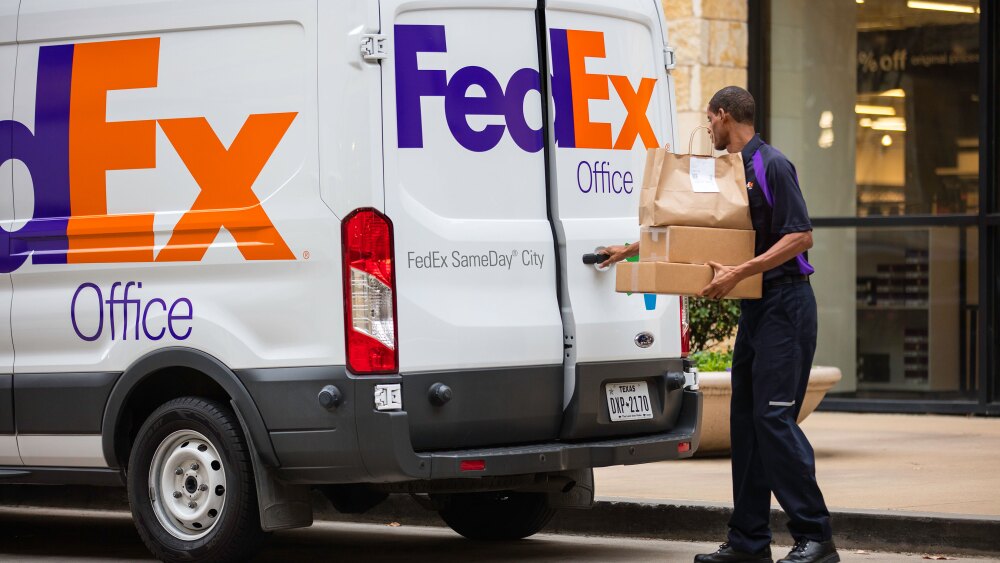 PLANO, Texas, October 4, 2017 — According to Business Intelligence, by 2018, the value of merchandise delivered to consumers via same-day courier service is expected to reach $4.03 billion. With this in mind, FedEx Office, a leading player in the same-day delivery industry, recently expanded FedEx SameDay® City service to 1,800 cities within 30 regional markets.
FedEx SameDay City is the company's fastest local shipping option for customers, offering door-to-door residential and business delivery of time-sensitive parcels within hours, by uniformed FedEx drivers in branded vehicles. Additionally, the FedEx SameDay City mobile app tracks package status on a map and provides estimated arrival times with delivery alerts.
With FedEx SameDay City, customers can choose the speed of service to best fit their needs, including:



Priority service: available seven days a week, with pickup and delivery in as little as two hours

Standard service: pickup and delivery in four hours from origin to destination, Monday through Friday

Economy service: also offered Monday through Friday, with delivery by end of the day

Route service: a custom, same-day service for regular pickup and deliveries at multiple locations
"Whether a customer made an online purchase for a special occasion, or a health care company needs to provide patients with critical medication and supplies, FedEx SameDay City can fulfill their need by delivering across multiple zip codes in a given market," said Brian Philips, CEO of FedEx Office. "Continued market expansion allows FedEx SameDay City to deliver thousands of packages daily, for individuals, as well as big and small brands alike."
FedEx SameDay City allows consumers and businesses the flexibility and access to the FedEx network of convenient and trusted solutions, including the option to establish same-day routes and fulfillment from store to home. Increasingly, industries such as health care, life sciences, manufacturing, finance, perishables, travel and automotive are relying on same-day services for critical delivery needs.
FedEx SameDay City operates in the 30 following markets:



Atlanta

Austin

Baltimore

Boston

Chicago

Cleveland

Dallas

Fort Lauderdale

Fort Worth

Denver

Detroit

Houston

Jacksonville

Los Angeles

Memphis

Miami

Minneapolis–St. Paul

Orange County

Orlando

Philadelphia

Phoenix

Riverside

Sacramento

San Antonio

San Diego

San Francisco

Seattle

St. Louis

Tampa

Washington, D.C.
To learn more about FedEx SameDay City delivery, go to fedex.com/samedaycity where customers can download a list of available delivery cities, as well as the FedEx SameDay City mobile app.