FedEx Returns Long-lost Possessions Washed to Sea by Japanese Tsunami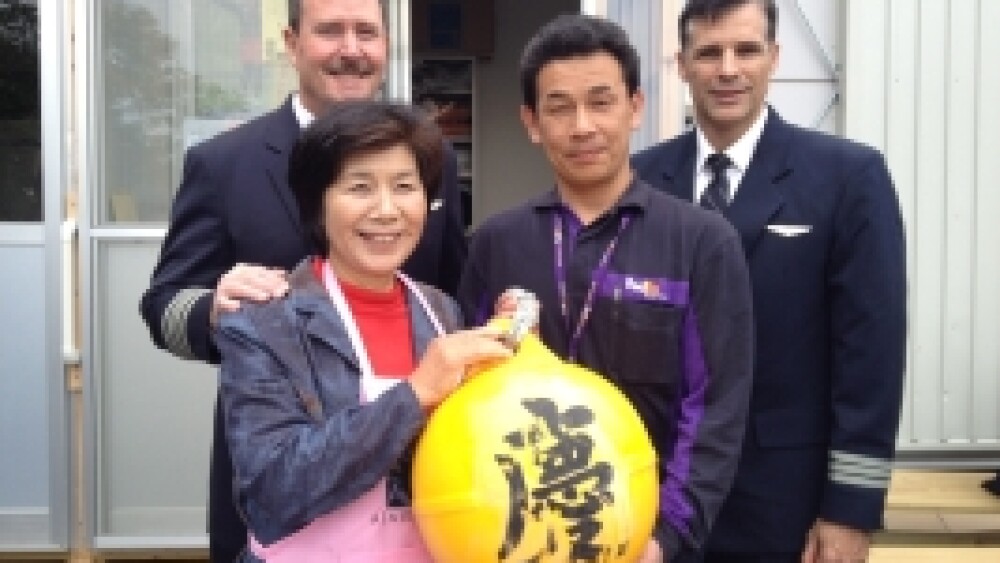 MEMPHIS, Tenn., June 13, 2012 – Today, FedEx Express began making four very special deliveries containing personal items lost at sea after Japan's March 2011 earthquake and tsunami. According to the National Oceanic and Atmospheric Administration (NOAA), most tsunami debris washing up along the U.S. West Coast cannot be traced to any owner. But these special deliveries of a soccer ball, basketball, volleyball and buoy are different — they could be tracked to their owners in Japan. According to NOAA and Time Magazine, these are the first reported tsunami-lost personal affects to return from the United States.

The Alaskan residents who found the items took it upon themselves to contact the owners through clues that remained on the items. But, they had no way to return them. With daily flights to Japan, FedEx volunteered to help.

FedEx Captain Terry Bull, together with Anchorage-based pilot First Officer John Hillyer took a personal interest in returning the items. Bull, who had been in Narita (about 180 miles from the epicenter) the day the earthquake struck, recalled, "You could tell this one was going to be different. The aftershocks at Narita were a little frightening."

First Officer John Hillyer, who flies often to Japan said, "I know the devastation the country has suffered and I am honored to help." Hillyer added, "And, FedEx has a soft spot for wayward volleyballs."

FedEx Express, which has a major hub in Anchorage, donated its transportation services to ensure the items had a safe trip home to Japan. "It took a lot of coordination collecting the items from the remote shores of Alaska and arranging international logistics. We knew these items were important to their owners and we had our FedEx team in Japan make personal contact to arrange the final delivery," said James Brewer, senior manager of Anchorage hub operations.

Over the weekend, Captain Bull and First Officer Hillyer secured their precious cargo carefully into the jump seats of a FedEx B777 for the flight from Anchorage, Alaska to Narita, Japan. The delivery team then began their long journey north to the tsunami-affected coast of Japan. Hillyer reflected as he began "I recognize the impact that this event has had on the families and communities. Many lost their loved ones and all of their possessions. It's not every day that you lose everything, and then FedEx shows up with something you believed was gone forever."

Normally, FedEx pilots only fly packages to airports. In this case, both Hillyer and Bull carried the items to their owners. "I'm proud to be part of a company that understands the history of these personal possessions and treats them with such respect." Hillyer, who was stationed in Japan in the military and also speaks Japanese, added, "I understand the significance that this tragedy had upon the nation. These deliveries are priceless to the families and the people of Japan."

During this week, the FedEx team returned the personal items that drifted to Alaska:



Soccer ball: This special ball was signed by the owner's grade-school classmates when the boy and his family relocated to another city before the tsunami. While this item has garnered a good bit of previous media coverage, FedEx respected the family's wishes to make this handoff and their whereabouts private.



Volleyball: While it was only marked with the owner's first name, a local Japanese TV station was able to identify the young woman. We again respected her wishes for a private delivery.



Yellow Buoy: This special item hung on the sign outside Miura Sakiko's restaurant in the town of Minamisanriku-cho, which was destroyed in the disaster.



Basketball: The ball belonged to Kesen Jr. High School in Rikuzentakata. The current basketball team members were all honored to accept it on the school's behalf.
"As the first items that can be traced back to their owners in Japan, they are symbols of hope. The hope that what was lost can be found and the hope that was destroyed can be rebuilt. All of us at FedEx feel privileged to return them," said Brewer.

FedEx has a culture of giving. After the earthquake/tsunami FedEx pledged one million dollars in cash and in-kind support towards relief efforts in Japan. FedEx continues that support by pledging $5,000 to Japanese Emergency NGO (JEN) for sporting equipment to honor all the school children of Japan.

FedEx would like to thank the people of Alaska for their support in locating the owners. As more debris continues to wash ashore in the U.S., NOAA encourages anyone who finds an item they think may be related to the Japan tsunami to take a picture, note the location and report it to disasterdebris@noaa.gov. Items found that can be traced back to an individual or group and has sentimental or monetary value should be reported to NOAA (disasterdebris@noaa.gov) and turned over to local authorities.

Click here for more information on the NOAA Marine Debris program for Japan Tsunami related items: (http://marinedebris.noaa.gov/info/japanfaqs.html).

About FedEx Express

FedEx Express is the world's largest express transportation company, providing fast and reliable delivery to more than 220 countries and territories. FedEx Express uses a global air-and-ground network to speed delivery of time-sensitive shipments, by a definite time and date with a money-back guarantee.

About FedEx
FedEx Corp. (NYSE: FDX) provides customers and businesses worldwide with a broad portfolio of transportation, e-commerce and business services. With annual revenues of $42 billion, the company offers integrated business applications through operating companies competing collectively and managed collaboratively, under the respected FedEx brand. Consistently ranked among the world's most admired and trusted employers, FedEx inspires its more than 300,000 team members to remain "absolutely, positively" focused on safety, the highest ethical and professional standards and the needs of their customers and communities. For more information, visit news.fedex.com.

For further information and additional photos, please contact:

FedEx Media Relations

901-434-8100

HD b-roll of the journey is available.

Video link: http://bit.ly/LSMdEH

Password required.

Contact FedEx Media Relations at 901-434-8100 for the password.