FedEx Refreshes Web Tracking Tools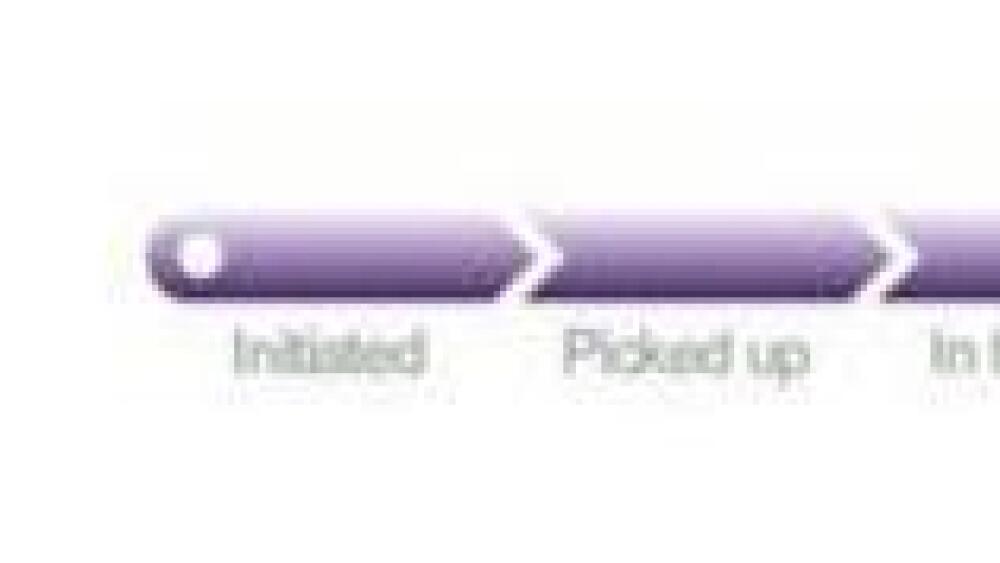 MEMPHIS, Tenn., Jan. 29, 2009—FedEx Corp. (NYSE: FDX) has launched new, state-of-the-art tracking technologies to provide customers with real-time visibility to shipment status via web, desktop or mobile devices.
Available globally in 26 languages, the new tracking experience includes a shipment progression graphic enabling users to get tracking information. Users now have the ability to view tracking results based on different time zones, order of shipment events and weight conventions. Tracking numbers can also be saved, eliminating the need to re-enter data for subsequent tracks.
"We know that FedEx customers want more clarity about the status of their shipments and the ability to view tracking results based on individual preferences," said Mark Colombo, senior vice president, FedEx Digital Access Marketing, FedEx Services. "The quality and breadth of our shipment visibility services continue to be critically important to customers."
FedEx Tracking . . . Designed for the Customer

FedEx offers a full suite of shipment visibility tools designed with the user in mind. FedEx research shows that customers' roles and work habits directly influence how they want to view and monitor their shipment status.


General Consumers/Small Businesses and Recipients: Fedex.com tracking primarily serves these users. On an average day, fedex.com handles more than 6 million tracking requests, a majority of which are initiated by recipients.

Transportation Professionals: FedEx has found that transportation professionals need sophisticated tracking tools with robust shipment search capabilities, data filtering, and automatic information refreshes. The advanced tracking capability within My FedEx uses Adobe Flex technology to provide users with a consolidated view of inbound, outbound and third-party shipments.

Small Business Managers/Multi-Taskers: Customers who handle multiple business functions rely on FedEx Desktop to monitor shipment status quickly and easily from their computer desktop. Using Adobe Air technology, FedEx Desktop provides customers the benefit of working offline and having real-time shipment updates pushed to their desktop.

Mobile Professionals: Constantly on the go, these users require the same level of shipment information as others, but on their mobile device. FedEx Mobile directly addresses their needs, hosting more than 20,000 users daily with access to tracking information along with the ability to create shipping labels, check rates, and find the nearest FedEx Office or FedEx Express drop-off location.
Customers, particularly mobile professionals, need seamless access to information anytime, anywhere. Through the FedEx suite of shipment visibility tools, customers have multi-channel access to shipment tracking information, helping them improve productivity.

FedEx Tracking . . . History in the Making

In the late 1970's, FedEx introduced a simple concept – that information about a package is as valuable as the shipment itself. It's a concept that revolutionized shipping.

Early on, FedEx made certain that customers could track the progress of their shipments with a toll-free call, whether they were shipping a load of computers or an aircraft engine.

In 1994, during the advent of the Internet, FedEx launched fedex.com as the first transportation Web site to offer online package status tracking, enabling customers to conduct business via the internet.

Customers immediately grasped the value and convenience of using fedex.com and began adopting the channel. It continues to grow exponentially. For example, in 1995 fedex.com managed approximately 9,000 tracking requests a day. Today, the site receives more than 15 million unique visitors a month and processes over 6 million daily tracking requests.

Business on the ground-breaking fedex.com continues to grow. On Dec. 23, 2008, fedex.com experienced a record-breaking 9.8 million tracking requests, the highest number in the 14-year history of the web site. Additionally, the tracking application experienced six consecutive days of more than 8 million average daily tracking requests during the month of December.

For more information and interactive demonstrations for FedEx tracking, FedEx Desktop, FedEx Mobile and My FedEx, visit www.fedex.com/nowyoucan.

About FedEx Corp.

FedEx Corp. (NYSE: FDX) provides customers and businesses worldwide with a broad portfolio of transportation, e-commerce and business services. With annual revenues of $39 billion, the company offers integrated business applications through operating companies competing collectively and managed collaboratively, under the respected FedEx brand. Consistently ranked among the world's most admired and trusted employers, FedEx inspires its more than 290,000 employees and contractors to remain "absolutely, positively" focused on safety, the highest ethical and professional standards and the needs of their customers and communities. For more information, visit news.fedex.com.