FedEx Plans Trade Mission to India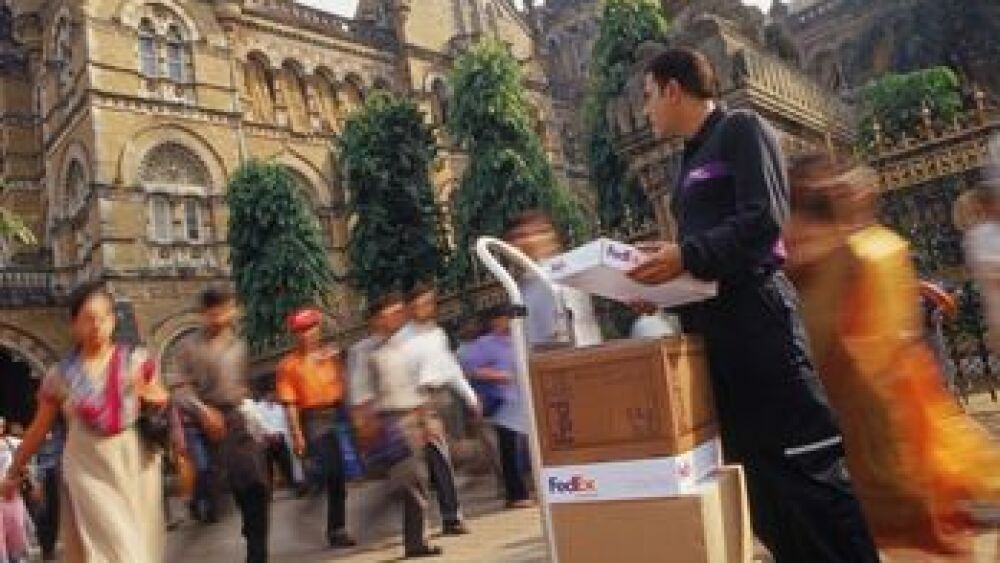 MEMPHIS, Tenn., Oct. 30, 2008—FedEx Corp. (NYSE: FDX) is collaborating with the Commerce Department's U.S. Commercial Service on a trade mission to India in November 2008 for U.S.-based businesses interested in expanding into the Indian marketplace. FedEx is the first private-sector company to lead a trade mission to India in conjunction with the Commercial Service.
With visits scheduled to New Delhi, Hyderabad and Mumbai from Nov. 9-14, 2008, the trade mission will enable U.S. businesses to better understand trade opportunities across key economic hubs in the country. In addition, it will help Indian companies looking to pursue new buying opportunities with American businesses.
"India is one of the best-performing economies in the world, and it is one of the top consumers of U.S. exports," said Rajesh Subramaniam, senior vice president, International Marketing, FedEx Services. "By holding this trade mission, FedEx and the U.S. Commercial Service will provide U.S. and Indian businesses with valuable networking opportunities needed to grow their businesses and maintain a competitive edge in the global marketplace."
The companies participating in the trade mission represent small and medium-sized businesses and sectors in manufacturing, transportation equipment, engineering, business services, consulting, architecture, information technologies, pharmaceutical, consumer goods, and more.
"India is a fast-growing market with enormous potential for increased sales of innovative U.S. products and services, contributing to jobs and economic growth in both countries," said Israel Hernandez, Commerce Assistant Secretary and Director General of the U.S. and Foreign Commercial Service. "This trade mission is an important step toward strengthening U.S.-India business ties and enhancing fair, two-way trade between both our countries."
As part of the trade mission, participants will meet with potential Indian business partners, agents, distributors and buyers to discuss opportunities through business appointments arranged by the U.S. embassy's Commercial Service. While in the country, participants will also have access to:


Leading business centers, a production site and an educational institution,

U.S. and Indian business leaders successfully operating in India,

U.S. and Indian government officials and business decision-makers, and

Market intelligence and other relevant data to help determine if India is right for their business.
"FedEx is well-positioned to lead this trade mission because we facilitate global trade in more than 220 countries and territories worldwide," said Jacques Creeten, vice president of India Operations, FedEx Express. "We also have a significant presence in India. Now in our 11th year of direct operations in India, FedEx offers the largest number of international flights to and from India, as well as a dedicated ground network connecting more than 4,000 cities and towns across the country."
STUDIOS Architecture, an award-winning design practice with more than 200 employees throughout five offices, is one of the U.S.-based companies participating in the trade mission to India. The firm offers comprehensive design services in architecture and interiors. STUDIOS continues to build on its extensive portfolio of international work and is actively pursuing projects throughout India. "We are looking forward to working with FedEx and the U.S. Commercial Service to acquire market intelligence on business opportunities in India and building a network of contacts to grow our firm's potential in this dynamic market," said Todd DeGarmo, CEO of STUDIOS Architecture.
From 2003-2007, U.S.-India trade has increased by 130 percent, reaching more than $41 billion last year – and U.S. exports to India have more than doubled since 2005. Trade between the two countries is up 21 percent through the first half of 2008 compared to the same time period last year. American companies see excellent opportunities in part due to India's average annual growth rate of more than seven percent, its fast-growing middle class of nearly 400 million consumers with growing purchasing power, and the country's favorable impression of U.S. products and services.
Since 2004, FedEx and the U.S. Commercial Service have operated a joint trade promotion initiative to help simplify the complexity of international trade, particularly for small and medium-size businesses looking to source and sell in the global marketplace. In May 2007, FedEx and the U.S. Commercial Service renewed their commitment with a new 5-year agreement to continue their efforts to boost exports from U.S. businesses. To date, more than 13,000 clients have been exposed to the business of exporting.
About FedEx Corp.
FedEx Corp. (NYSE: FDX) provides customers and businesses worldwide with a broad portfolio of transportation, e-commerce and business services. With annual revenues of $39 billion, the company offers integrated business applications through operating companies competing collectively and managed collaboratively, under the respected FedEx brand. Consistently ranked among the world's most admired and trusted employers, FedEx inspires its more than 290,000 employees and contractors to remain "absolutely, positively" focused on safety, the highest ethical and professional standards and the needs of their customers and communities. For more information, visit news.fedex.com.
About the U.S. Commercial Service
With offices across the United States and in American embassies and consulates in 80 countries, including India, the U.S. Commercial Service works to partner U.S sellers with international buyers. The Commercial Service in India has seven offices throughout the country, including New Delhi, Kolkata, Mumbai, Chennai, Ahmedabad, Bangalore, and Hyderabad. For more information, visit the U.S. Commercial Service at www.export.gov or www.buyusa.gov/India. U.S. and Indian companies can also visit the India Business Information Center at www.export.gov/india.