FedEx on the Road to Delivering its Busiest Day in Company History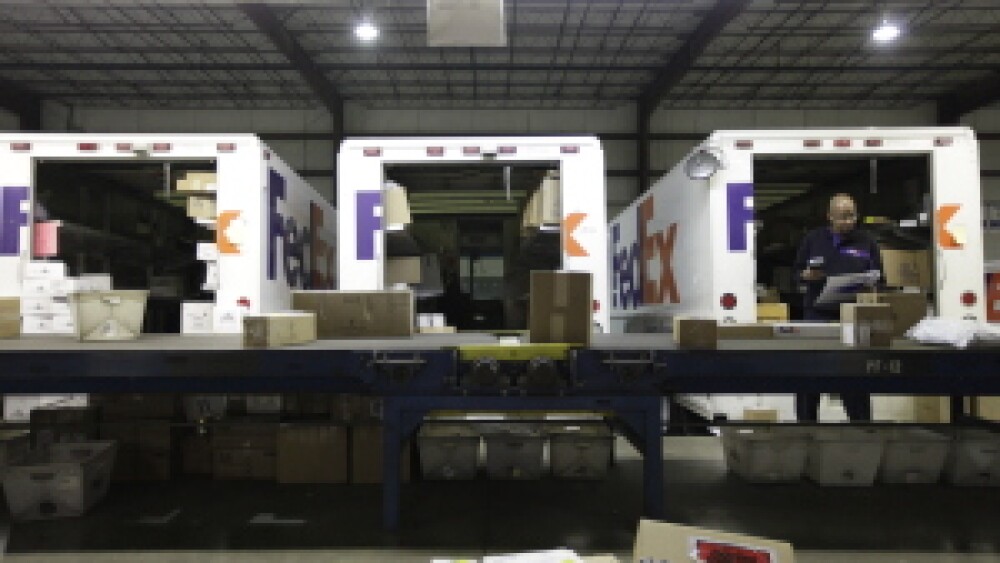 MEMPHIS, Tenn., Dec. 13, 2010—The busiest day in company history is underway for the 285,000 team members of FedEx Corp. (NYSE: FDX), as drivers hit the road to pick-up almost 16 million shipments around the world.
This volume represents an increase of nearly 13 percent from last year's busiest day and is double the volume handled on an average day in the FedEx network. FedEx expects to move more than 223 million shipments in its global networks between Thanksgiving and Christmas—a year-over-year increase of 11 percent.
To celebrate this milestone, FedEx front line team members will ring the New York Stock Exchange (NYSE) Opening Bell today. The team members will represent FedEx Ground, FedEx Express, FedEx Office, FedEx Freight and FedEx Custom Critical.
"The holiday delivery season is an exciting time FedEx team members around the world—from the drivers and couriers who deliver each box, to the route planners and on-staff meteorologists who help ensure we maintain our excellent customer service levels," said T. Michael Glenn, executive vice president of Market Development at FedEx. "FedEx has been preparing for the seasonal surge of packages for almost a year and we've leveraged our decades of logistical expertise to ensure FedEx has all the right assets in place to handle our busiest day in history."
More than half of the holiday season volume increase will be from FedEx SmartPost shipments. FedEx SmartPost volume is largely driven by online retailers and cataloguers who ship high volumes of lighter shipments to residential customers. FedEx SmartPost has a completely integrated national network that picks up, sorts and delivers packages directly to U.S. Postal service facilities for final delivery to residences.
During the week of December 13, also the busiest week of the year for FedEx, the company expects to move more than 63 million shipments compared to last year's busiest week of 57.5 million shipments. Items such as books from large internet retailers and retail inventory such as apparel, personal consumer electronics and luxury goods will drive FedEx holiday volumes.
About FedEx Corp.
FedEx Corp. (NYSE: FDX) provides customers and businesses worldwide with a broad portfolio of transportation, e-commerce and business services. With annual revenues of $36 billion, the company offers integrated business applications through operating companies competing collectively and managed collaboratively, under the respected FedEx brand. Consistently ranked among the world's most admired and trusted employers, FedEx inspires its more than 285,000 team members to remain "absolutely, positively" focused on safety, the highest ethical and professional standards and the needs of their customers and communities. For more information, visit news.fedex.com.
Certain statements in this press release may be considered "forward-looking" statements within the meaning of the Private Securities Litigation Reform Act of 1995 with respect to future events and financial performance. These forward-looking statements involve risks and uncertainties. Actual results may differ materially from those contemplated (expressed or implied) by such forward-looking statements, because of, among other things, economic conditions in the global markets in which we operate, the impact of any international conflicts or terrorist activities, disruptions to the Internet or our technology infrastructure, the impact of changes in fuel prices and foreign currency exchange rates and adverse weather conditions or natural disasters, as well as the other risks and uncertainties you can find in FedEx's and its subsidiaries' press releases and SEC filings, including the risk factors in FedEx's most recent annual report on Form 10-K, as updated by FedEx's quarterly reports on Form 10-Q.