FedEx Office Invests in Advanced Print Technology and Talent to Meet Expanding Needs of Commercial Customers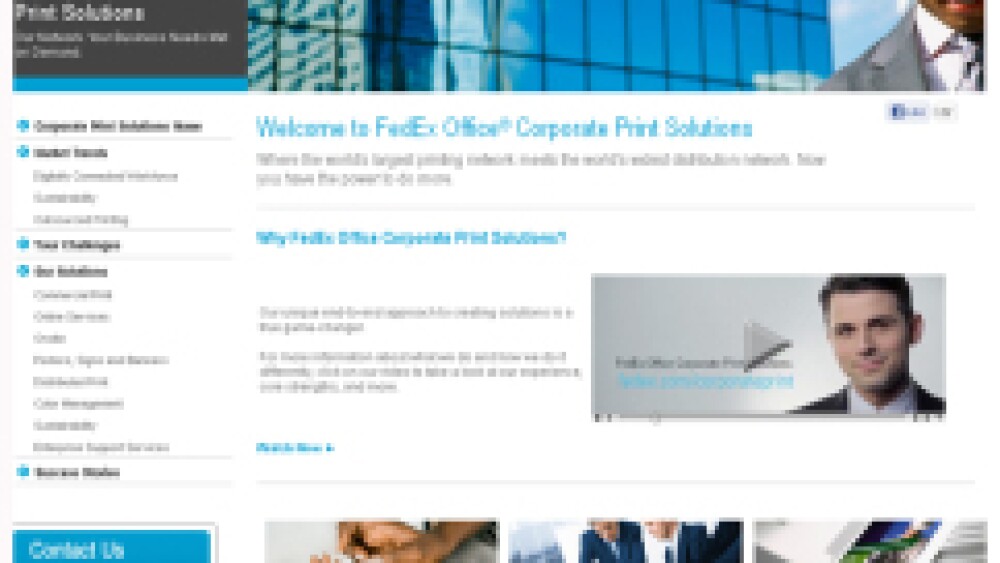 Dallas, Feb. 14, 2012 - FedEx Office®, the leading provider of printing and shipping services, knows that businesses need cost-effective and scalable solutions to printing challenges. To help solve customer challenges, FedEx Office is accelerating investment in its infrastructure by adding additional high-end, commercial production equipment. The company is deploying new grand-format inkjet printing devices to its centralized productions centers across the country for producing rigid signs, banners, posters, point of purchase materials, oversized prints and more. Also, it is expanding its experienced workforce by hiring more team members.

As further evidence of its reliability as a best-in-class print provider, FedEx Office was recently awarded a four-year contract from Boeing, the world's largest aerospace company and leading manufacturer of commercial jetliners and defense, space and security systems. Effective March 1, FedEx Office will serve as Boeing's primary print provider, producing critical operations, sales, and large/grand format printed materials.

"FedEx Office offers a broad range of print solutions that meet the needs of customers of all sizes, and we're continuously enhancing both our production and retail network as well as our support structure to make that happen," said Aimee DiCicco, vice president of sales for FedEx Office. "We've got the depth and breadth to deliver customized solutions for our customers. Our corporate print solutions are a perfect fit for Boeing's needs and we're thrilled to have the opportunity to leverage our capabilities for this leading Fortune 100 company."

Since May 2010, FedEx Office has deployed nearly 8,000 new printing devices to its U.S. and Canada locations and recently installed new automated finishing equipment at its offset printing facility. The new high-speed equipment scheduled for installation by spring includes Agfa Graphics' Jeti 3020 Titan inkjet printers and Zund G3 M-2500 digital table cutters – all of which will be critical for high quality, grand format production print runs. The company will leverage this technology to produce a variety of signage and oversized prints for various customers, from big box retailers with multiple locations across the country to large corporations and small businesses.

FedEx Office delivers world-class printing solutions that can be tailored for commercial customers' needs. The company's convenient network of digitally-connected retail locations, centralized production centers and around-the-clock online services help large businesses improve their productivity and maintain total control of their print supply chain. In addition, FedEx Office leverages a variable cost model, which helps corporate customers manage the bottom line. To learn about the full portfolio of FedEx Office® Corporate Print Solutions, visit www.fedex.com/corporateprint.
About FedEx Office

FedEx Office, an operating company of FedEx Corp., has more than 1,900 locations in the U.S., Canada, Japan, South Korea and the Middle East, providing convenient access to printing and shipping expertise with reliable service. The company's network features retail centers, centralized production centers, corporate on-site print centers, and on-site business centers at hotels, convention centers and universities. Services include copying and digital printing, professional finishing, document creation, direct mail, signs and graphics, computer rental, free Wi-Fi, corporate print solutions, packing services, FedEx Express and FedEx Ground shipping, Hold at FedEx Location and more. In addition, InformationWeek 500 recognized FedEx Office® Print Online and FedEx Office® Print & Go solutions with the 2011 Most Innovative Products award. Products, services and hours vary by location. For more information, please visit www.fedex.com/office.
About FedEx Corp.

FedEx Corp. (NYSE: FDX) provides customers and businesses worldwide with a broad portfolio of transportation, e-commerce and business services. With annual revenues of $41 billion, the company offers integrated business applications through operating companies competing collectively and managed collaboratively, under the respected FedEx brand. Consistently ranked among the world's most admired and trusted employers, FedEx inspires its more than 290,000 team members to remain "absolutely, positively" focused on safety, the highest ethical and professional standards and the needs of their customers and communities. For more information, visit news.fedex.com.
Note:Agfa and Agfa Graphics are © 2012 Agfa-Gevaert Group. All rights reserved.
# # #