FedEx Hybrid-Electric Fleet Surpasses Two-Million-Mile Mark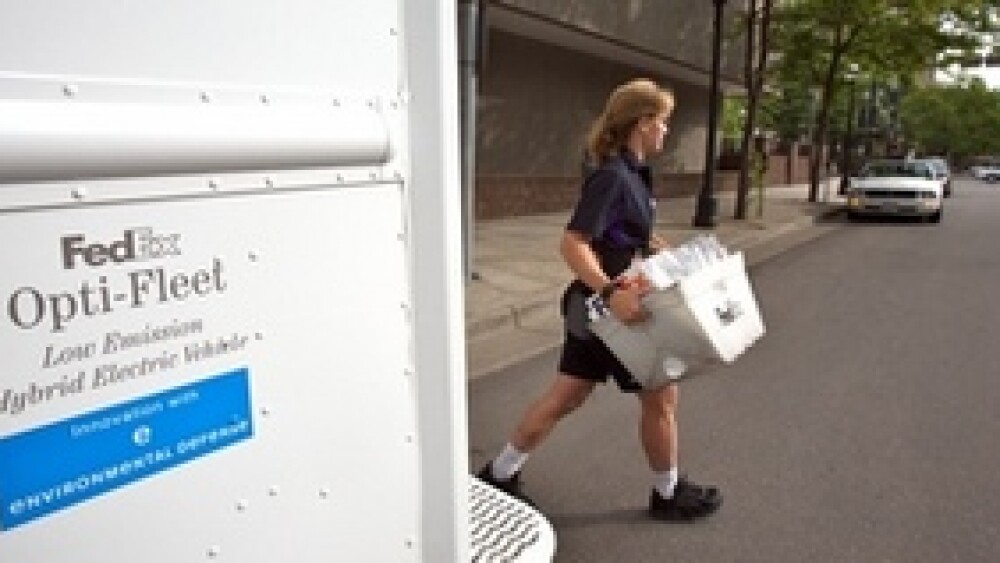 MEMPHIS, Tenn. , April 28, 2008—FedEx Corp. (NYSE: FDX) today announced a major milestone for its existing hybrid-electric truck fleet: more than two million miles of revenue service.

The hybrid trucks improve fuel economy by 42 percent, reduce greenhouse gas emissions by approximately 30 percent and cut particulate pollution by 96 percent.

FedEx is also expanding its commitment to clean-vehicle technology by placing an additional 75 hybrid vehicles into service in the United States and Europe .

FedEx will now operate more than 170 hybrid vehicles around the globe, including the largest fleet of commercial hybrid trucks in North America , which comprise nearly one-third of the deployed North American hybrid market.

First in its industry to introduce hybrid vans into its fleet, FedEx now works with a diverse group of manufacturers, including Eaton Corporation, Isuzu and Iveco.FedEx will also purchase twenty vehicles that use an Azure Dynamics hybrid system and Ford gasoline engine and chassis, representing one of the first gasoline hybrid-electric delivery trucks in commercial use.

"Two million miles of FedEx service is a significant milestone for hybrid vehicles," said Mitch Jackson, director of Environmental Affairs and Sustainability, FedEx Corp. "FedEx continues to work to advance clean truck technology.We now need the collective leadership of business, nonprofit and government to make cleaner delivery vehicle technology widely available.It's time for the truck manufacturing industry to create its version of the Prius: clean, affordable and widely available for truck fleets."

John Formisano, vice president of Global Vehicles, FedEx Express, said, "FedEx has been very happy with the operational and environmental performance of the FedEx hybrids.We continue to look for opportunities to introduce more fuel-efficient vehicle models, including hybrids, into our fleet."

Today's developments are the latest steps in the ongoing efforts by FedEx and Environmental Defense Fund (EDF) to support the clean technology truck market, which has grown to include more than 30 fleets in North America.

"FedEx leadership has helped to make hybrid truck technology a reality," said Gwen Ruta, vice president for Corporate Partnerships, EDF. "There is tremendous momentum in the hybrid truck market today, with more trucks on the road and more companies buying hybrids every day. The FedEx and EDF collaboration jump-started this market transformation. We demonstrated that the trucks work in the real world and that they can slash both greenhouse gas emissions and fuel costs."

In 2000, FedEx and EDF began working together to develop the next generation delivery vehicle.Three years later, the two organizations worked with Eaton Corporation and Freightliner Custom Chassis Corporation to introduce the first available commercial hybrid delivery truck into service.The project has been recognized by the Environmental Protection Agency, Harvard University and WestSTART-CALSTART for its role in spurring hybrid truck advancements.

Throughout this time, FedEx and EDF have worked together to encourage more companies to purchase and develop clean technology trucks.FedEx and EDF have also been advocates for additional government incentives at the national, state and local levels to offset the higher capital costs of cleaner vehicles while the market is developing.

FedEx is the only transportation company to publicly call for fuel efficiency standards for commercial medium and heavy duty truck classes that will reduce greenhouse gas emissions and reduce fuel consumption.The company has also championed the need for a small, fuel efficient engine for application in hybrid vehicles following the 2007 EPA federal engine standard.

New Markets, New Technologies

The additional 75 hybrid vehicles will expand the FedEx hybrid fleet into new markets and leverage new technologies.


Twenty FedEx hybrids using Azure Dynamics hybrid technology and a Ford E-450 chassis and gasoline engine will be placed into service in Los Angeles (15 vehicles) and Sacramento (five vehicles).

Ten Iveco hybrid-electric "Daily-model"vans with Iveco diesel engines and hybrid systems will begin to deliver packages on routes in Europe .

Forty-five FedEx hybrid-electric vans with the Eaton Corporation hybrid system will be stationed in New York City .
The FedEx fleet will include 172 hybrid delivery vehicles on delivery routes around the globe:

North America (All are diesel hybrid-electric, except Los Angeles and Sacramento , Calif. ):


Ann Arbor , Mich. : One hybrid-electric vehicle

Chicago , Ill. : Two hybrid-electric vehicles

Denver , Colo. : Four hybrid-electric vehicles

Los Angeles , Calif. : 15 gas hybrid-electric vehicles

Memphis , Tenn. : Two hybrid-electric vehicles

New York City , N.Y. : 93 hybrid-electric vehicles

Portland , Ore. : 15 hybrid-electric vehicles

San Francisco , Calif. : Five hybrid-electric vehicles

Sacramento , Calif. : Nine hybrid-electric vehicles, including five gas hybrid-electrics

Tampa , Fla. : Four hybrid-electric vehicles

Washington D.C. : Three hybrid-electric vehicles

Toronto , Ontario : Five hybrid-electric vehicles
International:


Tokyo , Japan : Four Isuzu hybrid-electric vehicles in service, two since 2006

Europe : Ten Iveco, Daily hybrid-electric vans
FedEx Ground has also announced plans to test a hybrid hydraulic technology with Parker Hannifin Corporation on a heavier class vehicle (Class 6).

Fleet Efficiencies on the Ground and in the Air

FedEx is continuously seeking efficiency options in its vehicle and aircraft fleets that can lessen its environmental impact and save energy. To date, the FedEx hybrid-electric vehicles have saved approximately 83,000 gallons of fuel and eliminated 950 tons of greenhouse gas emissions.>

During the past five years, FedEx has worked to optimize our delivery routes to ensure that the most efficient sized vehicle is in use on each route.As a result of these efforts, more than one-fourth of the FedEx fleet has been converted to smaller more fuel efficient vehicles, saving more than 50 million gallons of fuel.

FedEx is also beginning an upgrade to its air fleet by replacing narrow-body aircraft with Boeing 757 planes that lessen the environmental impact—reducing fuel consumption up to 36 percent while providing 20 percent more capacity.The company will also acquire Boeing 777 aircraft that provide greater payload capacity and use 18 percent less fuel than planes in its current international fleet.These replacements will also significantly reduce carbon emissions.
About FedEx
FedEx Corp. (NYSE: FDX) provides customers and businesses worldwide with a broad portfolio of transportation, e-commerce and business services. With annual revenues of $37 billion, the company offers integrated business applications through operating companies competing collectively and managed collaboratively, under the respected FedEx brand. Consistently ranked among the world's most admired and trusted employers, FedEx inspires its more than 290,000 employees and contractors to remain absolutely, positively focused on safety, the highest ethical and professional standards and the needs of their customers and communities. For more information, visit news.fedex.com.