FedEx Ground Names Entrepreneurs of the Year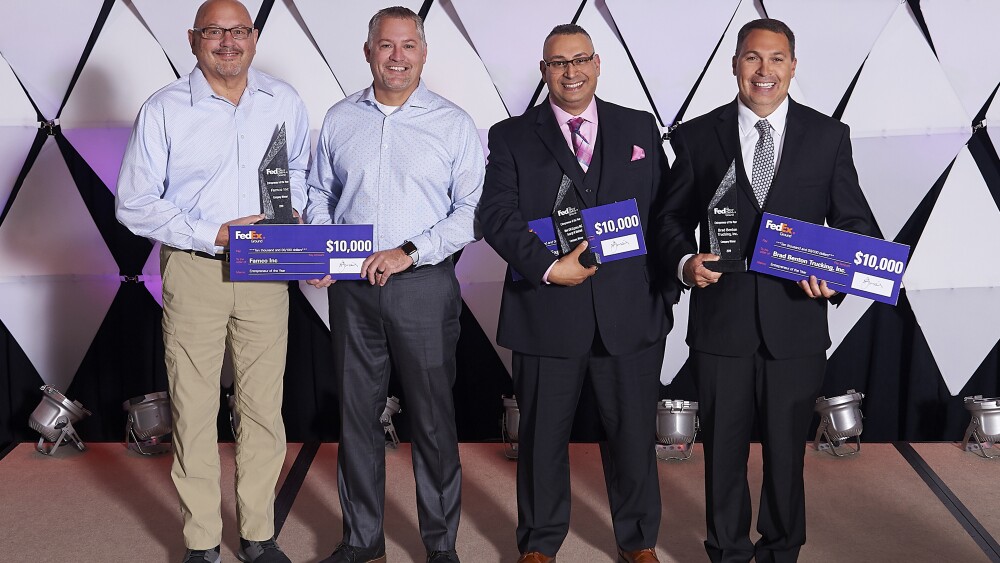 PITTSBURGH, Oct. 25, 2019 – FedEx Ground, a leader in cost-effective package ground shipping, has recognized three businesses that provide outstanding contract transportation services as FedEx Ground Entrepreneurs of the Year: New GM Express, Inc. of Secaucus, New Jersey (owner George R. Mekheil), Famco, Inc. of Peoria, Illinois (owner Michael Denniston), and Brad Benton Trucking, Inc. of Greensboro, North Carolina (owner Brad Benton).
The distinction recognizes these businesses for demonstrating significant growth, customer service, safety excellence, community involvement and business ethics. FedEx Ground contracts with 5,300 service providers throughout the United States and Canada, and New GM Express, Inc., Famco, Inc., and Brad Benton Trucking, Inc. were selected from among the top 20 regional winners representing the best of those companies for the fiscal year ending May 31, 2019.
"Since 2007, FedEx Ground has recognized exceptional businesses that deliver safe, dependable and professional service," said Henry J. Maier, president and CEO of FedEx Ground. "The entrepreneurs who own these companies value safety as a precondition, have built teams of dedicated employees while growing thriving businesses, and make substantial contributions to their local communities."
The following are brief company profiles of the businesses recognized:
New GM Express, Inc., Secaucus, New Jersey – George R. Mekheil, Owner
New GM Express, Inc. began operations 16 years ago when owner George R. Mekheil fulfilled a dream of owning his own business. While the company has grown from one employee and one truck to 27 employees and 23 trucks, its focus remains the same: provide the best customer service experience possible, which Mekheil said begins with a safe operation and sound leadership.
"I translate my own life experience into the way I treat my employees," Mekheil says. "Every morning, I talk to them face-to-face. I offer them encouraging, positive words and energy. I want to provide them with a good working environment where everyone is treated fairly."
The company hires experienced drivers who spend three weeks in safety and customer service training that includes personal observation and coaching. Drivers receive daily one-on-one communication with New GM Express managers who remind and encourage them to think about their actions behind the wheel — and recognize them for good performance. Weekly safety meetings allow everyone to regroup and share best practices and experiences as a team.
Each year, New GM Express invests in a customer service seminar designed to review best practices for delighting customers. "The cost of the seminar is offset by helping us eliminate customer complaints," explains Mekheil. "We have the personal satisfaction of knowing we're doing an excellent job for customers."
As a result of Mekheil's commitment to workforce development, New GM Express has minimal turnover. New GM Express's high retention helps the company continue to post top-notch safety and service results, including operating more than three years without a preventable accident.
Fleet maintenance is also a top priority for New GM Express. "Our goal is to minimize breakdowns by taking good care of our equipment," says Mekheil. All of the company's trucks feature the newest safety technology.
New GM Express is a member of the American Trucking Associations (ATA) and also received regional Entrepreneur of the Year recognition in 2016. Because of their experience and long-term success, Mekheil and his team are frequently consulted by other FedEx Ground service providers in the Secaucus station and surrounding areas.
Famco Inc., Peoria, Illinois – Michael Denniston, Owner
A service provider for 33 years, Famco, Inc., has provided top-notch service since its inception. Owner Michael Denniston and employee Jim Denniston attribute the company's longevity to focusing on three ideals: safety, satisfaction and security.
Famco's new drivers learn safe-driving and customer service methods from an experienced driver through a four-week course. "We assign a seasoned driver to assist a three-to-five-person team that's responsible for covering a certain geographical area," explains Denniston. Famco holds weekly safety meetings to address the latest safety standards and DOT requirements and ensure consistent messaging.
Famco is a big advocate of integrating and using safety technology as it becomes available. "If the technology helps us further our goal of promoting safety and maintenance while reducing fuel costs, it's the right thing to do," says Denniston.
Denniston also functions as a consultant to fellow FedEx Ground service provider business owners who are looking to integrate technology into their operations. He voluntarily participates in meetings that address safety and industry trends. "The greatest satisfaction is knowing our team arrives home safely to their families each day," Denniston said.
Famco is determined to be No. 1 in service. "Our goal is to improve daily on customer satisfaction and never drop below our very high service goals," Denniston says. "To do this, every customer is treated as a valuable partner deserving of attention and respect."
Employees at Famco connect with customers in a way that instills trust. "We want customers to know their freight is safe," Denniston explains. "We also have preventive and counter measures in place that help us maintain a high level of security for our employees."
Famco encourages its employees to give back to the community and many are involved in organizations that support causes such as youth sports, anti-bullying, holiday basket drives, free mowing services for the elderly, and many more.
Personally, Denniston is active with his local Chamber of Commerce, the Midwest Food Bank, the Festival of Lights and various church programs.
Famco also received Entrepreneur of the Year region recognition in 2017.
Brad Benton Trucking, Inc., Greensboro, North Carolina – Brad Benton, Owner
For 20 years, Brad Benton Trucking, Inc. has grown at a steady pace, thanks to its single-minded plan of operating safely and professionally. Whether its drivers are on the road or interacting with customers, Brad Benton Trucking is known for cooperation and competency.
Owner Brad Benton has a reputation as a hands-on employer who values the benefits of regular employee engagement. Being present at the FedEx Ground Greensboro hub each day, Benton respects his employees, believes in their ability to do a good job and enjoys interacting with them.
According to FedEx Ground Greensboro station management, Brad Benton Trucking has built a safety culture that is second to none. Personally, Benton has logged over 2.2 million accident-free miles and was named North Carolina's Driver of the Month in September 2016. In the past year, the company's employees have driven more than 2.3 million accident-free miles. To continue honing their safe-driving skills — and have fun together — Benton and three of his drivers competed at this year's North Carolina Truck Driving Championships.
Brad Benton Trucking's well-maintained fleet of 17 vehicles includes the latest onboard safety and compliance technology and is upgraded as needed with fuel-efficient models.
In the community, Brad Benton Trucking supports Second Harvest Food Bank's annual Thanksgiving food drive, as well as the Toys for Tots Christmas drive. This past Christmas, Benton personally delivered a 53-foot trailer loaded with bicycles to a Toys for Tots distribution warehouse.
About FedEx Ground
FedEx Ground, a subsidiary of FedEx Corp. (NYSE: FDX), is headquartered in Pittsburgh, Pennsylvania, and is a leader in cost-effective package ground shipping, offering dependable service to businesses and residential customers throughout the U.S. and Canada. Through 105,000 employees, more than 600 distribution hubs and local pickup-and-delivery stations, and 69,000 motorized vehicles operated by 5,300 locally-owned small businesses, FedEx Ground transports 9 million packages daily. The company reported annual revenue of $20.5 billion in fiscal year 2019.