FedEx Ground Names Entrepreneurs of the Year
Three Small Businesses Recognized for Excellence in Business Development, Customer Service, Safety, Ethics and Community Support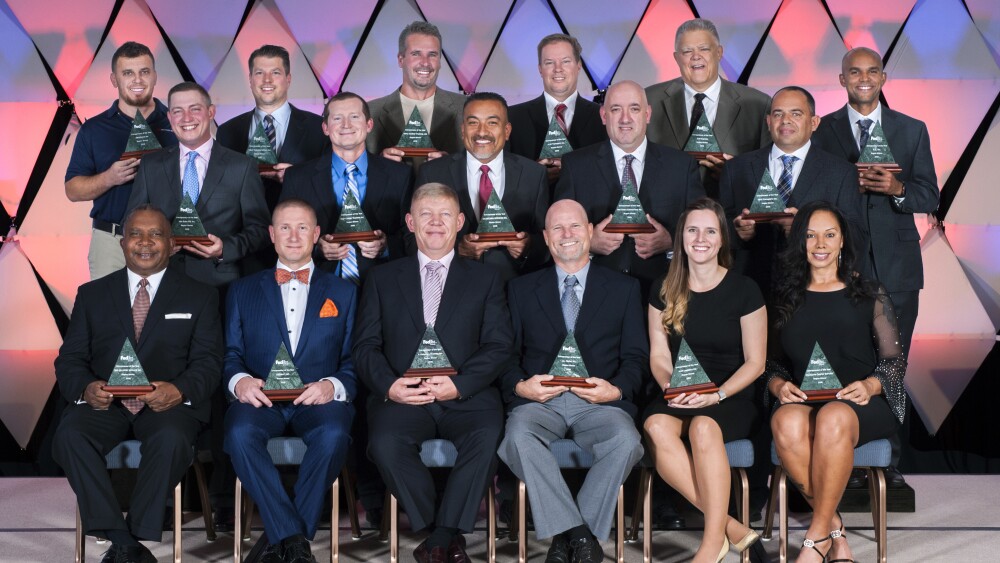 PITTSBURGH, November 2, 2018 – FedEx Ground, a leader in cost-effective package ground shipping, has recognized three businesses that provide outstanding contract transportation services as FedEx Ground Entrepreneurs of the Year: V. Fedyshyn Trucking, Inc. of Woodbridge, N.J. (owner Volodymyr "Walter" Fedyshyn), S&S Delivery Service, Inc. of Tupelo, Miss. (owner Don Smith), and Exclusive Courier Service of Sanford, Fla. (owner Taylor Williams).
The distinction recognizes these businesses for demonstrating significant growth, customer service, safety excellence, community involvement, and business ethics. FedEx Ground contracts with 5,600 service providers throughout the United States and Canada, and V. Fedyshyn Trucking Inc., S&S Delivery Service, Inc., and Exclusive Courier Service were selected from a pool of 20 regional winners representing the best of those companies for the fiscal year ending May 31, 2018.
"Since 2007, FedEx Ground has recognized exceptional businesses that deliver safe, dependable and professional service," said Henry J. Maier, president and CEO of FedEx Ground. "The entrepreneurs who own these companies are committed to the highest safety standards and have built thriving businesses, while also making substantial contributions to their local communities."
The following are brief company profiles of the businesses recognized:
Fedyshyn Trucking, Inc., Woodbridge, New Jersey – Volodymyr "Walter" Fedyshyn, Owner
A contracted service provider for 21 years, V. Fedyshyn Trucking, Inc., employs 34 people who drive 20 linehaul tractors an average of 9,795 miles per day. To date, the company has logged more than 7.4 million accident-free miles.
Under the direction of owner Volodymyr "Walter" Fedyshyn, the company is always looking for opportunities to expand its operation. For example, the company purchased several tractors last year to use as spares during the busy Peak holiday season and to support its expanded operations after the holidays.
In and around the FedEx Ground Woodbridge, N.J., hub, V. Fedyshyn Trucking has earned a reputation for competence and cooperation.
"We are very clear about our high expectations for on-duty behavior," says Fedyshyn, who credits his company's robust recruiting strategy for attracting quality people who can be trained effectively and held accountable for performance results.
The V. Fedyshyn Trucking fleet is well maintained, upgraded regularly and equipped with the latest technology, which has resulted in a 22 percent improvement in fuel efficiency and a 260-gallon-per-day reduction in fuel consumption. Fedyshyn is also exploring the potential use of fusion technology, a comprehensive driver assistance system.
A Ukrainian emigrant who became a U.S. citizen in 2001, Fedyshyn dreamed of owning his own business after graduating from truck driving school and becoming a driver. Today, he says he is living his dream, which includes giving back generously to his adoptive country through his church and children's groups, such as the Barvinok Children's Dance School, whose members were able to travel to the Ukraine for a competition, thanks to funding from Fedyshyn.
S&S Delivery Service, Inc., Tupelo, Mississippi – Don Smith, Owner
A respected contracted service provider for the past 19 years, S&S Delivery Service, Inc., has 23 employees and a fleet of 29 pickup and delivery vehicles that collectively average more than 1,200 stops per day.
Owner Don Smith takes pride in S&S Delivery Service's team of well-compensated, enterprising individuals, three of whom are staffed to drive at a moment's notice and one of which is a certified mechanic. "A lot of my employees grew up in low-income, single parent homes. It gives me great pleasure to show them a life that allows them to be as productive and self-supporting as possible. Sometimes, you just need a chance and an opportunity."
In addition to a competitive salary, S&S Delivery Service drivers enjoy a benefits package that features paid time off and holidays, healthcare, monthly safety and service bonuses and a 401(k) plan with a company match. In exchange, drivers operate safely, dress professionally and act with customers' needs in mind, including a strict adherence to S&S Delivery Service processes and procedures. At S&S Delivery Service's office, their management team works diligently to ensure every package that's loaded is delivered. Regular service meetings keep everyone in-the-know about the company's policies and procedures and allow its management to address any issues in a timely manner.
Management sends daily safety text messages to all drivers and invests in on-board technology to notify them in the event a driver is speeding, braking hard, making sharp turns or idling for an excessive period. In addition, S&S Delivery Service retains the services of an outside vendor to enhance its safety program through bi-weekly safety meetings. Smith himself has set an example for his company by competing in nine State Truck Driving Championships, finishing in first place four times and advancing to compete at the national level.
Each year, S&S Delivery Service employees donate backpacks and school supplies to underprivileged children via a local program called Purple in the Park, which was founded in 2011 by one of the company's employees. The company also donates money and auction items to support the Shriners.
Exclusive Courier Service, Sanford, Florida – Taylor Williams, Owner
Incorporated in 2014, Exclusive Courier Service employs 20 individuals who operate 20 pickup and delivery vehicles and average more than 1,300 stops per day.
Owner Taylor Williams created a business plan for a previous employer in California and parlayed that experience into her own dream of owning a business. After relocating to Florida, she became an employee for a contracted service provider for FedEx Ground in Sanford and took full advantage of that opportunity.
"I paid careful attention and learned every aspect of the operation from a driver's perspective — before I bought the first vehicle," she states.
The insight Williams gained has helped her successfully lead her organization beginning with recruiting and training drivers. New employees are paired with an experienced Exclusive Courier Service driver for two to three weeks.
"Once we feel the individual is ready, we put them on the route and ride with them, so we can offer an even stronger understanding of our high safety and service expectations," Williams says.
Each Exclusive Courier Service vehicle is equipped with safety technology that enables Williams to monitor and address driver behavior. For example, the company's on-board analytics capture downloadable video footage Williams shares with drivers in morning safety huddles.
"Viewing the footage together and talking about it in a respectful way allows us to address and correct any unsafe behavior before it can become problematic," Williams explains.
To retain drivers, the company offers a competitive compensation package that includes monthly bonuses, paid vacation and personal time. Drivers also receive a Bluetooth neckpiece for hands-free communication. Additionally, Williams insists that the company's drivers pull over to make phone calls.
"We're very clear with our drivers that if you're making 100 plus stops per day, you have plenty of time to make calls during those stops and not while you're behind the wheel," she says.
Respect and attention to detail are also hallmarks of the company's customer service philosophy. Exclusive Courier Service encourages and rewards drivers who consistently comply with the company's procedures and processes and form relationships with customers based on listening and learning.
"In everything they do, we want Exclusive Courier Service's image to shine, which in turn, reflects well on the FedEx Ground brand," Williams says.
About FedEx Ground
FedEx Ground, a subsidiary of FedEx Corp. (NYSE: FDX), is headquartered in Pittsburgh, Pa., and is a leader in cost-effective package ground shipping, offering dependable service to businesses and residential customers throughout the U.S. and Canada. Through 105,000 employees, more than 600 distribution hubs and local pickup-and-delivery stations, and 63,000 motorized vehicles operated by 5,600 locally-owned small businesses, FedEx Ground transports more than 8.3 million packages daily. The company reported annual revenue of $18.4 billion in fiscal year 2018.