FedEx Freight Technicians Earn Top Honors at 2013 TMC SuperTech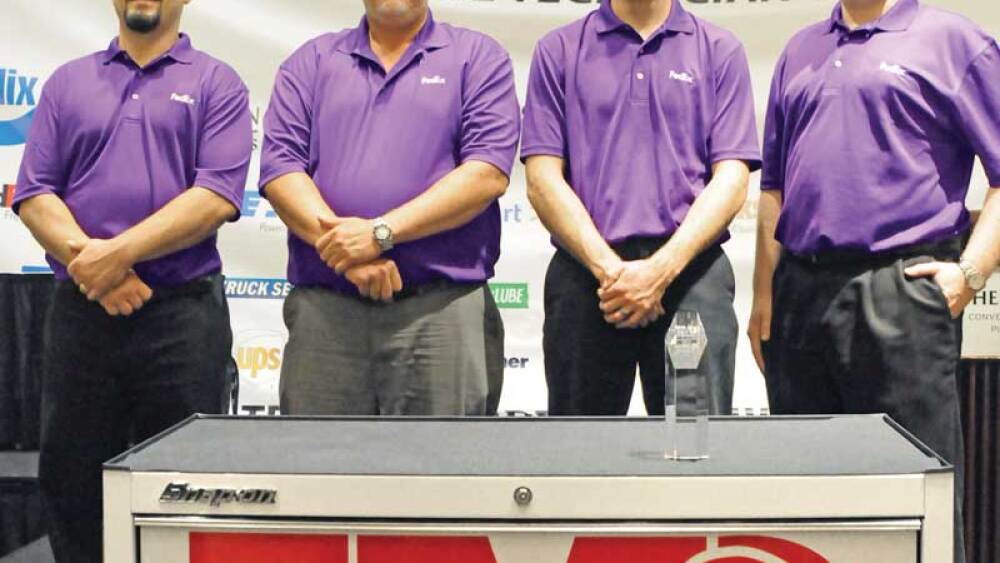 MEMPHIS, Tenn., Sept. 26, 2013 -- Fleet maintenance technicians from FedEx Freight, a subsidiary of FedEx Corp. (NYSE: FDX), swept the top four spots at the nationwide 2013 TMC SuperTech competition held in Pittsburgh, Pa., Sept. 9-12.
Mark McLean Jr., a technician based in Newburgh, N.Y., captured the Grand Champion award. With five years of experience, he also placed at the top of the Wheel End and Preventative Maintenance Inspection skill stations.
Eric Vos, a technician with the company for the last nine years in Boise, Idaho, finished second. He placed first in the Tire & Wheel and third in the Drivetrain skill stations.
Third place went to Jeff Otsby of Spokane, Wash. Otsby has been with FedEx Freight for 15 years. He also finished second in the Drivetrain skill station.
Finishing the sweep was Derek Southerland with fourth place. He has been a technician at the Knoxville, Tenn., facility for almost a year.
Two additional FedEx Freight technicians captured awards at the competition:

Jon Berg, Minneapolis, Minn. -- ninth place overall, third in Tire & Wheel and Liftgate.
Mitch Buelow, Fremont, Ind. -- third in Wheel End.
SuperTech, hosted by the Technology & Maintenance Council of the American Trucking Associations, is the premier skills competition for professional commercial vehicle technicians.
More than 120 technicians from across the industry faced off in the competition. They were challenged with a written exam and several hands-on skill tasks that tested each technician's knowledge of engine electronics, steering and suspension, tires and wheels, preventative maintenance inspections and more.
"Our technicians truly excelled this year in the SuperTech competition," said John Smith, vice president of Safety, Fleet Maintenance and Facility Services. "These technicians are dedicated to their craft and being the best, and it showed in the results. We are proud to have them represent FedEx Freight."