FedEx Freight Targets Connectivity, Customer Growth With North Dallas Investment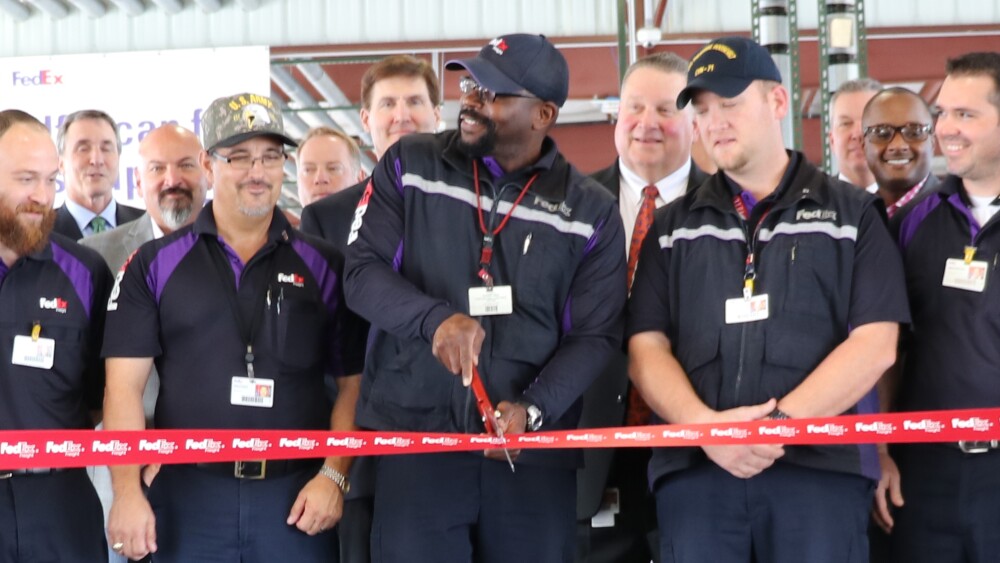 MEMPHIS, Tenn., Nov. 11, 2016—A ribbon cutting Friday celebrated the opening of the new FedEx Freight Service Center in Lewisville, Texas.
"This facility adds to our already strong presence in the Dallas–Fort Worth Metroplex, where we are committed to delivering outstanding service to our customers," said Michael Ducker, president and CEO of FedEx Freight. "Manufacturing growth in this area is strong, and Dallas consistently ranks as one of the top U.S. metro areas for small business. Our service center investment in North Dallas will benefit our FedEx Freight customers as they work to connect with their own."
FedEx Freight is the only national LTL (less-than-truckload) company with a service center in the northern arc of the DFW Metroplex, allowing the company to provide the best service to its customers. Built on 52 acres, the 182-door, 126,000-square foot service center is strategically situated near Interstate-35 East and the Sam Rayburn Tollway (Texas Highway 121).
The new service center opened for operations in June with approximately 325 employees. It replaced a center located further west in the Metroplex. No jobs were lost during the move to the new center, and in fact, 140 new team members were hired.
In addition to serving customers from a central location, the new facility and its fleet of trucks incorporate state-of-the-art technology and safety features. The center represents the Company's commitment to innovation and sustainability within the LTL space, as it exclusively uses electric forklifts on the dock, which results in no emissions.
About FedEx Freight
With corporate offices in Memphis, Tenn., the FedEx Freight Segment includes FedEx Freight, a leading U.S. provider of LTL freight services; FedEx Freight Canada, an LTL operating company serving most points in Canada; and FedEx Custom Critical, North America's largest time-specific, critical shipment carrier. FedEx Freight also serves Mexico, Puerto Rico and the U.S. Virgin Islands. For more information, visit fedex.com.
About FedEx Corp.
FedEx Corp. (NYSE: FDX) provides customers and businesses worldwide with a broad portfolio of transportation, e-commerce and business services. With annual revenues of $58 billion, the company offers integrated business applications through operating companies competing collectively and managed collaboratively, under the respected FedEx brand. Consistently ranked among the world's most admired and trusted employers, FedEx inspires its more than 400,000 team members to remain "absolutely, positively" focused on safety, the highest ethical and professional standards and the needs of their customers and communities. To learn more about how FedEx connects people and possibilities around the world, please visit about.fedex.com.