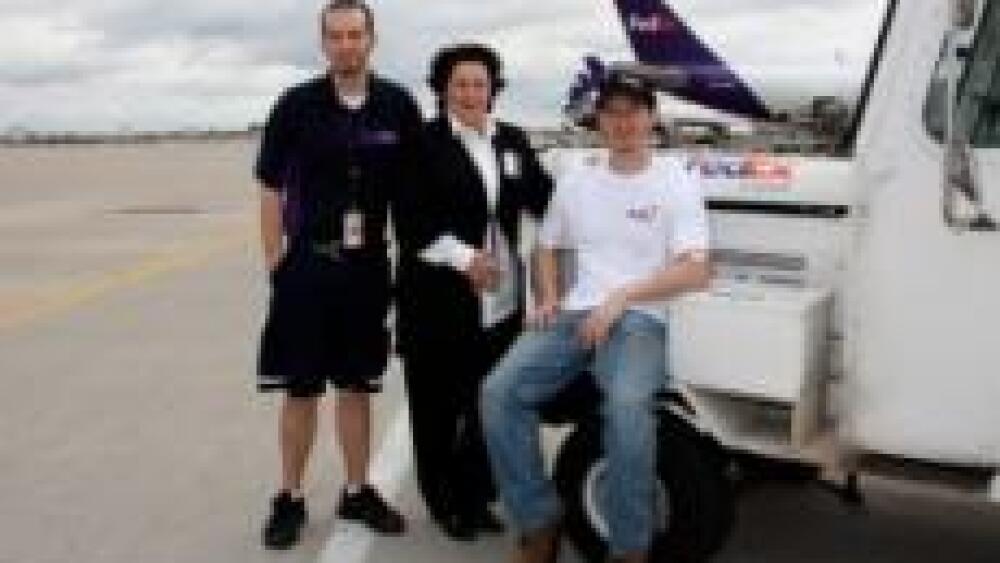 The Partiss Family: A FedEx Family Affair
If you work for FedEx in Indianapolis, you're bound to run into a Partiss whether you are at the Hub, the Heavyweight facility, the admin building or over at FedEx Freight. Teresa Partiss has a lot to be thankful for this Mother's Day and FedEx plays a big part in that.

Teresa began her FedEx career in 1989 as a handler at the Indianapolis Express Hub and is currently the Manager of Executive Administration supporting Bob Palmer, Vice-President, AGFS. Son Zachary started with the company 20 years to the date Teresa was hired and works at the very place his mother began her career. Oldest son Tyler works in operations and husband Jeff is part-time at FedEx Freight.

"After I had my first son, I was looking for a job with great benefits and one that I could work part-time," Teresa said. "But it was the birth of my second son that really showed me what FedEx had to offer. Zach was placed on a ventilator and a feeding tube right after he was born. We didn't know what his future would hold. My FedEx family was there for me 100%, they set up a blood drive in Zachary's name and worked with me on my schedule. Zach would defy all odds, go on to play high school football, and now loves his job at the hub and is taking classes toward a business degree."

Older brother Tyler works in station operations at HNB and knew he would wind up at FedEx. "We have always talked about FedEx at our house for as long as I can remember. I really enjoy my job and it was no surprise my brother also joined the company," Tyler said. Tyler, like his brother, utilizes the tuition-reimbursement program, and is pursuing a degree in Logistics Management.

While the Partiss family works within a half- mile of each other at four different FedEx locations, they rarely run into each other, unless the boys are taking mom to lunch.

"It's been an absolutely, positively rewarding experience for each of us and has provided a lifestyle of security and a promising future for me and my family in whatever direction their career paths take them," Teresa said. "This year for Mother's Day, I will be reflecting on the miracles, big and small, that we have been awarded over the years and give thanks for a happy, healthy FedEx family."

Karen Smith and her Daughters: Keeping FedEx in the Family

Traci Stubblefield and Natalie Smith are no strangers to FedEx. Growing up, they spent school vacation and sick days at the office with their mom, Karen Smith. Karen started at the company in 1975 as a Personnel manager's steno clerk and now works as a CEO Executive Assistant to Dave Bronczek. "My most distinct memory is the sound of a typewriter!" reflects Traci, who has worked at FedEx Express as a Program Administrator since 2006.

Karen began her journey at FedEx right out of high school, so it was only natural that she would guide her daughters to work alongside her when it was time for them to start their careers. "I saw how my mom's career began in Hangar 6, and since that time, she's had so many growth opportunities over the years," says Traci. "It was encouraging for me to know that I could also have endless opportunities at FedEx."

Having your mom working so close by definitely has its advantages. Although the girls are focused on carving their own paths and making names for themselves, it is comforting to know that mom is only a phone call away. Karen also finds comfort in having her girls right around the corner. "I can't even describe the peace of mind knowing that my children have good jobs at a stable company," confesses Karen. "I don't see them that often throughout the work week, but it's also nice knowing they're only a few buildings over."

When you have a mom that is so tied to the company, it's only natural for work to follow you home. One of Traci's favorite college memories is when Karen would send Outlook invitations for Thanksgiving and Christmas. "There's no break or 'off-switch' for Mom since her job never stops, " laughs Natalie. "She loves her job and is so great at it…we couldn't be more proud of her career and her commitment to FedEx."

This close-knit family intends to spend Mother's Day enjoying each other's company over lunch and/or dinner, and if past experiences predict future behavior, I imagine the girls should be receiving an Outlook invitation any day now!

The Knapps: One Big, Happy FedEx Family

The Knapps in Harrison, Arkansas know what it means to be a FedEx family. Debra Knapp began working at American Freightways – which was eventually acquired by FedEx – in 1997. She started in the cleaning department, eventually moved onto the switchboard (where she spent six years), and now works in credit collections. Her sons Eric and Brian began working for FedEx not long after their mom's career began. Eric began his career at FedEx in 2000 in the Imaging Department, then moved over to Collections for a few years, and currently works in Transportation. Brian currently works in General Office Services, where he began his career in 2004.

But it doesn't end there. Eric's wife Heather is a Senior Collection Agent for FedEx TechConnect, and Brian's wife Lori Beth is a Supply Chain Rep for FedEx Freight. "I don't get to see my boys that much around the office, but I see my daughters-in-law pretty regularly," Debra said. "I love having my family close by—it gives me a sense of security knowing that they can be there if something comes up, but also that they all have secure jobs at this wonderful company."

When you have so many members of your family all working for the same great company, it's no surprise that work is a big topic of conversation at home. "I think Dad sometimes gets sick of hearing us go on and on about office topics," Eric laughs, who has been with the company since 2000. "He's the only one of us that doesn't work at FedEx, so we try not to make work the only things we talk about when we all get together."

When Debra began her career with FedEx in 1997, she wasted no time recruiting her boys to come work for the same great company she had discovered – especially Brian, whose previous job required constant travel. She encouraged her sons to come to a stable, family-oriented company that promoted work-life balance. "All the money in the world doesn't put a price tag on your family. Money can't buy you happiness. Happiness comes from spending time with the ones you love," Debra said.

Joannie Rios and Jon Valderrama: A FedEx Family Business

Joannie Rios began her career at FedEx in 1998 and became an independent contractor with FedEx Ground in 2000. In 2002, at the age of 18, her son Jon Valderrama joined the company as a loader and gradually worked his way into a driver role. Jon was only 14 years old when his mom started working for FedEx, and those early memories influenced his decision to follow the same career path. "When I was my mom's helper, we got to spend the whole day together for many years," reflects Jon. "Working with my mom has been very rewarding. I have received guidance, self awareness, and confidence that one day I will also become a very good contractor."

Joannie loves working alongside her son: "He has been and is my right hand and I wouldn't change it for the world." She adds that while working together, "I saw how dependable and business-oriented my son is and I know that one day he is going to make a name for himself."

Both mother and son enjoy the opportunity that FedEx has given them to work together. "I did encourage my son to work for FedEx," confesses Joannie. "I saw how great of a company FedEx is and I knew that as long as he does his job accordingly, FedEx will always be there. I know his future will be secure."

For Mother's Day, Joannie and her family plan on spending the day in Los Angeles and enjoying a meal together with her sister from Puerto Rico at a Cuban restaurant on Sunset Boulevard.