FedEx Express Nacional Begins Operations in Mexico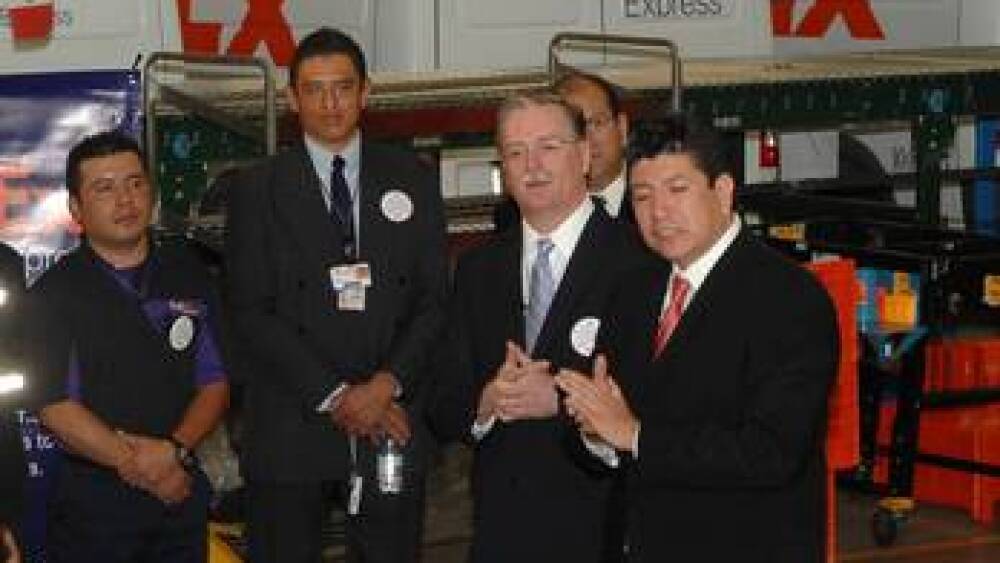 MEMPHIS, Tenn., Oct. 6, 2008—FedEx Express, a subsidiary of FedEx Corp. (NYSE: FDX) and the world's largest express transportation company, announced today the start of operations for FedEx Express Nacional, a domestic overnight service in Mexico, and the opening of the Toluca Hub Multiplex, its new center of operations for domestic shipments.

The service covers all 32 Mexican states with the support of two new centers of operations in Toluca (Multiplex) and San Luis Potosi, the latter to open in early 2009.

The express shipping market in Mexico is valued at $822 million and is projected to grow to $1.5 billion in the next 10 years, according to the Mexican Civil Parcel and Shipping Association.

"Mexico continues to be one of the fastest-growing markets in the express industry and a key part of FedEx international growth and profitability," said Michael L. Ducker, president International, FedEx Express. "Our established presence in Mexico throughout the past 17 years has provided Mexican businesses with unmatched access to the global economy. Now, with FedEx Express Nacional, customers also have world-class domestic express solutions to reliably ship within the country's 32 states."

FedEx begins domestic express operations today from the Toluca Hub Multiplex. The new facility has the capacity to process 6,000 shipments per hour with 48 new employees. FedEx expects the sorting capacity and the number of employees to increase during the next few years.

Toluca Hub Multiplex is the FedEx Express domestic service distribution center in Mexico's Federal District metropolitan area and measures 3,780 square meters. It is located close to the two largest industrial parks in Toluca. Toluca Hub Multiplex is modern, 100 percent automated and leverages leading-edge technology that allows for faster operations and accuracy.

FedEx Express Nacional is backed by the renowned FedEx Money-Back Guarantee* on domestic shipments to any address in Mexico and offers online tracking. It includes:


FedEx Express Nacional 10:30 AM (FedEx Priority Overnight®): Next-business-day delivery in Mexico for documents and parcels weighing up to 68 kg, by 10:30 a.m.

FedEx Express Nacional Día Siguiente (FedEx Standard Overnight®): Next-business-day delivery by the end of the business day. Also for packages weighing up to 68 kg.
To support the FedEx Express Nacional service, the Company will also leverage existing infrastructure throughout Mexico, including operational facilities in Toluca, Guadalajara and Monterrey. Toluca has the capacity to process up to 6,000 packages per hour; Guadalajara, 2,500 packages per hour; and Monterrey, 1,100 packages and 1,450 documents per hour.

FedEx Express Nacional will initially create more than 180 jobs in operations, planning, engineering, sales and customer service, adding to the 1,100 currently employed at FedEx Express Mexico.

For more information about FedEx Express Nacional, contact FedEx Customer Service at 5228-9904 (from within Mexico) or visit fedex.com/mx.
About FedEx Express
FedEx Express is the world's largest express transportation company, providing fast and reliable delivery to more than 220 countries and territories. FedEx Express uses a global air-and-ground network to speed delivery of time-sensitive shipments, by a definite time and date with a money-back guarantee.

About FedEx
FedEx Corp. (NYSE: FDX) provides customers and businesses worldwide with a broad portfolio of transportation, e-commerce and business services. With annual revenues of $39 billion, the company offers integrated business applications through operating companies competing collectively and managed collaboratively, under the respected FedEx brand. Consistently ranked among the world's most admired and trusted employers, FedEx inspires its more than 290,000 employees and contractors to remain "absolutely, positively" focused on safety, the highest ethical and professional standards and the needs of their customers and communities.

* Conditions apply