FedEx Express, Modec Unveil State-of-the-Art Electric Vehicle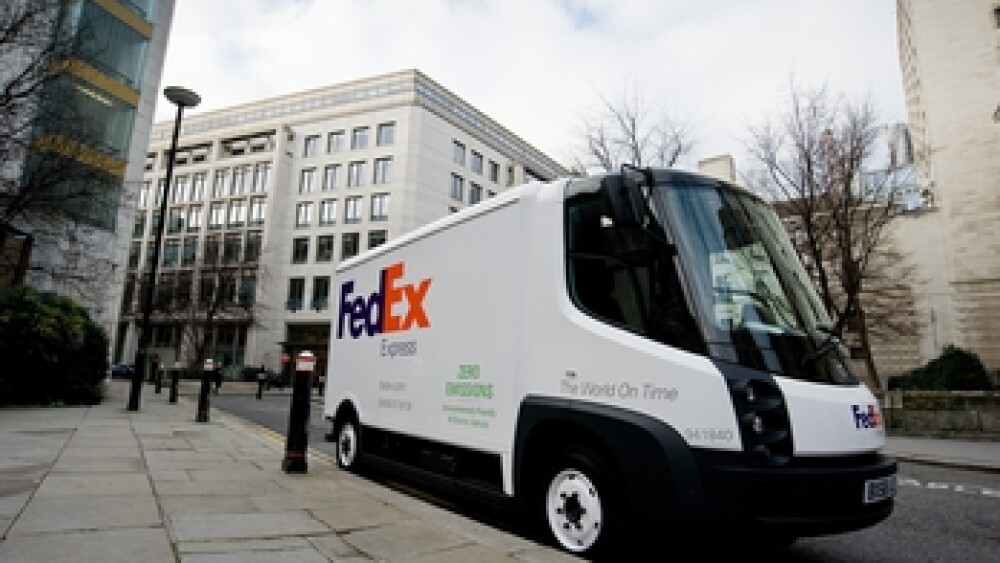 LONDON, Dec. 10, 2008—FedEx Express, the world's largest express transportation company and a subsidiary of FedEx Corp. (NYSE: FDX), and Modec today unveiled a state-of-the-art electric commercial vehicle, the first of 10 to be added to the FedEx Express fleet for use in the United Kingdom over the next few months.

The vehicles, manufactured by UK-based Modec, are heralded as the future of urban vehicle manufacturing and are designed specifically for commercial operation in urban environments.

The distinctive zero-tailpipe-emission vehicles will be the first to join the FedEx Express fleet in the UK and will operate in the greater London metropolitan area. The vehicles feature a large, removable battery pack and can travel up to seventy miles on one overnight charge.

The new vehicles are part of a growing fleet of more environmentally-friendly FedEx Express vehicles that includes more than 170 hybrid electric vehicles worldwide—the largest hybrid fleet in the transportation industry—and supports the company's commitment to improve the fuel efficiency of its vehicle fleet by 20 percent and reduce carbon dioxide emissions from its aircraft fleet by 20 per cent per available ton mile by 2020.

"We continue to utilize innovative technology to provide the best possible service to our customers, while at the same time reducing our impact on the environment," said Adam Psarianos, vice president, Operations, FedEx Express Northern Europe. "The introduction of these 10 vehicles to our UK fleet is a smart, strategic investment for FedEx and supports our ongoing efforts to foster the commercial development of viable new technologies that improve the environmental performance of the transportation industry."

FedEx Express selected Modec due to the superior performance and handling of its vehicles, which are ideally suited to the company's operations in urban environments. Modec's focus on the requirements of stop-start, urban-duty cycles and traffic conditions mean that the cab is designed for quick and easy entry and exit, maximising driver comfort and productivity.

"We are delighted to have this order for ten Modec vehicles from FedEx," said Jamie Borwick, chairman of Modec. "Operating this fleet of electric vehicles in urban environments is the best use of technology and proves FedEx is using the right tool for the right job. Soon we will see FedEx-branded Modec vehicles in London."

FedEx Express also announced last month that it has achieved ISO (International Organisation for Standardisation) 14001 2004 certification for environmental management for its facilities located throughout the United Kingdom. The ISO 14001 2004 certification is an internationally recognised standard granted to companies that meet a stringent set of demands for environmental management.

"It is great that these super zero emission vehicles will be introduced onto London's streets. Vehicles such as these help to improve air quality, reduce noise pollution and cut climate change emissions, making the capital cleaner and greener," said Boris Johnson, mayor of London. "I am keen to promote a massive increase in low carbon vehicles across London to both play our part in tackling climate change and help to create a green economy."