FedEx Express Expands First Overnight Service in U.S.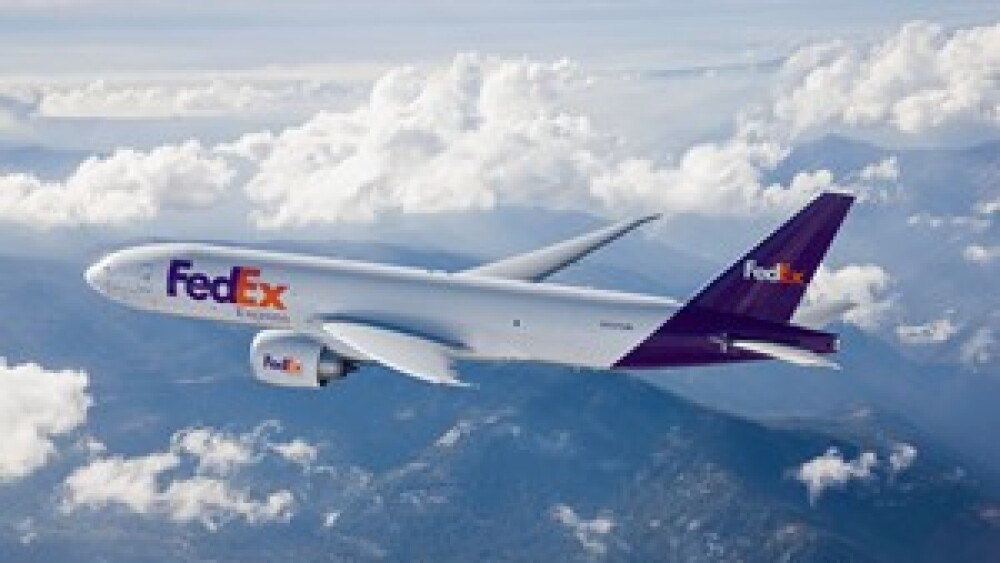 FedEx Express, a subsidiary of FedEx Corp. (NYSE: FDX) and the world's largest express transportation company, is making significant enhancements to select domestic service offerings, including an expansion of FedEx First Overnight, the addition of FedEx First Overnight Saturday, and extended on-call pickup times.

FedEx Express now delivers by 8 a.m. to more ZIP codes than UPS Next Day Early A.M. and has doubled its FedEx First Overnight ZIP code coverage in the last five years. The service has also expanded to include Saturday delivery, enhancing the unmatched Saturday offerings of FedEx. Additionally, FedEx Express has improved its on-call pickup window for customers, adding crucial time to the business day.

"FedEx understands that our customers need added convenience and flexible shipping solutions coupled with unparalleled customer service," said T. Michael Glenn, executive vice president, Market Development and Communications, FedEx Corp. "With new, faster services and enhanced, industry-leading options, FedEx is committed to doing whatever it takes to offer our customers superior service and value."

Need it there first? First in the industry, first overnight

FedEx First Overnight delivers by 8 a.m. the next business day and is available throughout all 50 states. The service appeals to customers who ship highly time-sensitive packages, including the manufacturing, banking, law and entertainment industries. FedEx First Overnight, introduced 15 years ago, is backed by a money-back guarantee.

The ZIP code expansion also expands service area coverage for inbound FedEx International First shipments. These are U.S. inbound shipments from more than 60 countries and Caribbean islands arriving in one or two business days by 8 or 8:30 a.m. The terms and conditions of the country of origin apply to these shipments.

In a pinch on a Saturday? No problem

FedEx also continues to lead the market with convenient Saturday delivery and shipping options for customers with urgent needs or those looking for convenience on the weekend. These include:


Delivery as early as 9:30 a.m. on Saturday with the newly-introduced FedEx First Overnight Saturday delivery, backed by a money-back guarantee

FedEx Express delivery on Saturdays to areas covering more than 90 percent of the U.S. population

Saturday Hold At Location service for FedEx Priority Overnight and FedEx 2Day service for convenient Saturday pick-ups

The convenience of FedEx Home Delivery, which delivers on Saturdays for no additional cost, backed by a money-back guarantee

The value of FedEx SmartPost for retailers shipping to residential addresses with deliveries six days a week, including Saturdays, at no additional charge

Shipping and packing services at the more than 1,800 U.S.-based FedEx Office locations, most of which are open on Saturdays

FedEx SameDay service offering same day pickup and delivery 7 days a week, 365 days a year
Running late? We've got your back

FedEx Express has also added an hour to the daily on-call pickup time in more than 7,000 U.S. ZIP codes. For customers, this means approximately one additional hour in the business day to prepare last-minute shipments.

FedEx has a solution for you

The FedEx family of companies offers several solutions for our customers. From the overnight delivery options of FedEx Express, the cost-saving options of FedEx Ground, packing and shipping solutions from FedEx Office and more, customers can count on FedEx to deliver.

FedEx Express

FedEx Express provides fast and reliable delivery to every address in the United States and to more than 220 countries and territories across the globe. Customers can choose from same-day services to a variety of overnight shipping options backed by a money-back guarantee and other solutions to get their shipments where they need to be, when they need to be there.

FedEx Ground

FedEx Ground specializes in cost-effective, small-package shipping, offering dependable business-to-business delivery and convenient residential service through FedEx Home Delivery and FedEx SmartPost. The company also delivers more than 60 percent of packages in two business days or less and more than 80 percent of packages in three business days or less. FedEx Ground is faster to more locations than UPS Ground.

FedEx Office

With a global network of 1,900 digitally-connected locations, FedEx Office provides busy customers "one-stop" convenience for shipping and printing needs. FedEx Office offers packing services, copying and digital printing, professional finishing, document creation, direct mail, signs and graphics, Internet access, computer rental, FedEx Express and FedEx Ground shipping and more.

FedEx Office is also a convenient option for the Hold at FedEx Location service. With this service, customers can have their FedEx Express or FedEx Ground packages sent to a participating domestic FedEx Office location for secure storage for up to five business days at no additional charge.

FedEx Freight

FedEx Freight specializes in reliable, fast-transit delivery, focusing on next- and second-day service, as well as accelerated service in three days or more. FedEx Freight provides fast, reliable delivery, focusing on next- and second-day service and offering delivery by 10:30 a.m., backed by a money-back guarantee. The company offers all-points coverage throughout the U.S. (including Alaska and Hawaii) and international service to and from select countries.

FedEx Custom Critical

FedEx Custom Critical provides door-to-doorsame-day and next-day delivery of urgent freight, valuable items and hazardous goods. FedEx Custom Critical provides 24/7 service, utilizing its surface fleet for ground-expedited service and providing an array of air options. The company also provides surface and air temperature-control solutions.

About FedEx Corp.

FedEx Corp. (NYSE: FDX) provides customers and businesses worldwide with a broad portfolio of transportation, e-commerce and business services. With annual revenues of $36 billion, the company offers integrated business applications through operating companies competing collectively and managed collaboratively, under the respected FedEx brand. Consistently ranked among the world's most admired and trusted employers, FedEx inspires its more than 280,000 team members to remain "absolutely, positively" focused on safety, the highest ethical and professional standards and the needs of their customers and communities. For more information, visit news.fedex.com.