FedEx Express Earns FAA Certification for Innovative Flight Safety System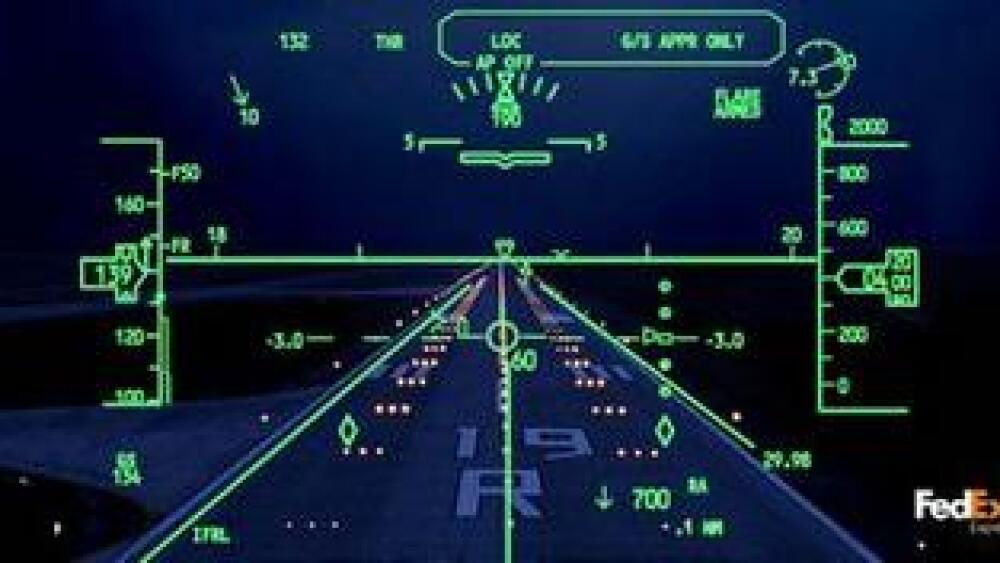 MEMPHIS, Tenn. — June 23, 2008 — FedEx Express, a subsidiary of FedEx Corp. (NYSE: FDX), has achieved a milestone in innovative flight safety technology with Federal Aviation Administration (FAA) certification of a new aircraft avionic system that dramatically improves situational awareness for pilots during takeoff and landing—the most critical part of any flight.

FedEx Express is the first major commercial carrier in the airline industry to receive a Supplemental Type Certificate from the FAA for the advanced system, authorizing its installation in the company's fleet of Boeing MD-10 freighters. The company's goal for the system is to improve the level of flight safety by increasing visibility of pilots during adverse weather conditions and darkness.

Upon activation of the system, pilots can significantly enhance visibility in poor weather —including darkness, smoke, smog, haze and other weather events—while simultaneously seeing critical flight data. This allows the captain to maintain a heads-up view of his surroundings, eliminating transition time normally needed to look down at cockpit primary flight information. The visual enhancement is similar to that created by infrared night-vision technology used in modern-day defense systems.

A unique application of Honeywell International "Head Up Display" (HUD) technology combined with infrared "Enhanced Flight Vision System" (EFVS) technology of Elbit Systems of America Commercial Aviation-Kollsman Business Unit, positions the system as the leader in the avionic visual technologies market.

The Honeywell HUD interfaces with aircraft navigational and flight data systems in presenting a high resolution liquid crystal display of critical flight guidance information. This is overlaid with real-time EFVS infrared video of the outside world that is displayed in an overhead unit in the captain's forward field of view using state-of-the-art HUD "combiner" technology. Elbit Systems Ltd., Electro-Optics-Elop manufactures the combiner glass.

Best Technology in 'Civil Aviation Market'
"The visual transition from an instrument approach to landing, especially in low visibility conditions, is one of the more challenging tasks a pilot performs" James Parker, senior vice president of Air Operations, FedEx Express, said. "This system is a leading edge safety enhancement that will complement the skills of our pilots. Combining HUD and EFVS technology into a single system for flight crew situational awareness increases the margin of safety in all aircraft operations and, more importantly, during reduced visibility conditions."

FedEx Express crew member Bob Moreau, a 28-year veteran pilot who logged more than 350 hours testing the system, calls the technology "the best in the civil aviation market, giving pilots an unparalleled level of situational awareness." He also points out operational advantages that stem from the system's safety benefits.

"It enables a pilot to see approach and runway lights in difficult environments, which means our aircraft will be better adapted to fly into and out of airports experiencing poor visibility," Moreau said. "This translates into our ability to maintain and potentially improve service to customers anywhere in the world."

The company's MD-10 modification program for HUD/EFVS will begin this summer and is expected to be completed in 2012. The world's largest cargo carrier also anticipates seeking FAA approval to expand installation of the technology on its entire trunk fleet.

FedEx development of system began several years ago and continued in keeping pace with advances in aviation technology. Head up display and enhanced vision technologies have existed for many years, however, it has taken additional time for systems to mature for commercial airline use and ultimately to be integrated into the single functional system developed by FedEx in collaboration with its technology vendors.

About FedEx Express
FedEx Express is the world's largest express transportation company, providing fast and reliable delivery to every U.S. address and to more than 220 countries and territories. FedEx Express uses a global air-and-ground network to speed delivery of time-sensitive shipments, usually in one to two business days with the delivery time guaranteed.

About FedEx Corp
FedEx Corp. (NYSE: FDX) provides customers and businesses worldwide with a broad portfolio of transportation, e-commerce and business services. With annual revenues of $38 billion, the company offers integrated business applications through operating companies competing collectively and managed collaboratively, under the respected FedEx brand. Consistently ranked among the world's most admired and trusted employers, FedEx inspires its more than 290,000 employees and contractors to remain absolutely, positively focused on safety, the highest ethical and professional standards and the needs of their customers and communities.