FedEx Donates $5 Million and MD-10 Aircraft to ORBIS International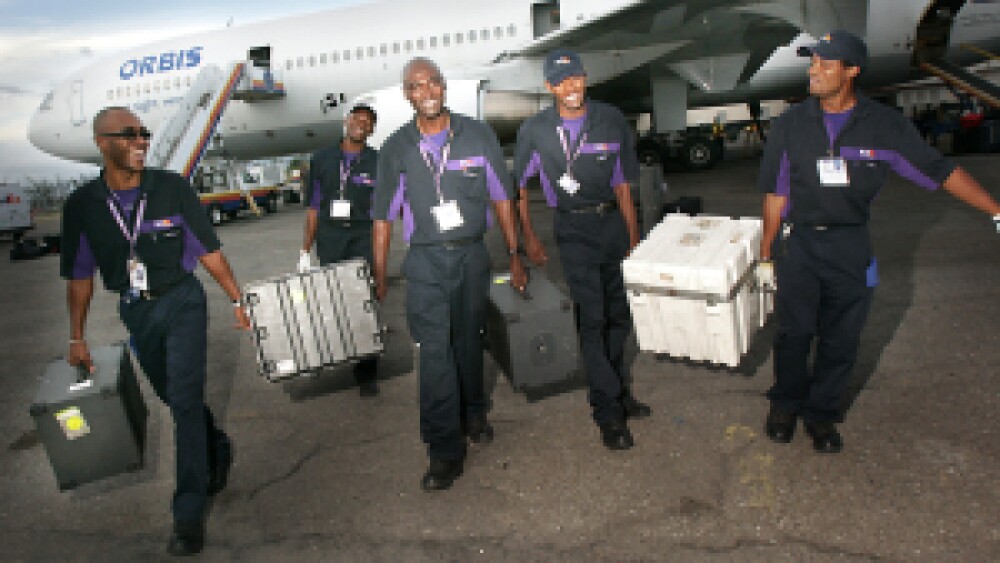 NEW YORK, Aug. 3, 2011—FedEx and ORBIS International, a leading global organization dedicated to saving sight worldwide, today kicked off a North American Good Will Tour in Los Angeles with the announcement of a new 5-year, $5.375 million commitment in the form of cash and in-kind contributions from FedEx. In addition, FedEx Express will donate an MD-10 cargo aircraft to ORBIS to be the third-generation Flying Eye Hospital. After Los Angeles, the Flying Eye Hospital will also visit Burlington, Vt., Dallas Fort/Worth, Memphis, Tenn., and Toronto and Ottawa, Canada between August and November to raise public awareness of the need to eliminate avoidable blindness.
"FedEx has supported MMIC (Mobile Medical International Corporation) of St. Johnsbury, Vt. is under contract to design and manufacture the state-of-the-art modules which will be carried by the MD-10-30 freighter.
The Flying Eye Hospital is a unique tool that brings dedicated eye care professionals from across the world to developing countries to provide two to three weeks of training and state of the art surgical demonstrations. ORBIS volunteer doctors impart to local doctors, nurses, biomedical engineers and technicians the skills necessary to provide high-quality eye care to their communities that will prevent and treat avoidable causes of blindness such as cataracts, glaucoma and diabetic retinopathy. Tragically, there are 39 million blind people worldwide; 80% of cases are preventable and treatable. Ninety percent of these people live in developing countries where there is a severe lack of proper medical care. Since 1982, ORBIS has conducted programs in more than 85 countries, impacting more than 15 million lives.
"Preventable blindness can be avoided through routine, inexpensive medical procedures and eye care education," said Dr. Barbara DeBuono, president and CEO of ORBIS International. "Through the support of companies like FedEx and the hundreds of doctors, nurses, technicians, engineers, aviation staff and pilots who have dedicated their considerable time and talents we have been able to save sight for millions of people around the world."
FedEx and ORBIS International
FedEx has supported ORBIS for 29 years, almost three decades, providing millions of dollars of support in cash and in-kind contributions. Today's donation builds on a $5.5 million, five year commitment that FedEx made to ORBIS in 2006. In addition, FedEx and its team members donate the unparalleled FedEx Express global network and aviation expertise to help the Flying Eye Hospital fly. FedEx Express pilots volunteer to fly the current ORBIS DC-10 to many of its medical programs and train other volunteer pilots; FedEx Express mechanics provide maintenance support; team members around the world volunteer as part of the ORBIS humanitarian team as interpreters, welcoming and escorting patients to and from their surgeries and checkups, canvassing neighborhoods and assisting with patient screenings. FedEx Express provides complimentary transportation services to move critically needed medical supplies to ORBIS clinics worldwide; makes the FedEx Express flight training simulator available to train volunteer pilots and manages the cost and performance of the annual safety checks for ORBIS' flagship Flying Eye Hospital.
On Saturday, Aug. 6, FedEx and ORBIS will celebrate their historic relationship with a FedEx Friends and Family Day. The event will feature a fun-filled day of activities for FedEx Express team members and their families, capped by ORBIS' "Pull for Sight," where teams compete to be the fastest in a tug of war against the 227-ton Flying Eye Hospital. FedEx Express aircraft and privately-owned WWII aircraft will also be on display.
About FedEx

FedEx Corp. (NYSE: FDX) provides customers and businesses worldwide with a broad portfolio of transportation, e-commerce and business services. With annual revenues of $39 billion, the company offers integrated business applications through operating companies competing collectively and managed collaboratively, under the respected FedEx brand. Consistently ranked among the world's most admired and trusted employers, FedEx inspires its more than 290,000 team members to remain "absolutely, positively" focused on safety, the highest ethical and professional standards and the needs of their customers and communities. For more information, visit news.fedex.com.

About ORBIS International

ORBIS International is a nonprofit organization dedicated to saving sight worldwide. ORBIS provides the tools, training and technology necessary for local partners to assess their needs and develop workable and lasting solutions to the tragedy of unnecessary blindness. By building their long-term capabilities, ORBIS helps its partner institutions take action to reach a state where they can provide, on their own, quality eye care services that are affordable, accessible and sustainable. To learn more about ORBIS, please visit www.ORBIS.org.