FedEx Displays First 767-300 Freighter Scheduled for Service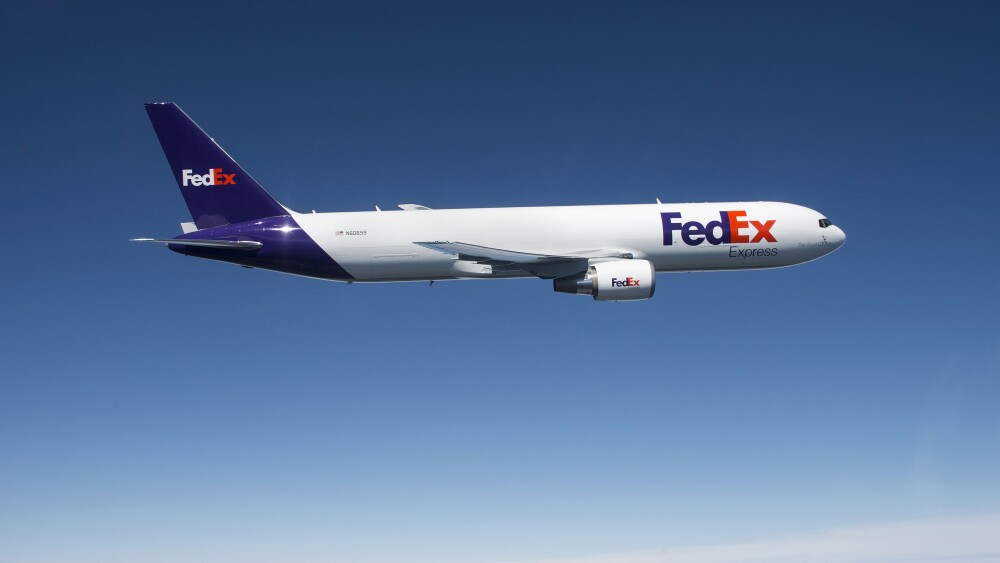 MEMPHIS, Tenn., Oct. 18, 2013 — FedEx Express, an operating company of FedEx Corp. (NYSE: FDX), today introduced its new 767-300 cargo jet scheduled to begin service this fall. The aircraft is the first of several new 767-300 freighters being added to the FedEx fleet, and represents a major step in the company's strategically important aircraft fleet modernization program. The 767-300 joins 777s and 757s in the company's growing fleet of more efficient, lower-emission freighters.
The aircraft was center stage at an event attended by FedEx team members and special guests at the company's World Hub in Memphis.
"This is yet another positive step in our company's fleet modernization strategy to add more efficient, lower emission aircraft to our global fleet," said David J. Bronczek, president and chief executive officer of FedEx Express. "The operational efficiencies of the 767 will mirror those of the other new aircraft types we continue to introduce, and will provide the highly reliable service our customers demand."
The initial 767 was delivered to FedEx from Boeing last month and is undergoing the certification process required to begin service. It is among 50 767s FedEx has ordered, which are scheduled to be delivered through the end of the company's fiscal year 2019.
With a maximum gross payload capacity of 127,100 pounds, the medium wide-body 767 freighter has a flight range of 2,922 nautical miles (3,362 statute miles).
"We are excited to see the 767 Freighter begin service with FedEx Express," said Brad McMullen, vice president of North America Sales, Boeing Commercial Airplanes. "The 767 freighter is an ideal addition to the FedEx fleet. It is an efficient and reliable freighter to support the FedEx strategy of providing fast, dependable service to customers worldwide."
The 767 brings FedEx an array of double-digit efficiencies. The freighter is approximately 30 percent more fuel efficient and has unit operating costs that are more than 20 percent lower than the MD10 aircraft it will replace. The ability to share parts, tooling and flight simulators with FedEx 757 freighters is another efficiency of the 767.
Across its aircraft fleet, FedEx projects a 30 percent reduction in its unit carbon emissions by the year 2020. In addition, the company has reaffirmed its commitment to sourcing at least 30 percent of its jet fuel from alternative fuels by the year 2030.
With the 767 freighter, FedEx is also introducing a new "efficient container" or Unit Load Device used to hold individual packages on the aircraft. The FedEx Efficient Container is lighter and its construction includes more recycled materials. http://3blmedia.com/News/CSR/Meet-New-FedEx-Efficient-Containers-Lighter-design-Less-fuel
Under its aircraft fleet modernization program, FedEx began upgrading its fleet in 2007 with the addition of 757 freighters to replace 727s. The final 727 in the FedEx fleet was retired in June. http://blog.van.fedex.com/727-retirement.
In 2009, the company introduced the 777, the world's largest twin-engine cargo freighter with a non-stop flight range of 5,800 nautical miles (6,675 statute miles) and a cargo capacity of 178,000 pounds in typical FedEx service.