FedEx Disaster Relief Update May 22, 2008 Myanmar and China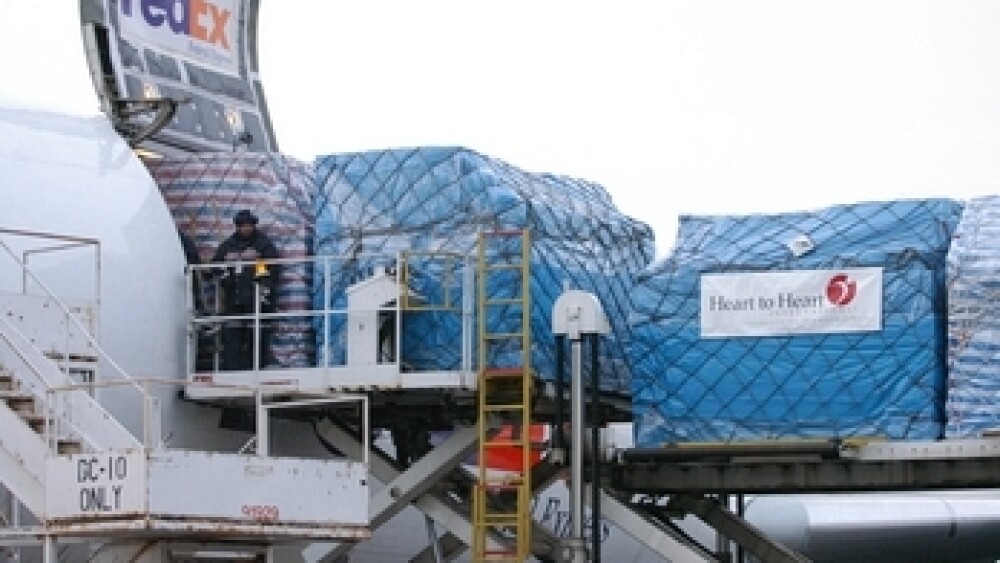 FedEx and Heart to Heart will deliver the first private airlift of relief supplies to China leaving the U.S. on Friday, May 23. The critically needed supplies valued at more than $1.5 million will be loaded aboard a FedEx MD-11 cargo plane and delivered to the quake zone in China . Heart to Heart International is improving global health through human initiatives that connect people and resources to a world in need. Since its founding in 1992, Heart to Heart has delivered aid worth $600 million in U.S. wholesale value to more than 100 countries, including the United States .

The donated charter flight will carry more than 250 pallets of critically needed medical supplies to Chengdu . Heart to Heart has been serving the people of Chengdu for more than 11 years and is working closely with the China Red Cross Society in support of the relief effort. FedEx is also donating $286,000 (2 million RMB) to Red Cross in support of the efforts of the China Red Cross Society.
---

MEDIA ALERT - Heart to Heart, FedEx Media Alert for Friday, May 23 event in Kansas City.
---

For the Myanmar relief effort, FedEx is providing complimentary transportation services to Water Missions International carrying 40 large water systems to Bangkok , Thailand which they will then take into Myanmar . These systems will provide a total of 400,000 gallons of purified water each day. Each water system treats up to ten gallons of water per minute, approximately 10,000 gallons per day, and supports communities of up to 3,000 people.

Along with the emergency shipping aid, FedEx made an immediate cash grant of $50,000 to the Red Cross and the Salvation Army in support of their initial relief efforts in response to the devastating disasters in Myanmar and China. This grant is in addition to significant ongoing cash and in-kind support FedEx is providing to these and other relief organizations in support of their ongoing work year round in response to disasters across the globe.

A strong supporter of the Red Cross for more than 10 years, FedEx has provided more than $7.5 million of cash and in-kind support for their relief efforts. FedEx has also recently provided $150,000 in support of the Red Cross Disaster Management Unit network (large disaster relief supply warehouses in Kuala Lumpur, Panama and Dubai), which enables them to serve up to 5,000 families anywhere in the world within 72 hours.

FedEx is providing Red Cross with $1.2M cash and in-kind shipping support each year as part of a current $6M commitment over five years through 2012.

Heart to Heart International, the Salvation Army and other relief organizations also benefit from hundreds of thousands of dollars of ad hoc in-kind shipping support provide year round by FedEx to help them with their relief and disaster preparedness initiatives worldwide.

In a separate initiative, FedEx is providing 11 disaster response units (canteen trucks) to Salvation Army affiliates around the world. This represents more than $1 million in cash grants as the trucks cost about $100,000 each.

In the last several months, FedEx has provided major support for disaster relief efforts in response to the flooding in southern Mexico ( Tabasco ), earthquake in Peru , tropical storm in Dominican Republic , cyclone in Bangladesh , wildfires in California , tornadoes in middle Tennessee and other ad hoc efforts.

Employees, contractors and customers who would like to help with relief efforts may contact disaster relief organizations directly. These organizations encourage monetary support rather than collections of new and used items due to logistical challenges at the disaster sites.

For detailed updates and further information, please visit:

www.redcross.org or 1-800-REDCROSS (1-800-733-2767)