FedEx Delivers Vince Lombardi Trophy to Bay Area Fans in Advance of Super Bowl 50
Iconic Tiffany & Co.-Crafted Trophy Delivered to NFL Experience Prior to The Big Game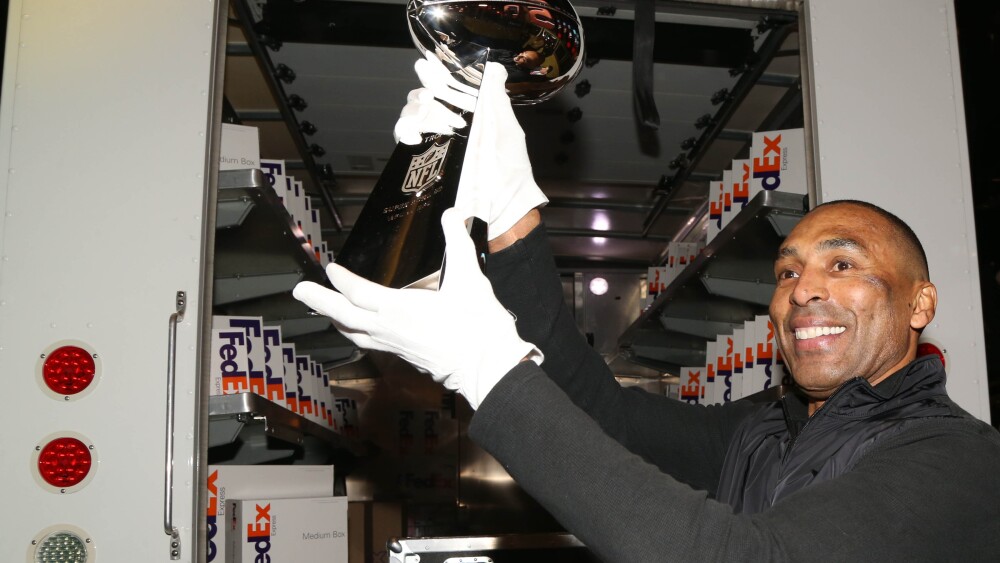 MEMPHIS, Tenn., Jan. 30, 2016—As players, fans and coaches head to northern California for Super Bowl 50, one special piece of hardware has arrived via FedEx. As the Official Delivery Service Sponsor of the NFL and the Super Bowl, FedEx ensured the safe and on-time delivery of the Vince Lombardi Trophy to the NFL Experience driven by Hyundai, marking a milestone in the festivities surrounding The Big Game.
"Every day, more than 340,000 FedEx team members around the globe help deliver a wide variety of special packages to our customers," said Patrick Fitzgerald, senior vice president, Integrated Marketing and Communications at FedEx. "It's an honor for FedEx to deliver the iconic Vince Lombardi Trophy to football fans in the Bay Area in advance of Super Bowl 50."
The historic trophy, which was handcrafted by artisans at Tiffany & Co., is made of sterling silver and depicts a regulation-size football in kicking position on a pyramid-like base that features the words 'Vince Lombardi Trophy' and 'Super Bowl 50' along with the NFL shield. To commemorate this season's historic Super Bowl, the iconic trophy is accompanied by a '5' and a '0' plated in gold that will be set behind the Vince Lombardi Trophy.
Phil Tejero, a San Francisco-area resident and FedEx Express courier for 17 years, made the final delivery to NFL Experience with the help of former NFL player and three-time Super Bowl champion Roger Craig. The trophy arrived in a FedEx Express zero-emission all-electric vehicle, part of the company's EarthSmart program designed to guide the company's environmental commitment in the communities where it operates.
During its journey, the one-of-a-kind trophy was monitored by SenseAware, powered by FedEx. SenseAware tracked its journey from NFL Headquarters in New York through the FedEx World Hub in Memphis to the Moscone Center where it is now on display. The device also tracks environmental factors such as temperature and humidity and monitors light detection, which would indicate if the package was opened before its arrival in San Francisco. Throughout the week, fans visiting the Bay Area can get up-close and personal with the trophy at NFL Experience, pro football's interactive theme park at the Moscone Center. On Sunday, Feb. 7, it will be awarded to either the Denver Broncos or Carolina Panthers, commemorating a Super Bowl championship for the 2015 NFL season.
"Every year leading up to the Super Bowl our fans enjoy being able to see the Vince Lombardi Trophy up-close at NFL Experience," said Mary Pat Augenthaler, NFL vice president of Events. "We are pleased we could team with FedEx to continue this tradition in the Bay Area before it is awarded to the Super Bowl 50 champions."
To learn more about what FedEx is doing at the Super Bowl and throughout the NFL season, follow FedEx on Facebook, YouTube and Twitter via @FedEx.
[gallery columns="1" link="none" size="medium" ids="12052,12051,12050,12047,12046,12045"]