FedEx Delivers to Support Hunger Relief Nationwide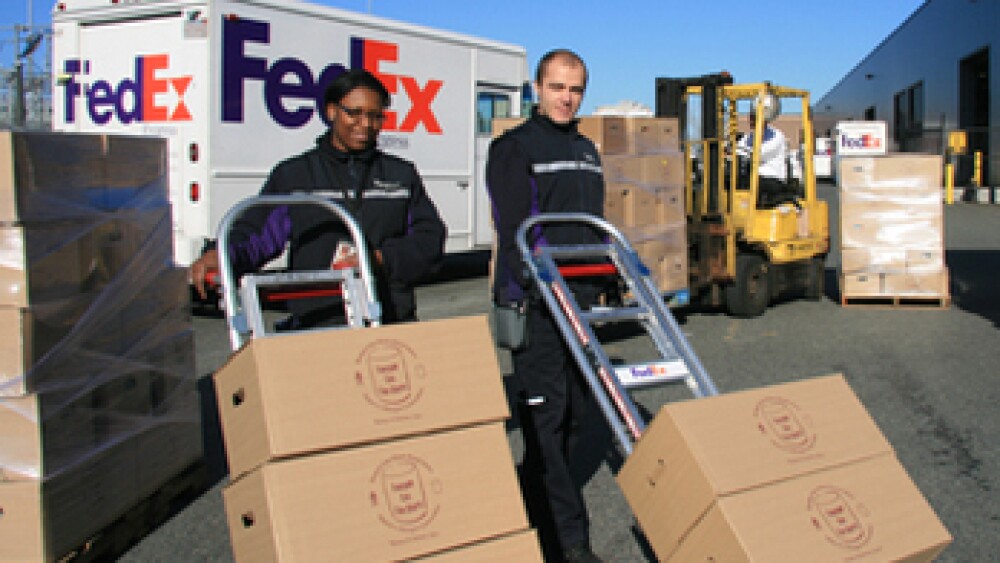 June is National Hunger Awareness Month, a time dedicated to promoting awareness and education about hunger issues in the United States. Rising food costs, paired with decreasing donations and increasing demand for services, are putting a strain on food bank programs and the hundreds of community organizations and programs they serve such as soup kitchens, homeless and transitional shelters, and youth and senior programs. Feeding America, the nation's largest domestic hunger-relief charity, found that during the past year, hunger has become a daily issue for 1 in 8 Americans. According to Charity Navigator, the economic climate has also affected food banks, which experienced increasing demand ranging from 15% to 400%.
FedEx has worked with food banks and hunger relief programs to address the needs of the 36 million Americans living at risk for hunger, one third of which are children, during this critical time. Over the past year, more than 300 FedEx team members volunteered countless hours to pick up, deliver, sort or donate approximately 218,068 pounds of food across a wide range of cities, including: Boston, Indianapolis, Memphis, New York, San Francisco, Pittsburgh, and Washington, D.C. These efforts resulted in more than 45,000 meals being provided to those in need.
FedEx is proud to support hunger relief efforts year-round by leveraging the reach, strength and expertise within its network.


Memphis: Team members at FedEx headquarters participated in the annual "Operation Feed" food drive competition, repenting an amount of food that will fill up to 56 FedEx Express 757-200 aircrafts!

San Francisco: For several weeks this year, volunteer couriers delivered more than 8,000 pounds of food to the San Francisco Food Bank to benefit its Healthy Children's Pantry Program. Responding to critical community need around the holidays, volunteer couriers also made a special delivery to Salvation Army on Christmas morning to pick up and deliver 2,500 prepared meals to the homeless in the area.

Boston: For the 22nd year, FedEx Express provided in-kind transportation for the City of Boston's Can Share Food Drive. Nearly 60,000 pounds of food were transported by volunteer couriers for this year's drive. During FedEx Cares Week, 114 volunteers helped the Greater Boston Food Bank sort more than 23,000 pounds of food, resulting in more than 17,000 meals.

Indianapolis: In March, local FedEx team members supported the city-wide food drive benefiting Gleaner's Food Bank. More than 1,000 pounds of food products needed for the food bank's youth programs were collected during the drive. Throughout the year, volunteer couriers also made special deliveries each month to the Belleville Community Center where 40-pound boxes of food were distributed to hundreds of area seniors.

New York: As part of the Food Bank for New York City's "Open Market" Backpack Program, 17 FedEx volunteers delivered new tote bags to more than 40 students in the Bronx. The bags were used to teach the students to "shop" for themselves in Café Cielo, a supermarket-style environment established by the Food Bank of New York City in the Bronx where students learn how to select healthy foods to make balanced, nutritious meals at home. Afterward, the couriers joined students in activities to encourage health and fitness.

Pittsburgh: During the past year, volunteer couriers have picked up more than 1,200 boxes of food from the Greater Pittsburgh Community Food Bank to benefit the Brentwood Food Pantry. Since January 2009, the pantry has supported more than 175 households in the area.

Washington, D.C.: More than 70 FedEx volunteers assisted with packaging food, loading delivery trucks and distributing food products for the "Harvest Feast" at FedEx Field. Of the 126,000 pounds of food that was distributed, nearly 3,000 turkeys were given to those in need to celebrate the Thanksgiving holiday.