FedEx Delivers for Last Minute Shoppers this Valentine's Day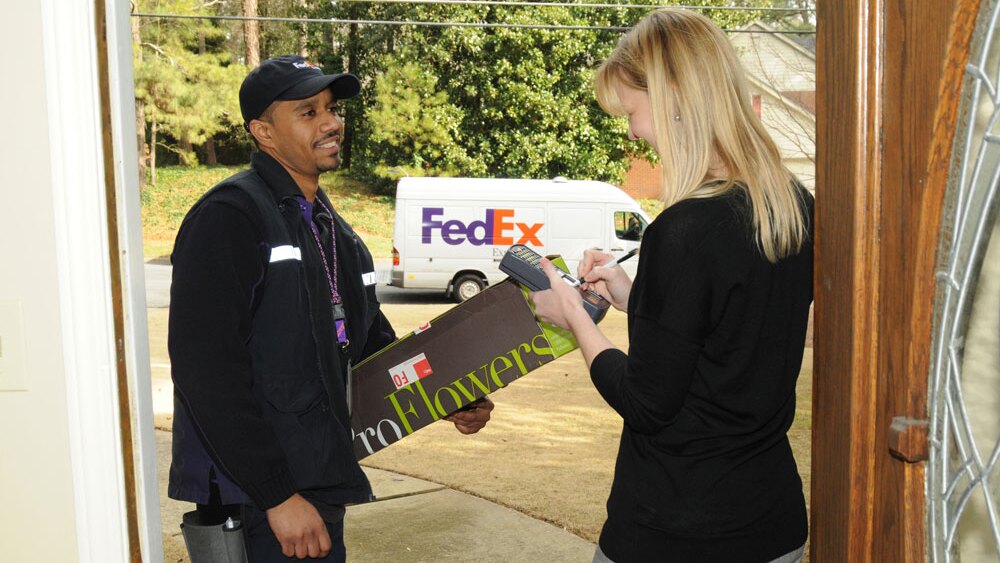 MEMPHIS, Tenn., Feb. 12, 2013— Love is in the air this Valentine's Day, but one-third of consumers are just starting to notice, according to a survey commissioned by FedEx (NYSE: FDX). The survey found that 36 percent of gift-givers "wait until the last minute" to purchase gifts for their loved ones.
The survey of 1,000 U.S. consumers found that gift-givers are much more likely to procrastinate on their Valentine's Day gift purchases than Christmas, Hanukkah or Mother's Day. Thirty percent finish their shopping just one day before Valentine's Day (or later), while just 18 percent do the same for Christmas or Hanukkah. Ironically, 40 percent of those surveyed also believe that February 13 is too late to find a good gift for a spouse or partner.
"Whether consumers have planned for weeks or waited until the last minute to ship their valentines, FedEx is committed to delivering for our customers," said Paul Tronsor, Managing Director, FedEx Global Operations Control. "We are experts in planning and have the teams and technology in place to move millions of Valentine's Day gifts around the world quickly and safely."
With just a few days left before Valentine's Day, FedEx has a solution for gift-givers still looking to send a special present to a loved one. For those true procrastinators, FedEx Priority Overnight® and FedEx Standard Overnight® services will get packages sent out on Wednesday, February 13 delivered in time for the special day on Thursday, February 14. FedEx Ground® and FedEx Home Delivery® offer evening and appointment delivery services, to make it more convenient for loved ones to be home to receive their Valentine's Day gifts.
According to the National Retail Federation, more than 25 percent (26.3%) of gift-givers plan to shop online for Valentine's Day. FedEx expects to deliver millions of tokens of affection in the days leading up to Valentine's Day and provides many of its e-commerce customers with the capability to take orders as late as February 13 for delivery on Thursday, February 14.
For the 11 percent of people who truly wait until the last minute and hope to find a gift on Valentine's Day itself, the network of 1,800 local FedEx Office locations offers many options for creating thoughtful photo gifts, most of which can be done in 24 hours or less – including canvas prints and custom Valentine's Day photo cards, as seen on the Out of Office blog. Those on a budget and in search of a personalized gift idea can save 50 percent on canvas prints by visiting fedex.com/office to download a coupon for use in-store only at participating FedEx Office locations.
According to the survey, more than half of procrastinators (52%) are willing to spend more money when buying at the last minute – a significant jump over the 27 percent of non-procrastinators who are willing to do the same. However, when it comes down to it, procrastinators spend on average $18 less on Valentine's Day gifts than non-procrastinators ($79 vs. $97, respectively).
The survey also found some interesting differences between men and women on Valentine's Day gifting:
When it comes to procrastination, men tend to wait longer than women to purchase a Valentine's Day gift. About one in three men (35%) wait until February 13 or later to buy something for their valentines, compared to one in four women (24%).
Women are eager to receive a little more than what most men plan to give this Valentine's Day. More women tend to want jewelry (22%), gift cards (13%) and home-made gifts (12%), than men plan to give (13%, 8% and 6%, respectively).
However, men don't skimp on spending for Valentine's Day. On average they spend nearly twice as much as women ($114 vs. $63).
Valentine's Day is one of the busiest periods of the year for FedEx. In the weeks leading up to Valentine's Day, FedEx expects to ship millions of pounds of flowers, chocolates, jewelry and other gifts, making hundreds of thousands of deliveries on top of its average daily volume of 9 million shipments. To handle the influx of shipments during this period, FedEx and its networks of dedicated team members will add extra flights and trucks to normal operations. Additionally, select hubs and sortation facilities in the FedEx networks will be hosting additional, longer or dedicated flower sorts throughout the week to accommodate the incremental volume of Valentine's Day flowers and gifts.