FedEx Corp. Reports Higher First Quarter Net Income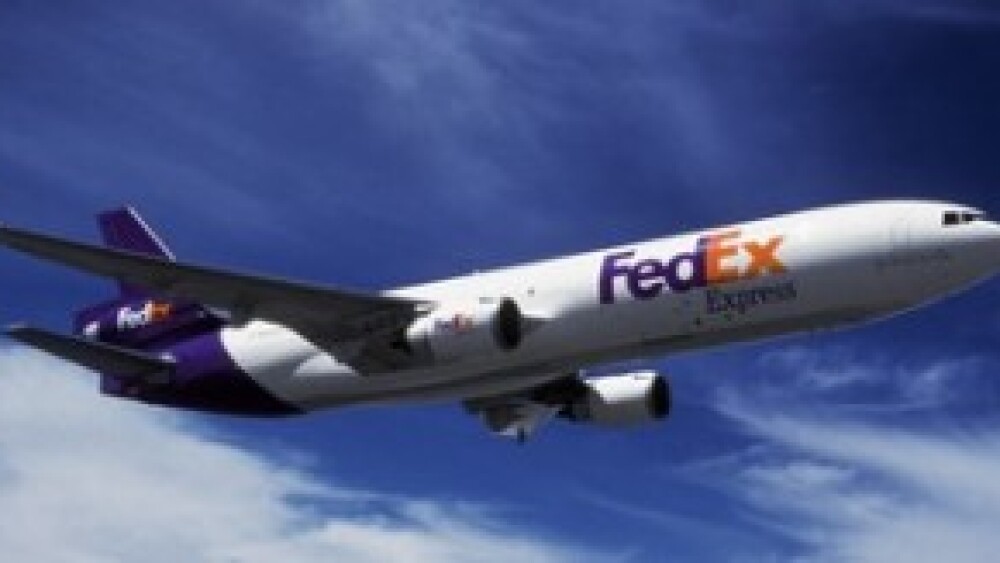 FedEx Ground Segment Revenues Grow 14 Percent

MEMPHIS, Tenn., September 20, 2007 ... FedEx Corp. (NYSE: FDX) today reported earnings of $1.58 per diluted share for the first quarter ended August 31, compared to $1.53 per diluted share a year ago.

"FedEx increased its revenue and earnings against the backdrop of asluggish U.S. economy," said Frederick W. Smith, FedEx Corp. chairman, president and chief executive officer. "Outside of the United States, the economy is generally solid, contributing to the growth in our international express shipments. I continue to believe that FedEx will, over the long-term, reap the rewards of our strategy of investing in key growth markets and strengthening and expanding our worldwide networks."
---

View press release: PDF | HTML | All Financial Releases

Press Releases Referenced on Q1FY08 Earnings call:

FedEx Launches Direct Express Delivery Service Between Manchester, U.K., and United States

FedEx Express Gateway for Central & Eastern Europe Moves to Cologne

FedEx Domestic Time-Definite Service Takes Off in China

FedEx Expands Cross-Border Soltions to Facilitate Trade along Mexico
---


First Quarter Results

FedEx Corp. reported the following consolidated results for the first quarter:

• Revenue of $9.20 billion, up 8% from $8.55 billion the previous year

• Operating income of $814 million, up 4% from $784 million a year ago

• Operating margin of 8.8%, down from 9.2% the previous year

• Net income of $494 million, up 4% from last year's $475 million

While operating margin improved in the FedEx Express and FedEx Groundsegments, consolidated margin declined due to a lower margin year over year at FedEx Freight and to network investments to increase capacity, improve service quality and increase productivity.

Total combined average daily package volume in the FedEx Express and FedEx Ground segments grew 8% year over year for the quarter, due to growth in ground and international express shipments. The increase in international domestic express shipments resulted primarily from recentinternational acquisitions.

Outlook

FedEx expects earnings to be $1.60 to $1.75 per diluted share in the second quarter compared to $1.64 a year ago. Last year's second quarter results included $0.25 per diluted share net impact of costs associated with the new pilot labor contract, mostly offset by the benefits from the timing of net fuel impacts and Hurricane Katrina insurance proceeds. For the full year, the company now expects earnings of $6.70 to $7.10 per diluted share. The capital spending forecast is $3.5 billion, of which approximately 70% is targeted for growth. However, management is reviewing the timing of capitaloutlays, which could result in lower spending for the year.

"While the U.S. economy is growing at a moderate pace, recent financial market volatility and high energy costs have increased the uncertainty surrounding the near-term economic outlook, and weakness in the housing sector continues," said Alan B. Graf, Jr., FedEx Corp. executive vice presidentand chief financial officer. "As a result of this weaker than anticipated economic environment, particularly its impact on the LTL freight market, we have reduced our earnings forecast by four percent for the full year."

Reporting Changes

In order to better coordinate and leverage strategies and resources, FedEx Kinko's has been realigned to report to FedEx Services, which has overall responsibility for sales, marketing and customer-facing information technology. Under FedEx Services, FedEx Kinko's will benefit from the fullrange of resources and expertise of FedEx Services to continue to enhance the customer experience. The company will pursue synergies in sales, marketing, information technology and administrative areas to improve theability of FedEx to bundle transportation and business services and driveadditional revenue through the FedEx Kinko's retail network.

With this realignment, the FedEx Corp. reportable segments have been revised to include the three existing transportation segments and a new FedEx Services segment. The new segment includes FedEx Services, FedEx Kinko's, FedEx Global Supply Chain Services and FedEx CustomerInformation Services. The net operating costs of the FedEx Services segment are allocated to the transportation segments they support.

Also, beginning this quarter the company is expanding its operating statistics disclosures. FedEx Express is now disclosing volume and yield information for international domestic shipments. These are shipments where the origin and destination are both within the same non-U.S. country, including the United Kingdom, Canada, China and India. FedEx Ground is now disclosing volume and yield information for FedEx SmartPost. FedEx SmartPost specializes in the consolidation and delivery of low-weight, less time-sensitive business-to-consumer packages, using the U.S. Postal Service for the finaldelivery to residences.

FedEx Express Segment

For the first quarter, the FedEx Express segment reported:

• Revenue of $5.89 billion, up 4% from last year's $5.64 billion

• Operating income of $519 million, up 9% from $475 million a year ago

• Operating margin of 8.8%, up from 8.4% the previous year

FedEx International Priority® (IP) package revenue grew 9% for the quarter, as IP revenue per package improved 3%, primarily due to favorable exchange rates and higher weight per package, partially offset by lower fuel surcharges. IP average daily package volume grew 6%. U.S. domestic package volume and revenue declined 1%, reflecting the continued impact of the challenging U.S. economy, lower fuel surcharges and a customer shift to lower-yielding services. International domestic volume and revenue growth resulted from recent international acquisitions.

Operating income and margin improved due to international revenue growth and effective cost controls, although continued investment in domestic express services in China negatively impacted this quarter's results.

FedEx Ground Segment

For the first quarter, the FedEx Ground segment reported:

• Revenue of $1.62 billion, up 14% from last year's $1.42 billion

• Operating income of $190 million, up 19% from $159 million a year ago

• Operating margin of 11.7%, up from 11.2% the previous year

FedEx Ground average daily package volume grew 10% year over year in thefirst quarter due to increased commercial business and the continued strong growth of its FedEx Home Delivery service. Yield improved 4% primarily due to the impact of rate increases, including dimensional weight charges, andextra service revenues.

Operating margin was higher due to revenue growth, improved productivityand effective cost controls, offset in part by investments to expand capacity and higher legal costs.

As part of its ongoing effort to strengthen its independent contractor network,FedEx Ground is investing in a new nationwide program which provides greater incentives to certain of its 15,000 contractors who choose to grow their businesses by adding routes. Also, in response to current regulatoryand legal uncertainty in California, FedEx Ground is offering special incentives to encourage California-based single-route contractors to transform their operations into multiple-route businesses or sell their routes to others. The multiple-route business owners in California are being offered additionalincentives to grow their businesses by acquiring available routes. The costs of the nationwide and California programs are not expected to be material.

FedEx Freight Segment

For the first quarter, the FedEx Freight segment reported:

• Revenue of $1.23 billion, up 22% from last year's $1.01 billion

• Operating income of $105 million, down 30% from $150 million a year ago

• Operating margin of 8.5%, down from 14.8% the previous year

Less-than-truckload (LTL) shipments increased 13% year over year due to the acquisition of Watkins (now rebranded as FedEx National LTL), partially offset by lower average daily shipments at FedEx Freight regional. FedEx Freight regional shipments declined slightly, as demand has been restrainedby the slower U.S. economy. Effective July 23, 2007, FedEx Freight reduced its standard regional LTL fuel surcharge by 25% and FedEx National LTL revised its standard LTL fuel surcharge to levels commensurate with FedExFreight. Despite the fuel surcharge reduction, LTL yield improved 8% yearover year, reflecting higher yields from longer-haul FedEx National LTL shipments.

Operating margins declined during the quarter due to operating losses at FedEx National LTL and lower year over year growth in regional yield, including the impact from the fuel surcharge reduction. While the LTL fuel surcharge reduction is expected to have a negative impact on revenue and earnings for the remainder of the fiscal year, this change is expected to strengthen FedEx Freight competitively and drive incremental volumes over the long-term.

FedEx Services Segment

FedEx Services segment revenue, which includes the operations of FedExKinko's and FedEx Global Supply Chain Services, was flat year over year. Copy product revenues declined at FedEx Kinko's, more than offsetting higher package acceptance fees and revenue generated from new locations.

FedEx Kinko's continues to invest in a multi-year plan to open new locations,improve core services and enhance its integrated digital document service network, supporting the company's objective of being the back office for local businesses and the remote office for traveling professionals. The companyopened 90 centers during the first quarter.

Corporate Overview

FedEx Corp. (NYSE: FDX) provides customers and businesses worldwide with a broad portfolio of transportation, e-commerce and business services.

With annual revenues of $36 billion, the company offers integrated businessapplications through operating companies competing collectively and managed collaboratively, under the respected FedEx brand. Consistently ranked among the world's most admired and trusted employers, FedEx inspires its more than 280,000 employees and contractors to remain "absolutely, positively" focused on safety, the highest ethical and professional standards and the needs of their customers and communities.

For more information, visit news.fedex.com.

Additional information and operating data are contained in the company'sannual report, Form 10-K, Form 10-Qs and first quarter fiscal 2008 Statistical Book. These materials, as well as a Webcast of the earnings release conference call to be held at 8:30 a.m. EDT on September 20 are available onthe company's Web site at www.fedex.com/us/investorrelations. A replay of the conference call Webcast will be posted on our Web site following the call.

Certain statements in this press release may be considered forward-looking statements, such as statements relating to management's views with respect to future events and financial performance. Such forward-looking statements are subject to risks, uncertainties and other factors which could cause actual results to differ materially from historical experience or from future results expressed or implied by such forward-looking statements. Potential risks and uncertainties include, but are not limited to, economic conditions in the global markets in which we operate, new U.S. domestic or international government regulation, the impact from any terrorist activities or international conflicts, our ability to effectively operate, integrate and leverage acquired businesses, the impact of changes in fuel prices and currency exchange rates, our ability to match capacity to shifting volume levels and other factors which can be found in FedEx Corp.'s and its subsidiaries' press releases and filings with the SEC.

Home Page: fedex.com