FedEx and the Arbor Day Foundation Announce Disaster Recovery Program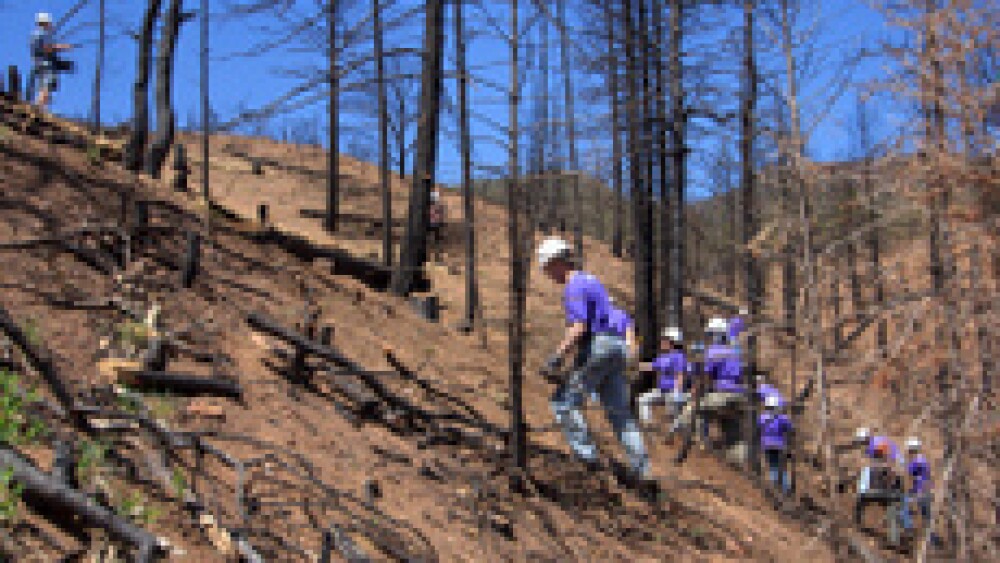 NEBRASKA CITY, Neb., April 24, 2014 — FedEx Corp. and the Arbor Day Foundation announced today the launch of the Community Tree Recovery program, which will connect disaster-stricken communities with the resources needed for sustainable recovery and community healing.
Designed to be the national resource for communities to turn to as they seek to restore their trees in the aftermath of natural disaster, the Community Tree Recovery program provides the structure and capacity to address multiple disasters annually, distributing seedling trees to afflicted communities nationwide. During the last few months, the program has already provided trees for towns in New Jersey still reeling from the aftermath of Superstorm Sandy and neighborhoods in Colorado rebuilding from the devastating 2012 wildfires. Through this Arbor Day Foundation program, FedEx – as national sponsor -- will enhance sustainable recovery efforts for these communities in the months and years to come.
"Much of a disaster-stricken community's ability to fully recover – emotionally, socially, physically and environmentally – depends on restoring lost trees," said Dan Lambe, vice president of programs at the Arbor Day Foundation. "While immediate relief efforts following a natural disaster should and do begin with human health and wellbeing, this program collaboration with FedEx addresses an essential step in the recovery phase – restoring lost trees."
FedEx support for the Arbor Day Foundation, which includes a million-dollar, multi-year sponsorship, follows a long tradition of FedEx connecting communities with the resources needed to address disaster in all phases: readiness, relief and recovery. Through the collaboration with the Arbor Day Foundation, FedEx will provide leadership and resources to help disaster-stricken communities build a critical foundation to long-term, sustainable recovery.
"At FedEx, we believe strengthening community access and global connectivity as part of long-term recovery helps bring about greater prosperity and opportunity for generations to come," said Mitch Jackson, vice president of Environmental Affairs and Sustainability for FedEx. This program ensures that we address the long-term ecological health of the community, which is a critical component to sustainable recovery and access."
Sustainable Recovery Stems from Tree Restoration
Much like a family's local roots, trees are also part of the vibrant, living foundation of communities - playing a critical role in community health, social and economic vitality, local ecology and environmental sustainability. Not only can their loss be emotionally devastating for communities who have already lost so much in a disaster, failure to properly restore community trees can impede a community's full recovery with numerous consequences down the line.
By providing trees to communities early in the recovery process, the Community Tree Recovery program will address long-term concerns while restoring the benefits that a healthy, sustainable urban forest provides:


Air Supply: Communities need to restore trees to provide the very air they breathe. Trees combat the greenhouse effect and provide oxygen by absorbing CO2 in the atmosphere. One acre of forest is enough to meet the needs of 18 people annually.

Healthier Lives: By restoring trees, communities will ensure their residents live healthier, cleaner lives. By filtering out harmful pollutants, studies show that urban trees and forests are saving an average of one life every year per city.

Wildlife Recovery: Communities will only see local wildlife recover when they restore their trees, as trees provide homes for birds, bees, squirrels and other urban wildlife.

Risk Mitigation: Communities that restore trees will mitigate future risks like soil erosion and water pollution, as trees provide natural protection from the elements and help reduce the possibility of flooding.

Financial Value: By investing in tree replanting, homeowners can reduce financial costs from utility bills and improve real estate values. A well-planted property and surrounding neighborhood can increase property value by as much as 15%.
"Communities will be unable to enjoy the long-term benefits of trees unless we begin to aggressively restore the trees lost in disasters," said Lambe. "Replanting trees is an essential step in rebuilding neighborhoods and making communities whole again."
FedEx and Arbor Day Foundation Plant Seed for Recovery Program
The Community Tree Recovery program leverages community partners and on-the-ground specialists to directly help communities recover and restore their urban forests. The bulk of this aide focuses on providing high-quality seedlings to homeowners to plant on private property – where the majority of community trees reside, providing the greatest overall impact. In this manner, the program directly reaches homeowners overwhelmed with numerous obstacles in the recovery phase, providing the resources and education to recover the community's lost trees.
Following a natural disaster, the Arbor Day Foundation will assess its response plans against a formalized set of environmental and social filters used to determine when and how the program is activated. During the early stages of relief and recovery, the Arbor Day Foundation will work with FedEx and numerous local partners – including state foresters and city officials – to assess damage and needs, and determine a plan for storm clean-up, tree restoration and tree recovery. The program will formalize a campaign to address the needs of identified communities, including asking local business to join FedEx in donating trees and volunteers. In addition to local campaigns, the program also has a general seedling reserve fund – supported in part by FedEx – which can be leveraged to respond to pressing recovery needs.
Additional details about the program and the local campaigns underway can be found at www.arborday.org/takeaction/community-tree-recovery.
About FedEx Corp.
FedEx Corp. (NYSE: FDX) provides customers and businesses worldwide with a broad portfolio of transportation, e-commerce and business services. With annual revenues of $45 billion, the company offers integrated business applications through operating companies competing collectively and managed collaboratively, under the respected FedEx brand. Consistently ranked among the world's most admired and trusted employers, FedEx inspires its more than 300,000 team members to remain "absolutely, positively" focused on safety, the highest ethical and professional standards and the needs of their customers and communities. For more information, visit news.fedex.com.
About the Arbor Day Foundation
The Arbor Day Foundation is a million member nonprofit conservation and education organization with the mission to inspire people to plant, nurture and celebrate trees. More information is available at arborday.org.

# # #