FedEx Among Top Ten on FORTUNE's List Of World's Most Admired Companies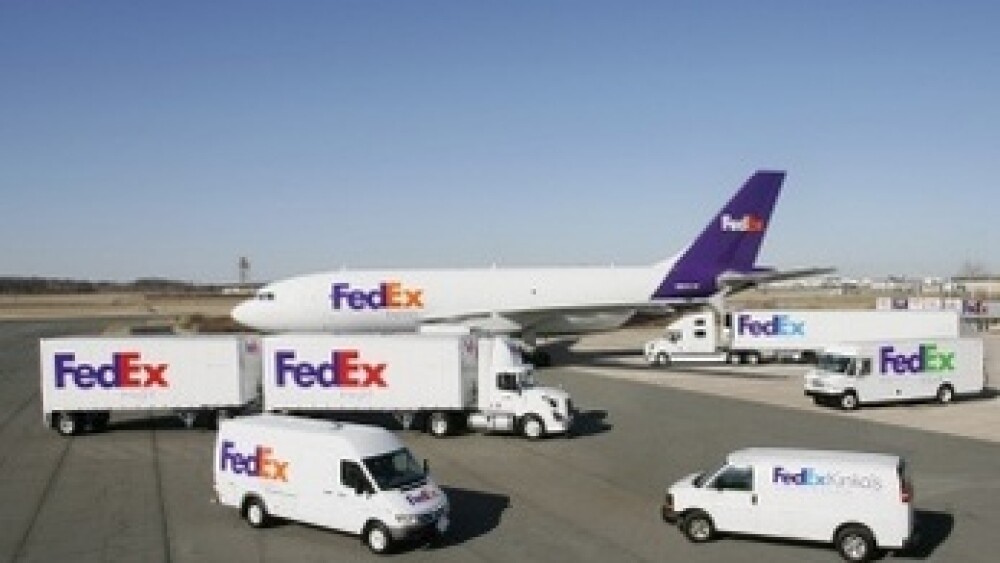 MEMPHIS, Tenn., March 2, 2009—FedEx Corp. (NYSE: FDX) is among the world's most admired companies according to a survey published in FORTUNE magazine. This is the first year the magazine consolidated the United States and World's Most Admired lists. FedEx had placed on the U.S. most admired list eight consecutive years.

FORTUNE magazine today released its annual report on corporate reputation, listing FedEx as #7 (tied with Southwest Airlines) on its list. Additionally, FORTUNE magazine recognized FedEx as being first in eight of nine transportation industry category rankings, those categories being:
• Innovation
• People management
• Use of corporate assets
• Quality of management
• Financial soundness
• Long-term investment
• Quality of products/services
• Global competitiveness
"All the credit for this great honor belongs to the 290,000 FedEx team members around the world whose performance every day is nothing short of amazing," said Frederick W. Smith, chairman, president and chief executive officer, FedEx Corp. "Thank you to the men and women of FedEx for your commitment to making every FedEx experience outstanding."

FedEx has consistently ranked in FORTUNE's list of the World's Most Admired Companies and FORTUNE's list of America's Most Admired Companies since 2002 and 2001, respectively. Last year, FedEx ranked #7 in the U.S. and #6 globally. FedEx has
also been honored as one of FORTUNE's Best Companies to Work For in 11 of the past 12 years, and was named to the Best Companies to Work For Hall of Fame in 2005.
Survey Methodology
The new Most Admired list is the definitive report card on corporate reputations. FORTUNE's survey partners at Hay Group started with some 1,400 companies: the FORTUNE 1,000 (the 1,000 largest U.S. companies ranked by revenue), non-U.S. companies in Fortune's Global 500 database with revenues of $10 billion or more, and the top foreign companies operating in the U.S.
They then sorted the companies by industry and selected the 15 largest for each international industry and the ten largest for each U.S. industry. To create the 64 industry lists, Hay Group asked executives, directors, and analysts to rate companies in their own industry on nine criteria, from investment value to social responsibility. This year only the best are listed. A company's score must rank in the top half of its industry survey.

To create the top 50 overall list of Most Admired Companies, Hay Group asked 4,047 executives, directors, and securities analysts who had responded to the industry surveys to select the ten companies they admired most. They chose from a list made up of the companies that ranked in the top 25% in last year's surveys, plus those that finished in the top 20% of their industry. Anyone could vote for any company in any industry.

A total of 689 companies from 28 countries were surveyed. Because of an insufficient response rate, the results for companies in Mortgage Services and in Oil and Gas Equipment, Services are not reported. In addition, in the Forest and Paper Products industry only the aggregate scores and ranks are published because of the distribution of responses in that industry.
About FedEx
FedEx Corp. (NYSE: FDX) provides customers and businesses worldwide with a broad portfolio of transportation, e-commerce and business services. With annual revenues of $39 billion, the company offers integrated business applications through operating companies competing collectively and managed collaboratively, under the respected FedEx brand. Consistently ranked among the world's most admired and trusted employers, FedEx inspires its more than 290,000 employees and contractors to remain "absolutely, positively" focused on safety, the highest ethical and professional standards and the needs of their customers and communities. For more information, visit news.fedex.com.
About FORTUNE's World's Most Admired List
This year FORTUNE has revamped the Most Admired Survey by combining the former America's Most Admired Company (AMAC) survey and the former World's Most Admired Company (WMAC) survey into one.
The new listing better represents the competitive landscape faced by today's companies. The survey covers 64 industries: 25 international industries and 39 primarily U.S.-market industries. Basically, the international industries follow the rules of the old WMAC (where as many as the 15 largest companies in an industry by revenue are chosen), and the 39 U.S. industries follow the rules of the old AMAC (where as many as the ten largest companies in an industry by revenue are chosen). The impact of the changes is a reduction in the number of smaller American companies in the international industries and a slight increase in the number of foreign competitors in the 39 U.S.-market industries.